Bronze medal bound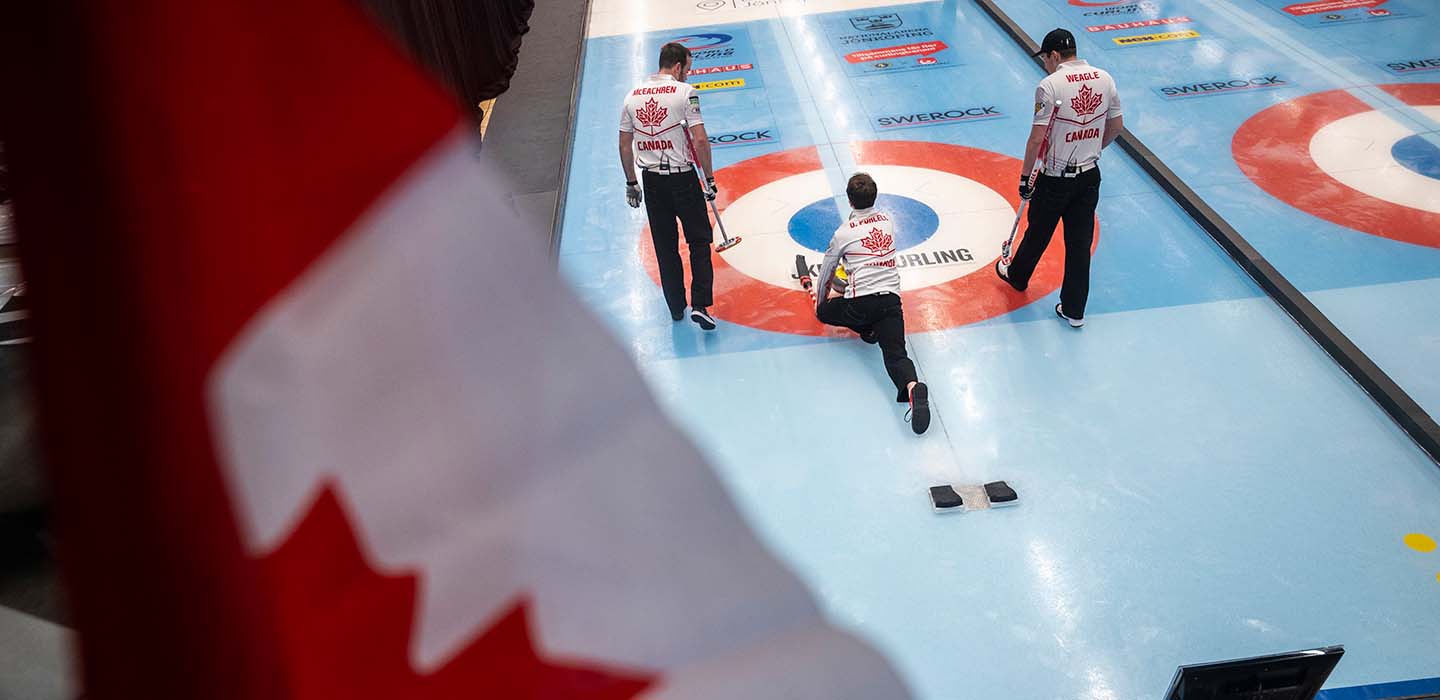 Canada's Team Purcell to play in bronze-medal game at 2022 World Junior Curling Championships
After a semifinal loss on Saturday, Canada's Team Owen Purcell will play for bronze at the 2022 World Junior Curling Championships.
Team Purcell of the Halifax Curling Club succumbed to Germany's Benjamin Kapp by 8-5 in Jönköping, Sweden.
Germany took an early 4-0 lead against Canada, and while Team Purcell battled back in the second half of the game, it was short of winning. In the 10th end, Germany's Kapp led by two with the hammer and made an open hit for one to clinch a spot in the gold-medal game.
"They're a really strong team, and giving up early points like that is very tough to come back from. They played really well and capitalized on a lot of our misses," Purcell said.
After blanking the first end, Germany made an open draw for two in the second. Canada blanked the third but then gave up a steal of two in the fourth. Kapp played a tap to sit two, and Purcell tried to come off his own stone. The line was off, and Germany took a four-point lead.
In the fifth end, Canada flirted with the idea of making a tough, thin double for three but took its two with a hack-weight hit to halve the score 4-2.
Germany was playing phenomenally halfway through the game, with all four players owning shooting percentages in the high 80s and low 90s. Canada opened the second half of the game by focusing on making Germany's ends more complicated and attempting to get an early force.
In the second half, Canada achieved both of those tasks and got back into the game. In the sixth, Canada put a draw behind its centre guard and forced Germany to one after Kapp was light on a draw for two. In the seventh, Purcell played a double raise takeout to mould a cluster of stones in the four-foot into a deuce for Canada.
Now with only a one-point lead, Germany was attempting to get control of the game in the eighth end. On Canada's last shot, Purcell and the team couldn't get the roll required to sit one behind cover and gave Germany a draw for two and three-point lead.
Germany added to its momentum in the ninth end after Germany vice-skip Felix Messenzehl made a long double takeout that flipped the end in his team's favour. Purcell and Canada scored one on a draw against four, while Germany took a two-point lead with the hammer into the final end.
"I feel like we eventually started making a lot more shots and junking it up a little better. We started getting some misses out of them after that. I really liked how we played the second half, but it's just so tough to come back from what ended up happening in the first half," Purcell said.
With the loss, Purcell, vice-skip Joel Krats, second Adam McEachren, lead Scott Weagle, alternate Scott Mitchell, coach Anthony Purcell, and team lead Jeff Hoffart will take on Norway's Grunde Buraas on Sunday at 3 a.m. ET.
"I think we're going to play it cool and chill out for a little bit to decompress. A lot of energy and intensity goes into a game like that. So we'll need to regroup and prepare for the next game the same way we did for this game."
In the gold-medal game, Germany plays Scotland's James Craik, who was victorious against Norway in the other semifinal by 7-5.
Germany is attempting to win its first-ever gold medal at the World Junior Men's Curling Championship, and Scotland is seeking its 11th.
Canada's last bronze-medal game appearance was in 2016, when Matt Dunstone defeated Switzerland's Yannick Schwaller. Canada has won eight bronze medals at this event.
World Curling TV's Curling Channel on Recast will stream select Canadian games with either light coverage (two static cameras, no commentary) or full coverage (multi-camera with commentary). To see the streaming schedule, click here.
For Team Canada updates, go to www.curling.ca. Follow us on Twitter, Instagram and Facebook.
For the list of teams, draw information and live scoring, visit the event website.
The French version of this story will be posted as soon as possible at https://www.curling.ca/?lang=fr