Changing the sport!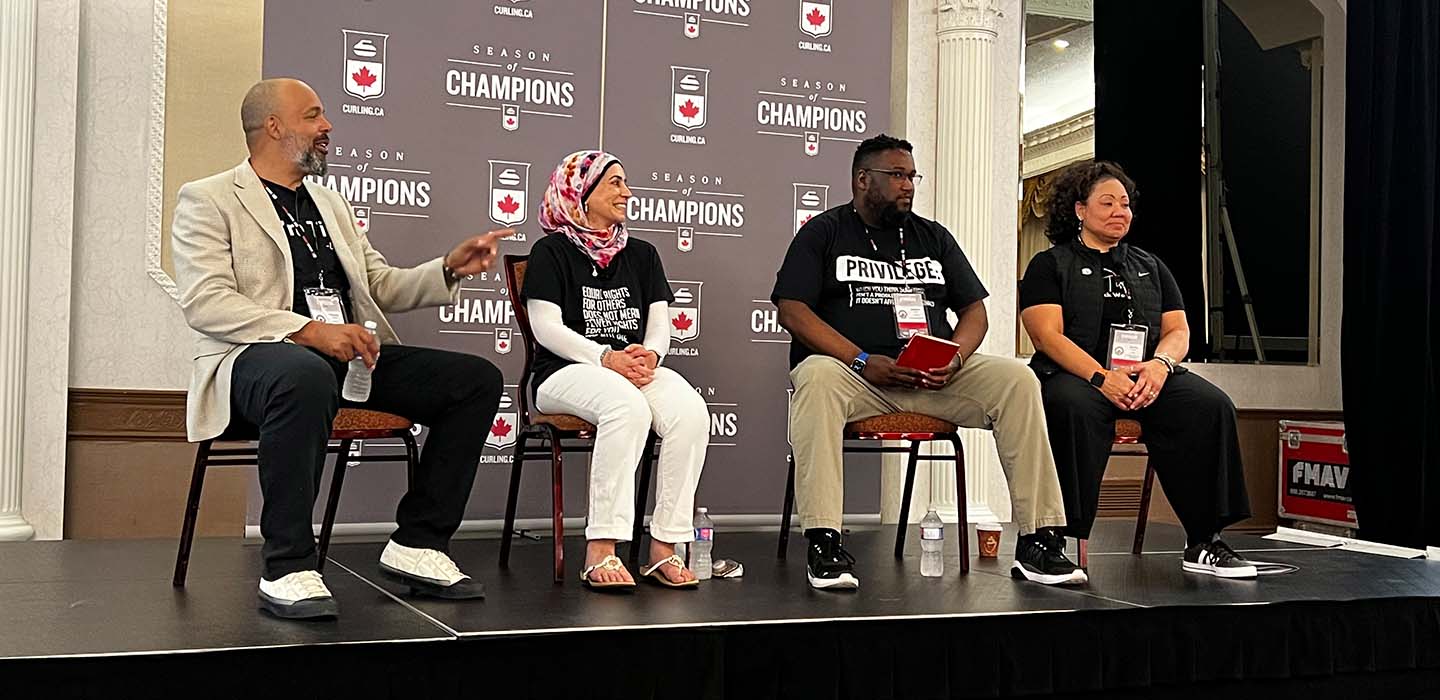 Crucial and difficult conversations are the way forward in creating a diverse and inclusive sport
Curling has plenty of advantages compared to other sports when broadening diversity, equity and inclusion. The sport is part of Canada's fabric and contains strong relationships emboldened on the ice and in the lounges of facilities across Canada. But at the same time, there are deep concerns about the state of the sport and whether it is open to changing the face of curling.
This topic was explored in depth during the first day of the Changing the Face of Curling Symposium on Thursday in Niagara Falls, Ont.
The day featured a keynote speech from Dr. Richard Norman, who completed doctoral research exploring the intertwining of race, whiteness and colonialism in the sport of curling. He brought forward issues on how we can expand the sport to new Canadians and how to keep an open mind to grow the sport while learning more about who is missing and why. Norman says we must explore the tensions of racialized people in the predominantly white sport to change the face.
"It can be the place that is truly inclusive, truly diverse and truly equitable. Just not quite yet," Norman said.
Baby steps are being taken in creating inclusive spaces within curling facilities. Still, Norman, along with a panel of Black, Indigenous, and People of Colour (BIPOC) curlers, discussed how to honour their experiences as curlers and move forward in creating genuinely inclusive environments in curling.
The discussions were not about finding solutions but instead about finding the problems first. Norman believes we must "think outside of our colonized minds" to involve new faces and new perspectives in the sport. This moves beyond the baby steps of understanding diversity, equity, and inclusivity while breaking down the barriers keeping BIPOC and new Canadians from taking up the sport.
The majority of people involved in the predominantly white sport share the same values of curling. It has a community appeal and values connections with family and friends. Many people's best memories of curling revolve around fun, friendships and accomplishments.
But Norman says there are other experiences, like his, that are erased as a "Black person in a sea of whiteness."
"When we talk of curling being open and welcoming to all, that is one understanding of a reality in Canada. For many others, that is not their experience," Norman said. "We see the reality from our perspective. But that is not another person's reality. We must contend with the notions of diversity in who it relates to whom."
While some white Canadians see curling facilities as welcoming and believe that BIPOC Canadians can come through their doors at any time and be welcomed, it is not the perspective of some BIPOC people in curling. There is an unsaid expectation that to be accepted and welcomed into a curling facility, a BIPOC person must assimilate and operate in a system designed for them by someone else.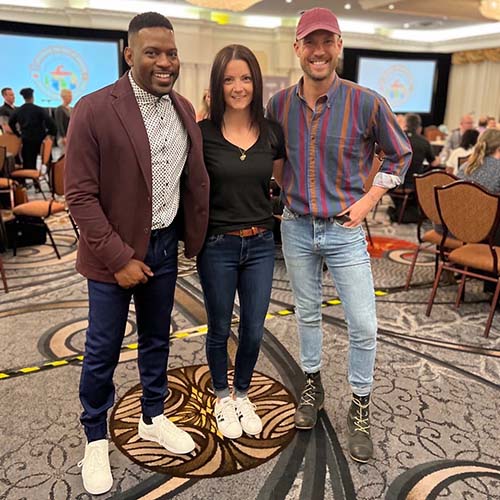 For Andrew Paris, a Black curler and coach from Nova Scotia and President of Black Rock Initiative, small micro-aggressions inside curling facilities can easily deter BIPOC Canadians from taking up the sport. Seemingly innocent comments about him being the first Black person someone has seen in a curling club or being mistaken for being in the wrong location weigh on his conscience. It makes him and others feel excluded from curling.
Sabena Islam, a Muslim Canadian woman of Pakistani descent who is a long-time curler instructor and coach from Kingston, Ont., calls it "death by a thousand cuts." Some of her most significant memories are coaching her two sons on the ice. The time she has spent in the car driving around the province for bonspiels is some of the most memorable times with them.
However, there are also the small things that can happen in curling facilities that translate into negative experiences rooted in curling. From numerous questions about whether 'ISLAM' on the back of her curling jacket was her last name or a political statement, to being an inconvenience to the kitchen staff at a facility because they could not meet her religious-based dietary restrictions, those experiences add up and become deterrents to building a viable future of the sport for all Canadians.
For Debra Martin, a Black woman who curls out of the Plainfield Curling Club in New Jersey and designer of the #BlackMagicCurl Goldline curling broom, she has felt it over her time in curling through subtle moments. When she travels to bonspiels in other cities, she's remembered by others from previous events because of her skin colour. When she brings new curlers – who are white – to the facility, onlookers assume the newcomers are teaching Martin and her wife how to curl instead of the other way around.
These three BIPOC curlers are shining examples of volunteerism and dedication in their curling facilities, and from a glance, they check the box of 'diversity' when it comes to membership. But Paris insists we must move beyond and find new and inclusive practices.
"At the end of the day, we just want to belong. When I throw a rock, I don't want to be a representation of all Black people who curl all across the world," he said.
That starts by doing the work. For non-BIPOC people, it begins with educating themselves on the bias systems in place in society and how many of them are designed to put BIPOC people at a disadvantage while also being seen as less-than.
Martin points out the system was built this way and was built broken. It is evident in the uprising of racism and hatred in Canada and the United States. She leads with empathy and notes that even as a BIPOC person, she and everyone else who is racialized are putting in the work every day to educate themselves. The only difference between them and non-BIPOC people is that, as BIPOC people, they do not have a choice in avoiding the topic of equality because it is their reality every day.
"This conversation is no different than learning to curl and falling in love with curling. It's hard. You fall. You slip. It's cold. It's unpleasant. But we did it anyway. This doesn't have to be different from that," Martin said.
Scotties and world women's champion Joanne Courtney, formerly of Team Rachel Homan, needed to learn her role in amplifying the voices of others and how to be an ally. At first, she was terrified of saying the wrong thing or offending someone but learned throughout the process that those instances were learning opportunities. Her team championed the #BlackMagicCurl brooms designed by Martin and has learned a lot along the way through the process.
"We need to find a way to open the doors to young curlers who want to improve and create a safe space for them," Courtney said, and being an ally is one of those ways to open the doors to people who never would have considered curling as a sport to play before.
Courtney, three-time Scotties champion Kerri Einarson, Donnovan Bennett of Sportsnet and Devin Heroux of CBC took part in the afternoon panel to discuss the role of media in representing diversity in sport.
The topic started with the murder of George Floyd and how it changed the landscape of how race issues are reported in sports, with numerous professional teams and athletes making statements about race and diversity for the first time and grew into a discussion of how vital racial equality is for curling.
"I believe the success in our sport solely hinges on the conversations that we're having over these next few days," Heroux said.
Reconciliation is not erasing the sport. It makes the sport richer with texture. There is a balance between acknowledging the sport's history and its colonial roots while also embracing more inclusion in the future.
Curling Canada, as an organization, is also working through this process. It set up a Diversity, Equity and Inclusion panel upon the death of Floyd to explore how it can become a more welcoming and inclusive sport, with one of the methods to growth being the Changing the Face of Curling conference.
But there's still more work to be done by the organization in creating systems and changing the culture to be more welcoming to those who have not felt welcomed in the sport. Curling Canada CEO Katherine Henderson acknowledges the organization needs to – and will – do more for BIPOC curlers and believes this week's symposium has been an exceptional starting block and managing to have difficult conversations about the sport's demographics.
"There's still a lot of work to be done, and we want to welcome all feedback – good, bad and indifferent. My deepest thanks to everyone that came and put themselves out there. There were a lot of painful experiences that people have clearly had in their lives and in curling clubs. Today was a step forward in advancing these conversations along, no matter where they are in the process," Henderson said.
It all leads back to Norman's work and keynote on moving beyond diversity and inclusion. The idiom 'It's a marathon, not a sprint' holds some weight, but he says it also diminishes our ability to change things quickly. This doesn't mean disrespecting the legacy and tradition of the sport, but developing those traditions into becoming something else, like a Phoenix rising from the ashes.
"Curling is not a singular story. Our reliance on that single narrative compromises our ability to grow. Instead of reacting to what might be at risk, can we not engage in something else that moves towards a new vision? Curling's strength is not held in its tradition but in its people. Its legacy is the bonds of community that form sociability and fun," Norman said.
The onus is now on the curling community to step up and work with BIPOC people to build involvement in the sport. This growth is not meant to be linear, nor is it meant to be clean cut. It's meant to be uncomfortable and messy and difficult at times. But it is also meant to develop personal growth, build connections and broaden the community.
As allies, we are not expected to get it correct right off the bat. Mistakes will be made, but we'll learn from them along the way and grow into a sport that is better for everyone involved.
The event's panels and discussions are recorded and will be released later this year on Curling Canada's YouTube channel.