From waves to the ice!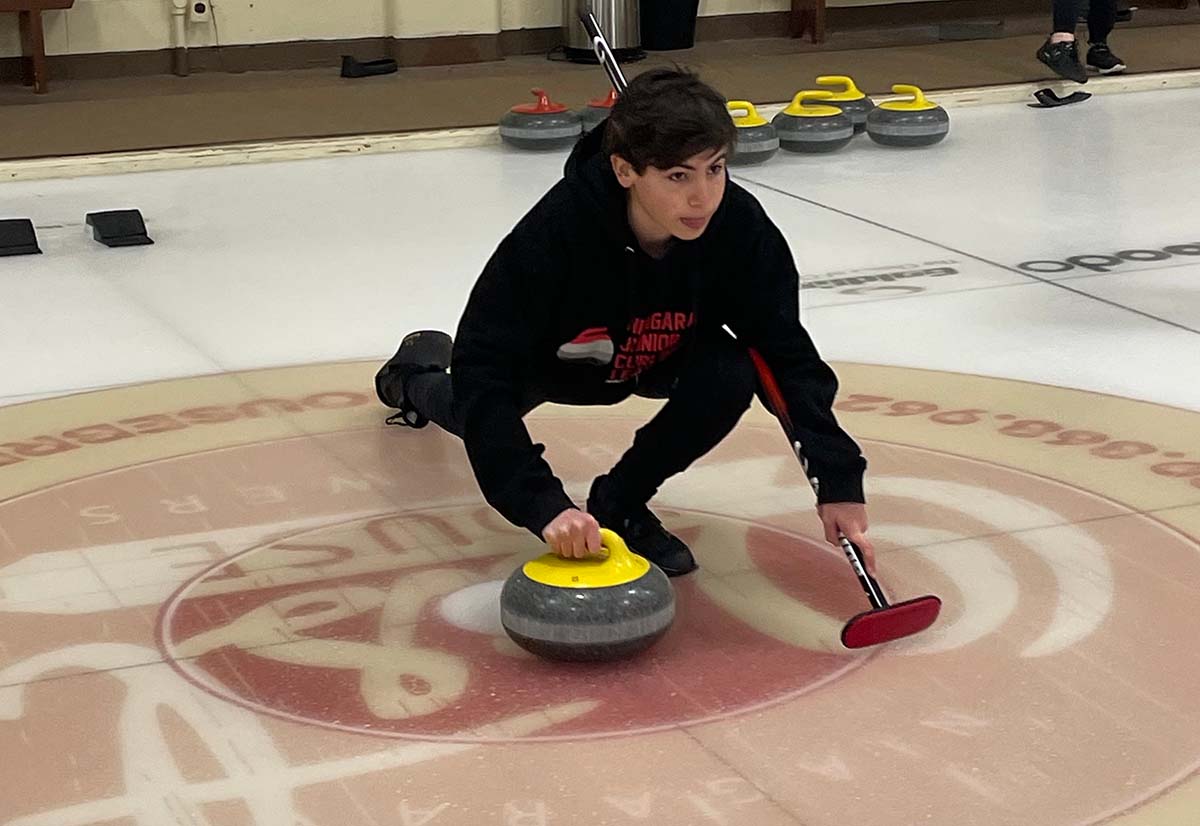 Spanish exchange student takes up curling through new Curling Canada funded youth program
In northern Spain, Felix Encinas rules the wind and waves.
The 15 year old is the regional sailing champion in his age category and has mastered the strategy of racing his boat, besting the 40-or-so other boats in competition. He courses in and out of swirling winds that catch his sails. He masters peaks and valleys of waves that crash into the bow of his boat.
On the water, Encinas feels comfortable and in control. But on a cold day at the Niagara Falls Curling Club in February 2022, Encinas wears a Teflon slider strapped to his left foot and doesn't have that same level of poise. He steps onto the curling ice for the first time and feels a new sensation as his foot slides effortlessly over the bumpy pebbled ice.
"It was weird. I didn't know of that feeling before," Encinas said as he looked back on that first time curling. "I liked it. I wish I would have started earlier."
One month earlier, Encinas arrived in Niagara Falls, Ont., for a six-month exchange program to learn more English and gain some new experiences. While vaguely familiar with the sport, curling wasn't at the top of his 'must-try' list when coming to Canada.
However, Felix decided to check it out when one of the local high school teachers let students know about upcoming Learn to Curl sessions at the Niagara Falls Curling Club. He started with one Learn to Curl Session and quickly followed it up by joining the junior league.
"I didn't know anything [about curling]. In February, in the announcements, they said there was this thing about learning how to curl. So I went to the library, and I asked about it, and they gave me the time and place. I tried it and then came back two weeks after I tried it for the first time. Since then, I have been coming every weekend," Encinas said.
Stephen Fish, a board member with the curling club and little rocks instructor, noticed Encinas making his way to the curling club every weekend to get more and more on-ice experience. A few weeks in, Encinas was a natural on the ice.
The junior program Encinas plays in was one of 40 programs across Canada focused in three targeted areas: inter-city/inter-club leagues, BIPOC youth recruitment and school programs, which was supported by Curling Canada's  Grassroots Funding Opportunity Initiative. 
Through the funding, made possible thanks to the curling community's generous support of Curling Canada's For the Love of Curling philanthropic program, Encinas found his place in the league and has not only learned the sport but met new people and made new friends along the way. One of his favourite parts is getting a chance to rotate through the lineup and play all positions. 
"It is supposed to be an opportunity for kids to play in a league and have an opportunity to play together with other new curlers," Fish said. "Sometimes they switch who is the skip every end so they can get all sorts of experience playing in game-type situations. We were very excited that three of these high school students were brand new to curling and wanted to join."
Up until his experience on the ice, Encinas didn't know of the strategic element of the sport. The strategy was a natural draw for Encinas, who is a teen who is keen to use his mind, whether that's on the water sailing, the ice curling, or in the classroom where two of his favourite classes are Transportation Technology – a mechanics course – and construction.
"I just like it. It's just something about the strategy and the practice, and you have to practice a lot. It's not like running or something that is just physical. I like the strategy and how to do things more," he said. "I didn't know anything about it. But the thing that surprised me the most was probably that it's not only knowing how to aim for where you have to put the rock but also having a strategy and knowing what to do with your rocks."
These positive experiences kept Encinas returning and curling twice a week on Saturday and Sunday. While he would sometimes get a ride to the rink from his host family, there's been other times where Encinas has used public transport, a 45-minute commute at times, just to curl.
For Fish, his dedication to the sport is unbelievable for someone who had minimal familiarity with just one year ago.
"It's neat how our grassroots funding has done what Curling Canada is hoping for. We know he won't be a long-term curler in Canada likely, but it's been an opportunity to expose him to a sport that he would never probably have ever been able to play and it says so much about his dedication to come and learn something new and just the practical application of the grassroots [funding initiative]," Fish said.
There are only a handful of curling facilities in Spain, and the closest one to Encinas is 250 km away. The country is most notable on the international curling scene, having won a bronze medal at the 2014 World Mixed Doubles Curling Championship and recently won a silver in 2018 at the World Mixed Curling Championship.
"I think that everybody in Spain thinks it's something that's a bit strange because they don't know about it," Encinas said.
And while his opportunity to continue curling in Spain isn't likely due to the distance to the nearest facility, he'll look back at his time on the ice fondly and remember the people he met through the sport. Should an opportunity to curl in the future arise, Encinas certainly would take the chance.
But come July, when Encinas returns home, he'll get back on the deck of his sailboat and coast away into beautiful scenes under a warm sun. But with him will always be those memories of his time on a cold frozen sheet of ice where he ran up and down sweeping stones and talking strategy with friends.
"The love of curling is based on the relationships you build. Very few of us will do anything of great success in the sport," Fish said. "It's more about the relationships you build on and off the ice with people. It's been nice for him to see this and have this opportunity."
Forty grassroots programs were supported at various curling facilities across the country to support new on-ice programs that targeted inter-city/inter-club leagues, targeted recruitment of BIPOC youth and school programs. In total, over $217,000 will be distributed to support the programs both this season and next.