Lights-out curling!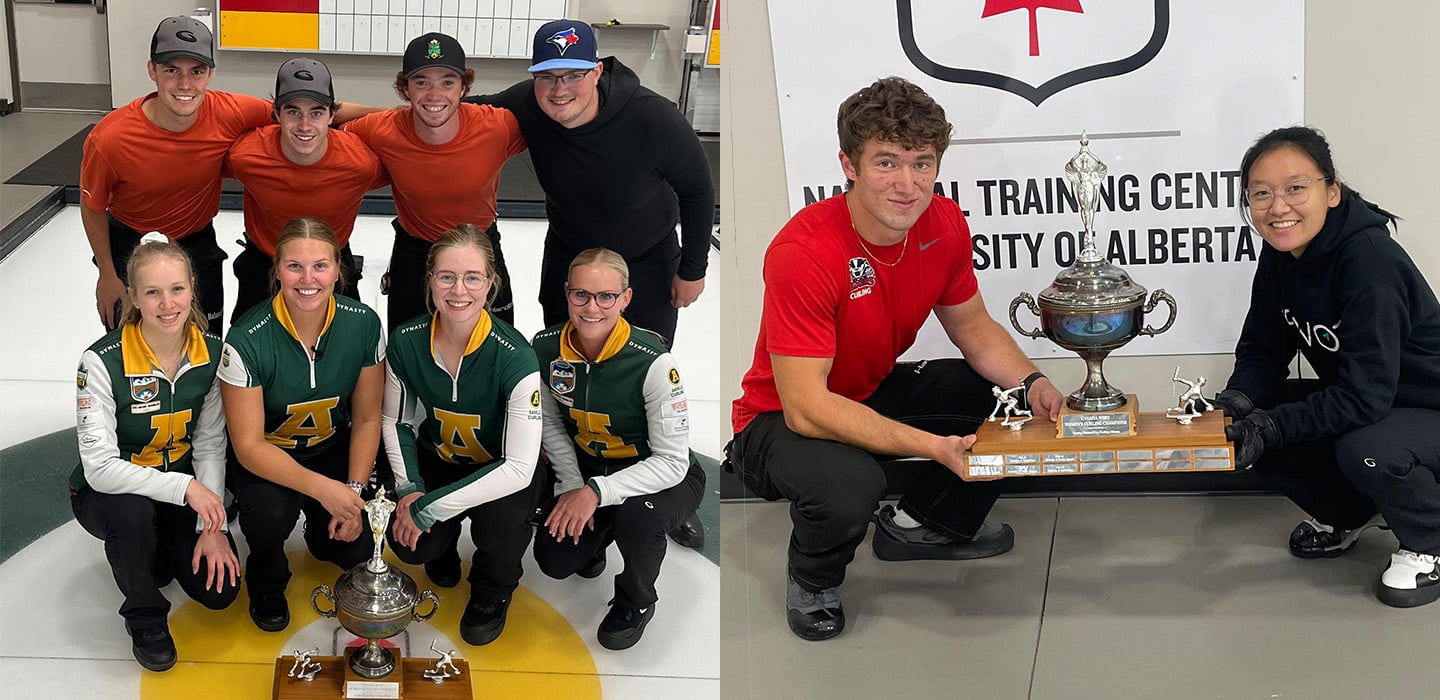 Inaugural U-25 NextGen Classic comes to a close in Edmonton
Despite a small unforeseen scheduling obstacle, the inaugural U-25 NextGen Classic in Edmonton was considered a great success.
While a power outage forced some last-minute rescheduling to Saturday's program, the tournament still completed all events and handed out championships in three different disciplines.
Ontario's Sam Mooibroek skipped the men's champions to a 7-2 victory over Nova Scotia's Owen Purcell in the final. Each team had lost a single round-robin game before the four-team playoff began.
"We really enjoyed the competition level of the event as it was certainly above the typical field you would see at any Canadian juniors," said Mooibroek. "The timing for this event is also great, as it gives us a chance to earn points early and potentially qualify for the Tier 2 Grand Slam."
Mooibroek and his team of third Connor Deane, second Nathan Steele and lead Colin Schnurr took home $3,000 in funding, and earned a spot in Curling Canada's NextGen Program.
"I think it is certainly a great idea for Curling Canada to support the U-25 age group," said Mooibroek. "In my mind, there is almost a higher need for funding at this level than there is at the pro level just due to the struggles of young curlers."
The women's event was won by skip Serena Gray-Withers, third Catherine Clifford, second Brianna Cullen and lead Zoe Cinnamon out of the University of Alberta's curling program. Playing on home turf at Edmonton's Saville Community Sports Centre, the team dropped its first two games, before reeling off five straight wins to capture the title and $3,000 in NextGen funding.
"The level of play was excellent," said Gray-Withers. "It was a great way to kick off the season. As a newly formed women's team, it was a great experience to get a win under our belt competing against teams we have seen at junior nationals. We'd love to see Curling Canada run more events like it."
The Alberta foursome defeated Saskatchewan's Skyler Ackerman in the final 9-8, in a tilt that required an extra end.
As the four-player bonspiel was coming to a close, a power outage in Edmonton on Saturday delayed the finish of the championship games.
Power was out for nearly two hours, which forced the cancellation of the pre-event practice for the mixed doubles event, but all games were played on schedule.
The 16-team mixed doubles event ran from Saturday afternoon until Monday, and was won by Ontario's Jessica Zheng and Victor Pietrangelo. They only lost their second round-robin game before winning six straight to claim the championship over Alberta's Paige Papley and Evan Van Amsterdam. The win earned the Ontario duo a spot in the NextGen program and $3,000 in funding.
For Papley and Van Amsterdam, the loss in the final ruined a perfect week, as they had been undefeated in the competition.
Curling Canada is committed to running the event next year and aims to have a full schedule of 10 women's, 10 men's and 20 mixed doubles teams. The organization's goal is to make the U-25 NextGen Classic a regular event on the Under-25 curling schedule.
"It's great that Curling Canada will continue to support the U-25 age group," said Gray-Withers. "There is such a big gap currently from juniors to women's play. The majority of our team just aged out of juniors this past season, so we are very grateful to have the opportunity to play great teams that are closer to our age and skill level."