One win in the bank!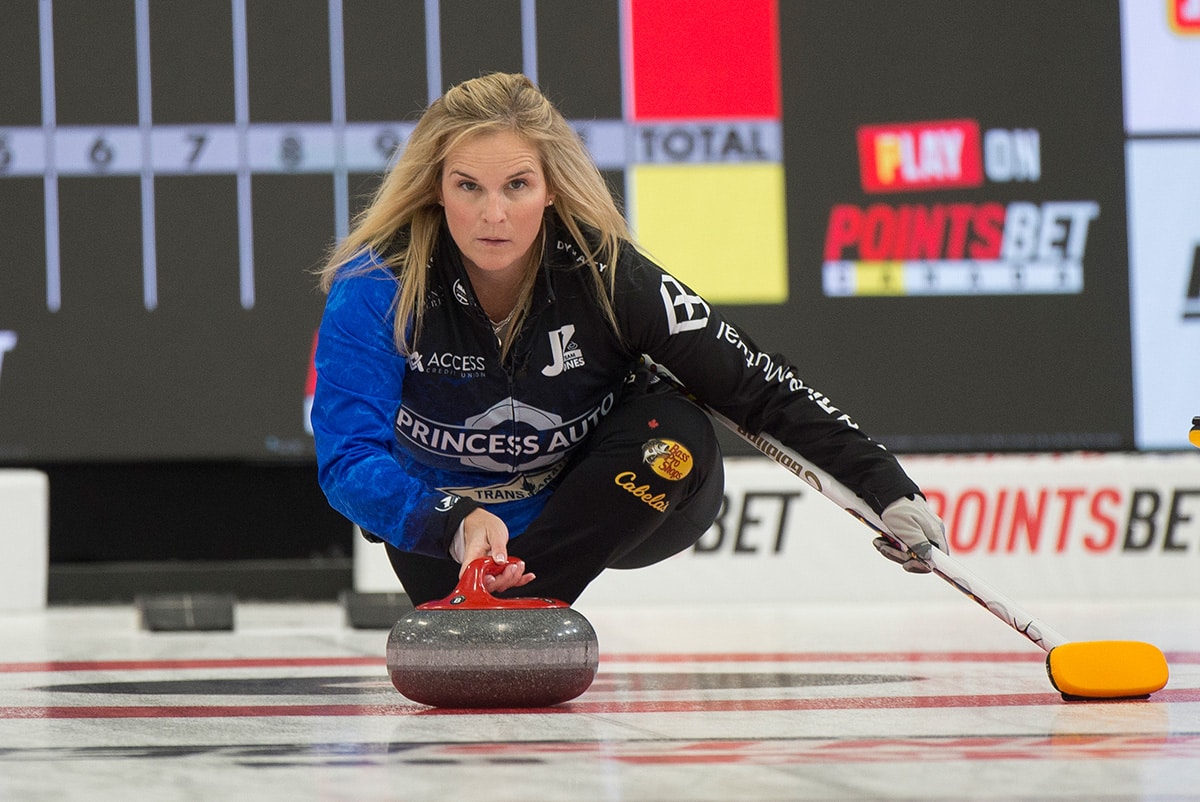 Team Jones opens inaugural PointsBet Invitational with victory
Through a brilliant curling career that is arguably without equal, Jennifer Jones has found herself in just about every conceivable situation on a sheet of curling ice.
But Wednesday afternoon at Willie O'Ree Place in Fredericton, N.B., Jones found herself in unfamiliar territory — a win-or-go-home game to OPEN an event!
And adding to the pressure: needing to do it against the hometown favourite entry skipped by Andrea Kelly in the first round, AKA the Sweep 16, of the inaugural 2022 PointsBet Invitational. Talk about a potential bracket-buster, as Team Kelly entered as the No. 12 seed in the 16-team women's field, while the new-look Team Jones, from the St. Vital and Altona clubs in Manitoba, were seeded fifth.
But as she typically does in pressure situations, Jones found a way to get the job done. Backed by her new squad of third Karlee Burgess, vice-skip/second Mackenzie Zacharias, lead Lauren Lenentine and alternate Emily Zacharias, Team Jones rolled to a 9-5 win over Team Kelly to advance to a Friday morning (11 a.m., all times Atlantic) Elite 8 showdown with Team Selena Sturmay (Edmonton).
The win was worth $3,000 to Team Jones; Elite 8 winners will pocket $6,000, with $12,000 going to winners of Final 4 games, and an eye-popping $24,000 to the men's and women's champions, respectively, after Sunday's finals.
"It feels like every event you play, the pressure is on you in the first game, so it didn't feel much different, to be honest," said Jones. "But it's definitely a unique event and I'm sure as the week goes on the pressure will go up for sure."
It wasn't perfect curling, which is to be expected in the first major event of a new season, and misses were more prominent than makes in determining the end result.
It was Team Kelly — rounded out by vice-skip Sylvie Quillian, second Jill Brothers, lead Katie Forward and coach Daryell Nowlan — with the early momentum thanks to some misses from Jones. In the first end, the six-time Scotties Tournament of Hearts champion had a draw for two and was heavy; two ends later, after a Team Kelly deuce, Jones had a chance to retake the lead with a hit for two, but her shooter rolled out, and she settled for one.
An end later, though, Kelly was victimized by a miss of her own. Facing four Team Jones counters, Kelly attempted a double takeout to score a single, but her shot overcurled, removing just one Jones counter and rolling out of the rings, leaving a tide-turning steal of three for the Manitobans.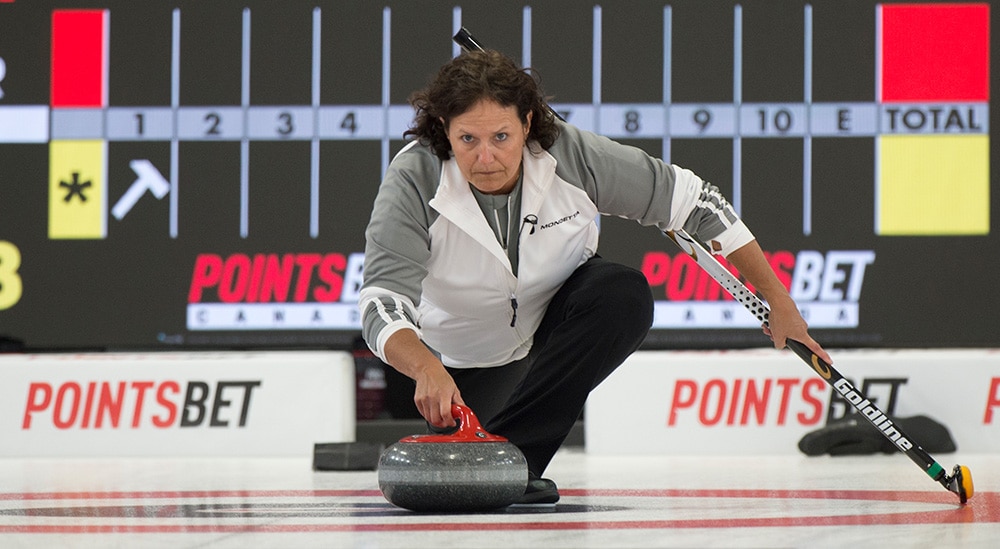 "That made a big difference," admitted Jones. "They had the hometown crowd here, which was fun. It was a way bigger crowd than I thought in the middle of the day, and it was awesome to see so many people come out. We have a couple Maritimers on our team (Burgess from Nova Scotia and Lenentine from Prince Edward Island), I'm hoping the crowd switches to us."
Team Kelly hung tough and had something building in the eighth end, sitting five on Jones's final shot. But Jones coolly drew the side of a buried Team Kelly stone on the button and cut the steal down to a manageable single and carried a 6-5 lead and last rock into the ninth.
"That was a disaster of an end; I think we'll all admit that," said Jones with a laugh. "It was not a comfortable situation, but it was really good to get away with just a steal of one and maintain some control."
Meanwhile, top-seeded Team Kerri Einarson (Gimli, Man.) avoided a first-round letdown, rolling to a 12-3 win over No. 16 Team Tracey Larocque (Thunder Bay, Ont.), the reigning women's champions at the Everest Canadian Curling Club Championships.
It was an eye-opening experience for Larocque, whose team collected $5,000 to cover its travel expenses to and from Fredericton, and was saluted with spirited applause after the loss to Einarson
"You know what? I was thinking, 'What, did some other team finish? Who are they clapping for?' " said a smiling Larocque. "The whole experience was pretty cool. It was probably a little bit more nerve-racking before we got here. We were like, 'Oh my God, what are we doing here?' It was some imposter syndrome — why were WE invited? And being on the ice for the first half of the game, we were like, this is just ridiculous, but then we just decided to have some fun. And we had some chances, and we just didn't take advantage. Tons of fun. I just wish we had had more practice because I think we could have given them a better game."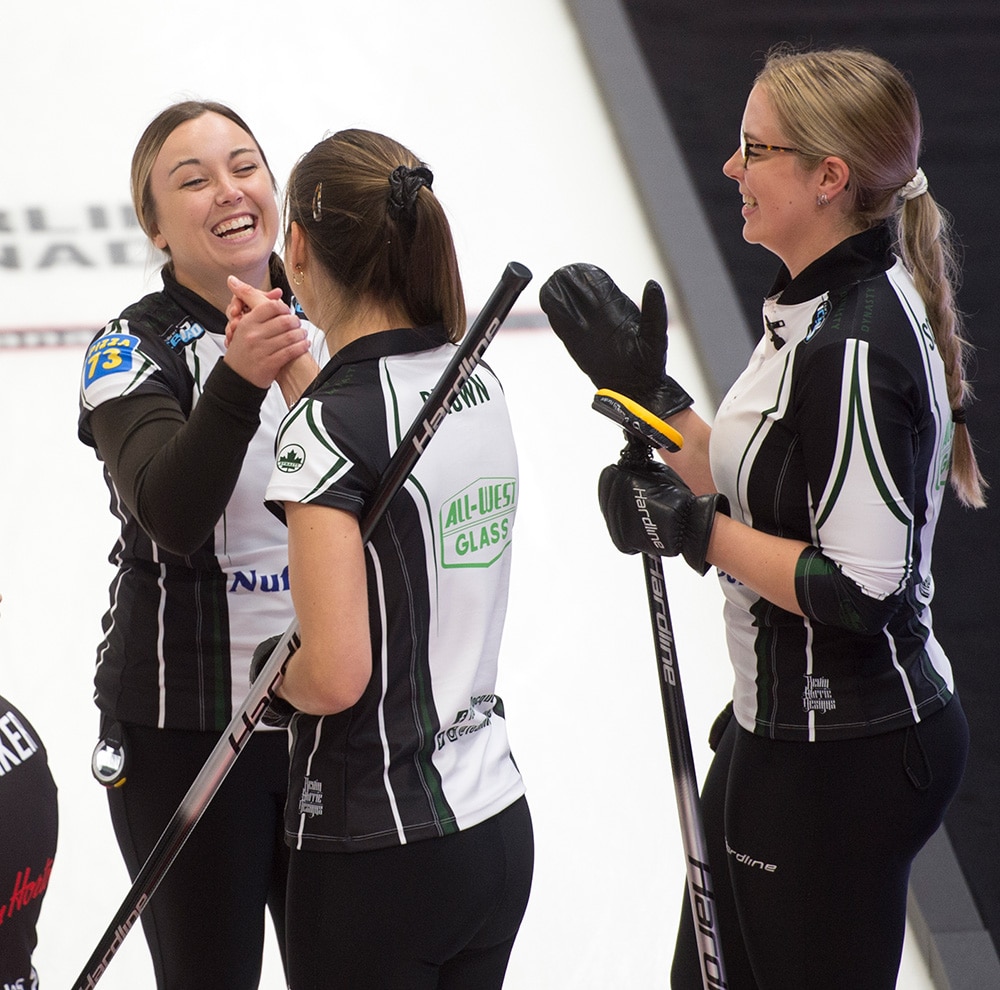 Team Sturmay, seeded 13th, provided a bracket-busting win by taking down No. 4 Team Chelsea Carey of Winnipeg 10-6, with a count of four in the 10th end providing the margin.
In the other Sweep 16 opener, No. 8 Team Kelsey Rocque (Edmonton) held off No. 9 Team Christina Black (Halifax) 8-6.
The 2022 PointsBet Invitational continues Wednesday with Sweep 16 men's play at 7 p.m.
On Thursday, the remaining eight women's (2 p.m.) and eight men's (7 p.m.) teams will make their 2022 PointsBet Invitational debuts.
Live scoring, standings and statistics for the 2022 PointsBet Invitational are available at curling.ca/scoreboard.
TSN and RDS2 (streamed on ESPN3 in the United States) will provide complete coverage of the 2022 PointsBet Invitational. CLICK HERE for the complete schedule.
For ticket information for the 2022 PointsBet Invitational, go to www.curling.ca/2022pointsbetinvitational/tickets/
This story will be available in French as soon as possible at www.curling.ca/2022pointsbetinvitational/nouvelles/?lang=fr