New team on the block!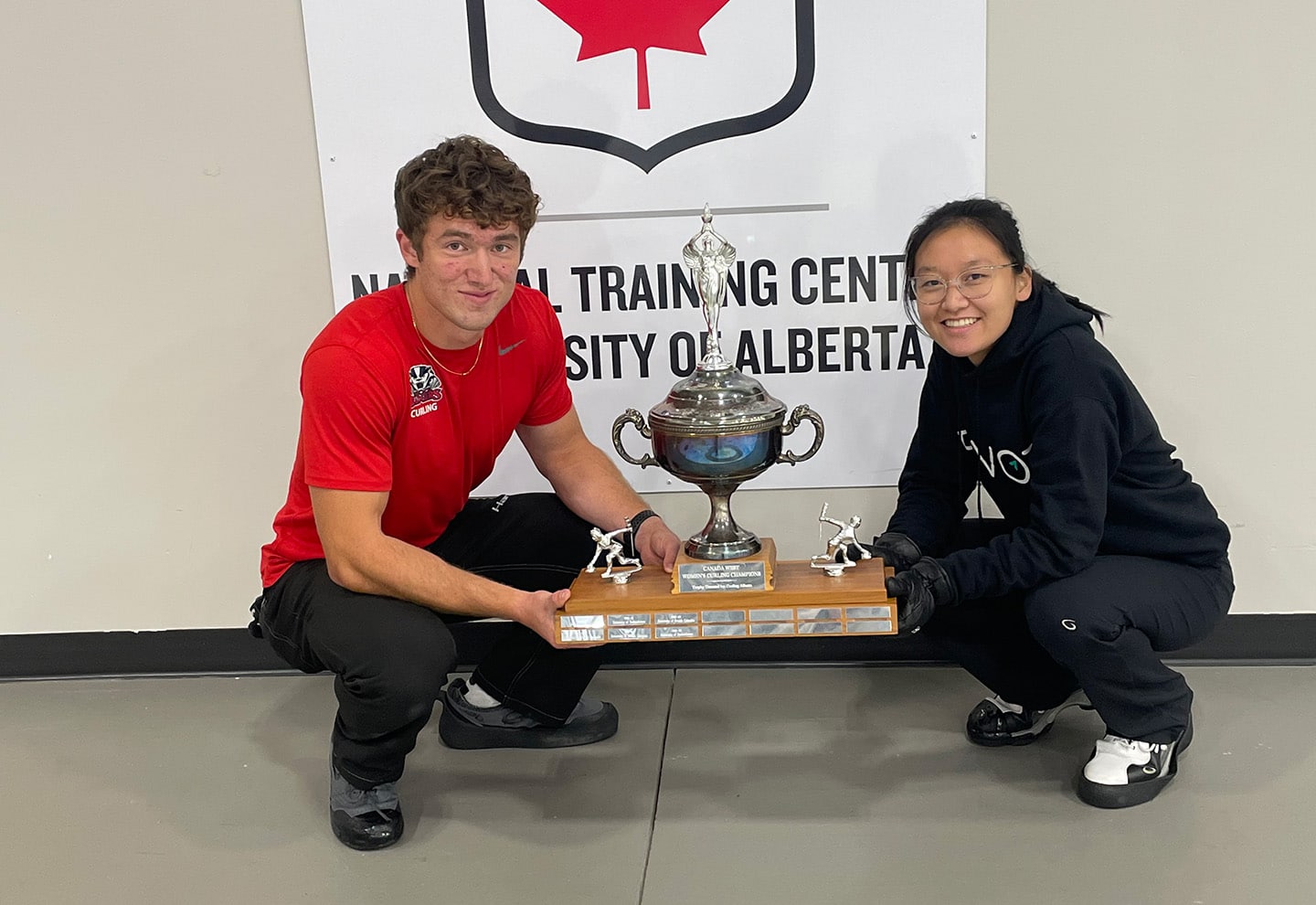 Young mixed doubles squad makes big impact on Canadian mixed doubles scene
By: Brian Chick
When Jessica Zheng and Victor Pietrangelo won last month's U-25 NextGen Mixed Doubles Classic, they weren't sure what to think.
"When we were flying back from Edmonton, we were in total disbelief," said the 19-year-old Pietrangelo. "We couldn't quite get over the fact that we won. It's really exciting still…At some point, I'll be able to wrap my head around it."
The win in Edmonton earned the duo a spot in Curling Canada's NextGen program that consists of on and off ice national coaching support and $3,000 worth of funding. This is a seismic shift for a pair who has experienced limited coaching since their debut as 15-year-olds.
"We had some coaching in high school," said Zheng, 20, who grew up on the same street as Pietrangelo in Niagara Falls, Ont. "Every now and then we'd ask someone to come watch a game or a competition. But overall, we never really had anybody specific who worked with us regularly."
Because of the team's self-taught ways, Zheng and Pietrangelo weren't on the NextGen program's radar, nor the radar of many coaches in Canada. But that all changed after the team went 7-1 to win the mixed doubles title at the U-25 NextGen Classic, defeating many players with experience at the national and international levels in the four-player discipline.
"It is incredible to see a team like this make a big impact in such a short amount of time. They're both curlers with limited coaching who focus solely on succeeding at mixed doubles. We know many curlers are introduced to the sport through the four-player game and likely through friends and family connections. Jessica and Victor are showing us there are other paths to finding success at the game's highest levels. I think they'll be the first of many to be introduced to our sport in a more 'untraditional' manner," said Helen Radford, Curling Canada's Manager of Youth Curling and NextGen Program.
"We never thought we'd have an opportunity like this," said Pietrangelo, "So we'll try to take advantage of it as much as we can."
"It's all really new to us. We don't really know what to expect, but we're excited to have all these resources," said Zheng. "It'll be great to have access to the top coaches, like some of the really good teams, and see where it takes us."
"At the event, we talked with Jeff Stoughton about physical training and what we might be able to work on," said Pietrangelo. "Scott Pfeifer [National Mixed Doubles Program Coach] was there too, and as a mixed doubles team, we were really excited to hear what he had to say."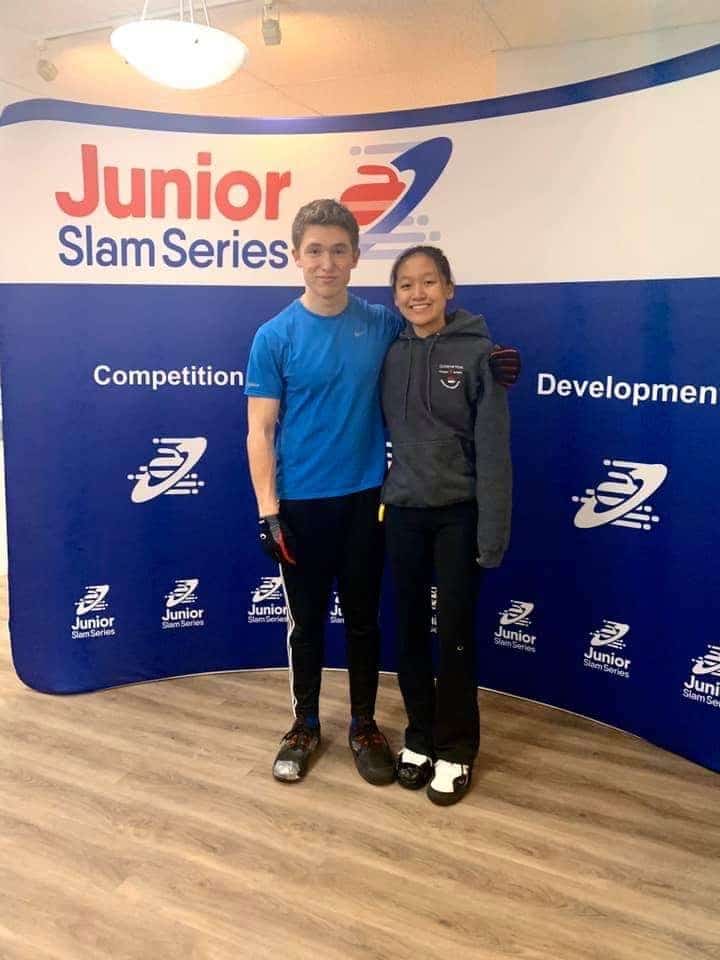 The duo has been a mixed doubles team since their 10th Grade of high school, where they were both recruited by the school's team the year before. Before that, they had minimal curling experience.
"One of the guys on the high school team dislocated his shoulder just before school provincials – so they recruited me," said Pietrangelo. "Jess was running cross country, and the coach got her to start curling. That's how we got into it."
Zheng and Pietranglo started playing in an adult mixed doubles league at the Niagara Falls Curling Club, even though they were 16 and 15 years old.
"It wasn't the most competitive league," said Pietrangelo. "But once we got started there, we went into some other events like Ontario Winter Games playdowns and U-21 Provincials – when we were still in Grade 10."
Five years later, the partnership is still going strong, although a bit challenging due to their current academic situations.
Pietrangelo, studying Accounting at Brock University, is staying close to home near Niagara Falls and curling at the St. Catharines Curling Club.
Meanwhile, Zheng is a Software Engineering student at the University of Waterloo and is currently working in a work co-op term at Google in Seattle, Wash.
"We switch between co-op and study terms every four months," said Zheng. "It definitely affects the curling season…Right now I'm in Seattle, working at Google. After two years of Covid, it's my first time working in person at the co-op."
The rest of the season will be a logistical challenge as a continent separates the two curlers. With Ontario playdowns and a Nordic Junior Curling Tour tournament on the schedule, the pair will have to juggle priorities as the school year progresses.
However, priorities may have shifted with the win in Edmonton and the new resources the NextGen program provides in funding and coaching.
"It's really unbelievable, we went into the tournament trying to win a few games," said Zheng. "Ending up in the program with some funding… it's a bit surreal."
As for what the future holds, neither player is sure. They do agree, however, that they'll be playing with each other as teammates.
"We'll probably play together as long as we can make it work," said Pietrangelo. "The goal would be to end up at nationals, or maybe the Olympic Trials."
"We were best friends before we were teammates," said Zheng. "We'll be sticking with it. We're committed to playing together."