Renewed energy!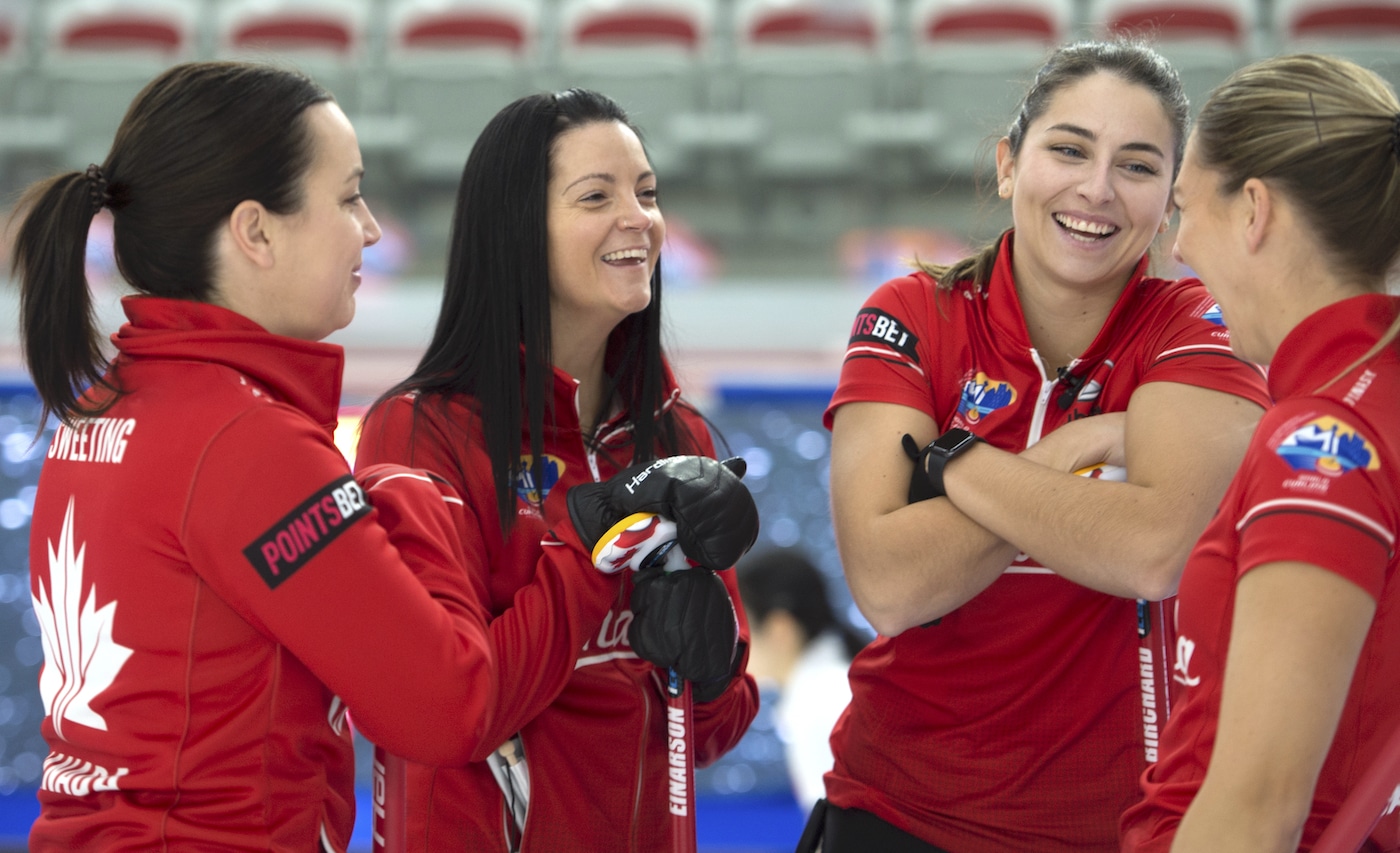 Canada's Team Einarson topples New Zealand in first-time match-up at inaugural Pan Continental Curling Championships
The last time Kerri Einarson entered the WinSport Event Centre in Calgary, she was donning a mask, maintaining a distance of at least six feet from her competitors and had no friends or family in sight.
Eighteen months later, the skip from the Gimli Curling Club in Manitoba is back in the building and wearing the familiar colours of red and white for Canada at the inaugural 2022 Pan Continental Curling Championships.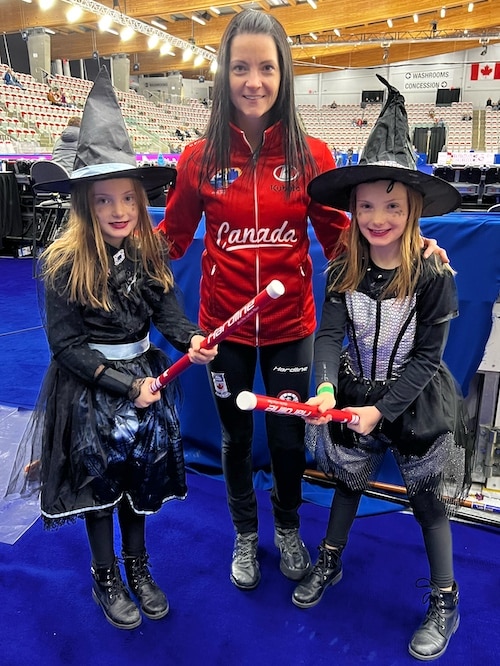 This time, however, on Halloween Monday, she can look up in the stands and see the seats are no longer holding the cardboard cutout fans that had become commonplace in the world of sports during a pandemic. Now she can see fans in the flesh, including two of her biggest: daughters Khloe and Kamryn, dressed up as witches in the spirit of Halloween.
Team Einarson opened the round robin with an 11-3 victory over New Zealand's Team Jessica Smith for its first win of the event and improved to 1-0.
Canada – skip Einarson, vice-skip Val Sweeting, second Shannon Birchard, lead Briane Harris, alternate Rachel Brown and coach Reid Carruthers – began the game with hammer and controlled the end. By the final rock, Einarson and co. had efficiently split the rings and scored two to open the game. In the second, Canada stole a point after New Zealand's final takeout attempt spun out of the house.
New Zealand battled back and made some crucial shots when they mattered most. In the third end, an aggressive double-centre guard set-up by Canada backfired and led to New Zealand scoring two in the third. Smith threw a perfect freeze to her own shot stone on the button to sit two on her first shot. Team Einarson elected to play a guard and blocked any chance for New Zealand to tie the game with a three-ender. However, Canada got its two back in the fourth end.
It is the first time a Canadian team has played a New Zealand team in the women's discipline at a World Curling Federation-sanctioned event. While the score was leaning heavily in Canada's favour, New Zealand made some impressive shots throughout the game and capitalized when the opportunity arose. In the fifth end, for example, Team New Zealand was shooting against four Canadian counters and made a superb triple to limit the damage to a steal of one.
"We wanted to play our game and put some pressure on them," Einarson said. "We couldn't get lulled into the hitting game, and we thought that if we keep putting pressure on them, we'd get some opportunities and capitalize on them."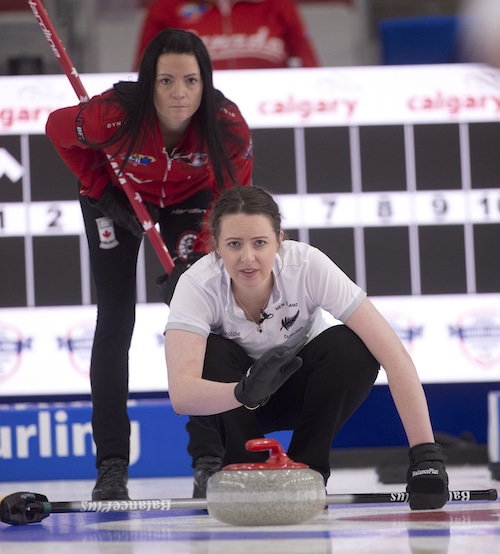 Fast forward to the eighth end when that pressure was on full display, with Canada sitting four and executing a draw for five on its last, leading to New Zealand conceding the game.
Not too long ago, Einarson spent nearly two months inside the "Calgary Curling Bubble" of 2021 when the Covid-19 pandemic was at its height, and several Canadian and world championships and Grand Slam events were hosted safely at WinSport Event Centre. It was one of the most rewarding – yet challenging – times of Einarson's curling career.
Her team captured a second-straight Scotties title, a Players' Championship and competed in its first-ever world women's championship in Calgary. Not only that, but Einarson and her mixed doubles partner Brad Gushue (who is representing the Canadian men at the Pan Continental) won the Canadian mixed doubles title. They would later represent Canada at the world event in Scotland.
It's a string of on-ice curling victories many players could only dream of. But it came at a cost, with Einarson spending over three months on the road and away from her family, friends and work commitments.
Einarson left her longtime role as a rehabilitation assistant at Betel Home Foundation, a personal care home in Gimli, but remains in a casual position. After 14 years at the job, she made close connections with the residents, many of them curling fans who watched her rise from the ranks of a provincial contender to Canadian champion and Olympic hopeful. But as Einarson's abilities on the ice grew, so did her competitive curling schedule.
"It was scary to make that decision, but I know it was the right one. I get to spend more time with my family. Also, with me not being at work all the time, it was hard on my residents too, even though they absolutely love watching me curl. I still feel their support, and I miss them quite a bit," said Einarson. "It was a hard decision, and it didn't come lightly, but I know that if you want to be at this level in curling, you have to give it your all."
The Canadian women take on Team Angelina Ebauyer of Kazakhstan (0-1) next on Tuesday at 9 a.m. (all times MT).
But first for Einarson, a night of trick or treating with her daughters in Calgary. The stars aligned for Einarson and her daughters, as the team happens to have a bye on Halloween night and her cousins live not too far away for a night of trick-or-treating.
In other Draw 1 action on the women's side, Australia's Team Jennifer Westhagen defeated Brazil's Isis Oliveira 8-7; Team Seungyoun Ha of South Korea bested Team Ebauyer of Kazakhstan 12-1; and Team Tabitha Peterson of the United States capitalized in an extra end to defeat Japan's Team Satsuki Fujisawa by a score of 8-7.
The 2022 Pan Continental Curling Championships continues on Monday with Canada's Team Gushue taking on the United States (Team Korey Dropkin) at 2 p.m.
Live scoring, standings and statistics for the 2022 Pan Continental Curling Championship are available by clicking here.
TSN and RDS2 will provide coverage of select games from the 2022 Pan Continental Curling Championships. Click here for the full schedule.
For ticket information for the 2022 Pan Continental Curling Championships, click here.
This story will be available in French as soon as possible here.