Back on track!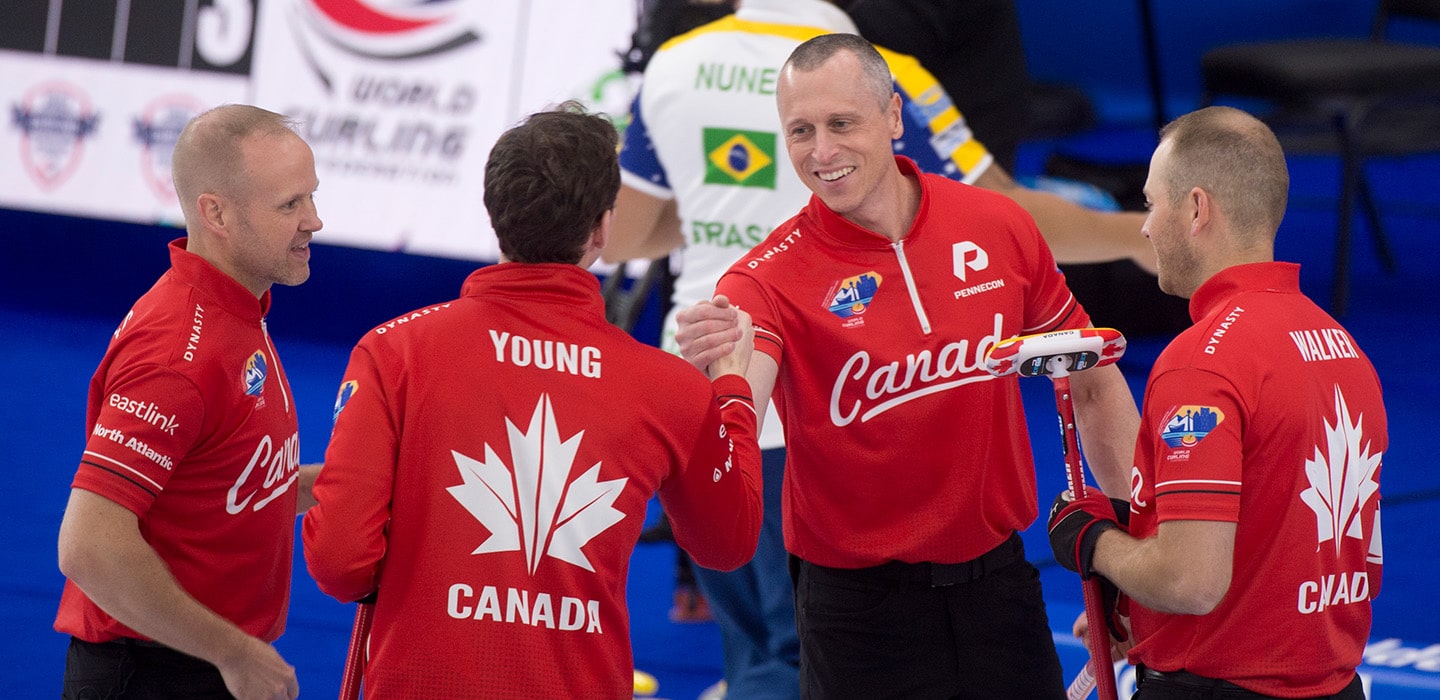 Canada's Team Gushue evens record at Pan Continental Championships
Brad Gushue and his teammates have had enough experience dealing with disappointing losses to know how to come back from them.
So on Tuesday afternoon at the WinSport Event Centre, the opponent was immaterial for Gushue, vice-skip Mark Nichols, second E.J. Harnden, lead Geoff Walker, alternate Nathan Young, team coach Jules Owchar and national coach Jeff Stoughton.
The priority was doing the little things right — little things that cost them in an event-opening loss on Monday to Team Korey Dropkin of the U.S.
Twenty-four hours later, taking on Team Marcelo Cabral de Mello of Brazil, the Canadian team looked closer to the form it will need to make a deep run at the inaugural version of the Pan Continental Curling Championships.
The Canadians took three in the first end on a short runback from Gushue and sailed home with a 7-1 win to improve to 1-1.
"I thought we played better," said Gushue. "We didn't have any of the big misses we had in the second half of (Monday's) game. We made some adjustments and hopefully we'll be OK."
Canada would set the tone early as Gushue threw a short runback takeout to score three in the first end, and followed up with single-point steals in the second, fourth, fifth and sixth ends. Brazil (0-2) counted one in the seventh and conceded defeat.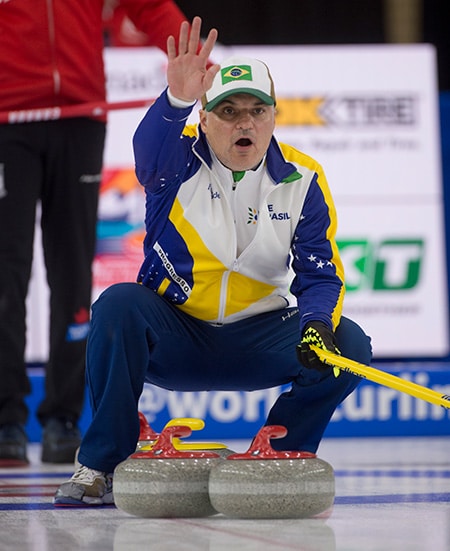 "We talked about it (after Monday's loss); we just wanted to make sure we got off to a good start, put some points on the board early and then could throw some less-precision shots," said Walker. "I think the biggest thing was about getting the first win, feeling good about yourself. Tomorrow's a new day; Japan will be a good test and we have to make sure we're ready for that one."
Canada plays Japan's Team Riku Yanagisawa (0-2) Wednesday at 8 a.m. (all times Mountain), and then is up against South Korea's Byeongjin Jeong (2-0) at 4 p.m.
For the first time in his career, Gushue left the game after the fifth end to rest a troublesome hip, and allow Young, who won a mixed doubles gold medal at the 2020 Youth Winter Olympic Games, to throw a few shots.
"There was a lot of tightness in last night's game and I got some work done on it," said Gushue. "It still doesn't feel great, but I'm just trying to give it a little extra rest and get some more treatment today. We have a two-game day tomorrow and a two-game day the day after, so I'm just trying to feel a little bit better. It was a good opportunity to get Nathan in there; it was nice to see him out there."
For Young, who won't turn 20 until Nov. 18, it was a highlight in what promises to be a career full of them.
"We're at the hotel sitting around and all of a sudden it hits you, who exactly you're sitting around with," said Young with a wide smile. "It's crazy. I'm so appreciative to be able to get in and throw a few rocks in the game with those guys; having E.J. and Geoff sweeping your rocks, it makes it pretty easy."
In other Tuesday afternoon games, South Korea was a 10-3 winner over New Zealand's Team Anton Hood (1-1); The U.S. (2-0) toppled Team Randie Shen of Chinese Taipei (1-1) 9-2; and Australia's Team Jay Merchant (1-1) shaded Japan 6-5.
The 2022 Pan Continental Curling Championships continue on Tuesday with Canada's Team Einarson taking on Hong Kong's Team Ling-Yue Hung (1-1) at 7 p.m.
Live scoring, standings and statistics for the 2022 Pan Continental Curling Championship are available by clicking here.
TSN and RDS2 will provide coverage of select games from the 2022 Pan Continental Curling Championships. Click here for the full schedule.
For ticket information for the 2022 Pan Continental Curling Championships, click here.
This story will be available in French as soon as possible here.