A step closer!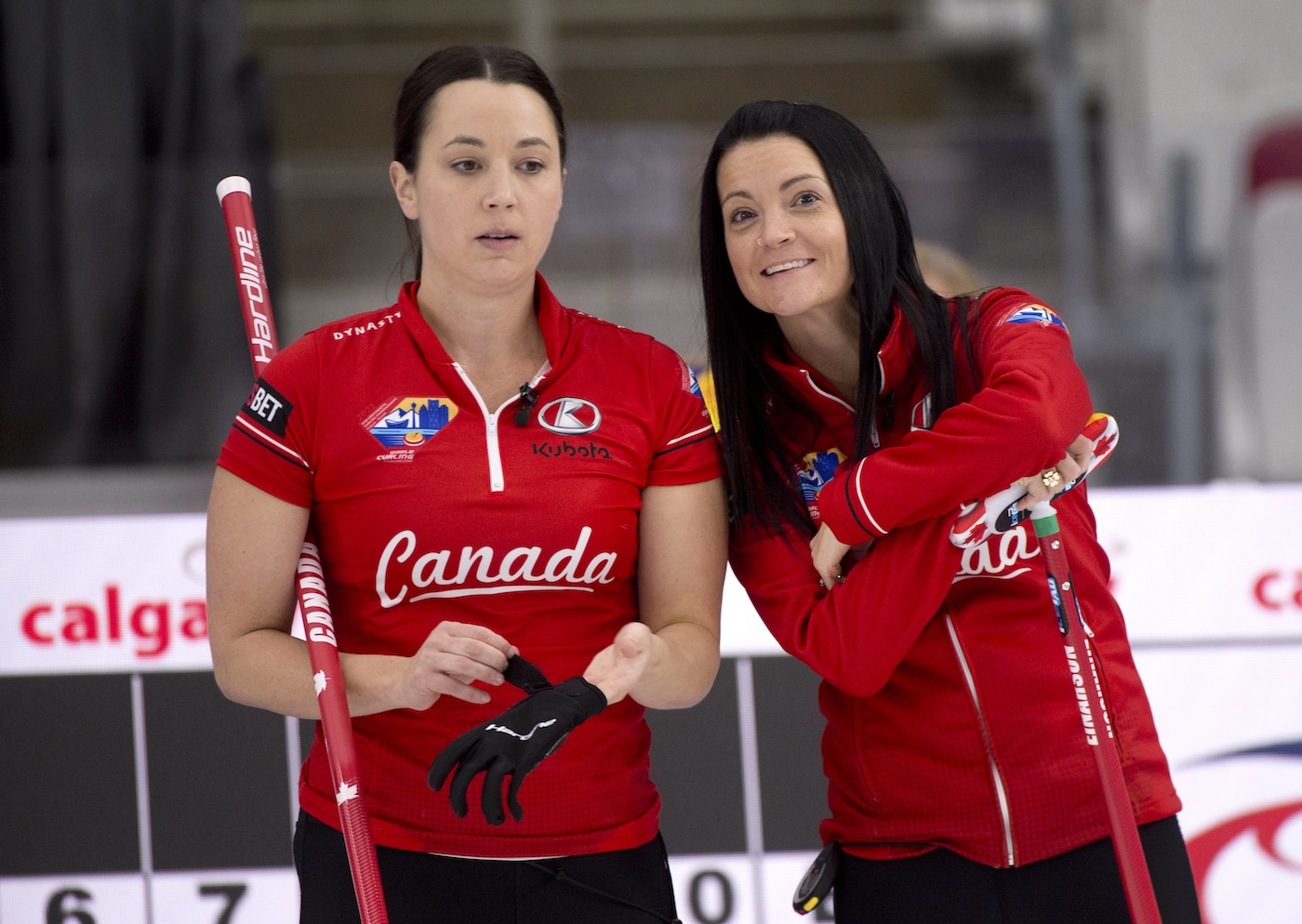 Canada's Team Einarson closing in on playoffs at Pan Continental Championships
Team Kerri Einarson took another step closer to completing its to-do list on Wednesday night at the WinSport Event Centre in Calgary.
A fifth straight victory put Einarson, vice-skip Val Sweeting, second Shannon Birchard, lead Briane Harris, alternate Rachel Brown, team coach Reid Carruthers and national coach Renee Sonnenberg on the verge of locking down one of the four available playoff spots in the nine-team round robin at the inaugural Pan Continental Curling Championships.
It also guaranteed a top-five finish in the round-robin, which means Canada has its berth locked up in the 2023 World Women's Curling Championship in March in Sweden.
But the goal continues to be pretty simple, said Einarson in the wake of a 10-2 win over Brazil's Team Isis Oliveira (0-6): keep learning, keep moving forward, and, of course, keep winning.
"You definitely want to keep growing, and getting stronger and stronger each game," said the three-time defending Scotties Tournament of Hearts champion. "That's what we've been working on. I think we can still be a little sharper and catch on to things sooner, but I think we're in a good spot."
They are indeed — tied for first place with Tabitha Peterson's U.S. team at 5-0, and just ahead of Japan's Team Satsuki Fujisawa (5-1) and South Korea's Team Seungyoun Ha (4-1).
And wouldn't you know it — Canada will complete round-robin play against those three teams, beginning with a showdown Thursday at 2 p.m. (all times Mountain) against the U.S.
"We're going to be really tested; we know we have to bring our 'A' game," said Einarson.
The Canadians got off to a much quicker start than in their earlier Wednesday tilt against Australia, scoring three in the first end to take early control.
A single in the third would follow, and Canada would pad the lead with a stolen single in the fifth end and three more stolen points in the sixth. Brazil would counter with one in the seventh before Canada prompted a concession from the Brazilians when Einarson hit for a deuce in the eighth.
"It was a much better start (compared to the game against Australia)," said Einarson. "The ice is still a little bit tricky; it got a little soft in the last half of the game, but we started off strong, which was nice."
Also nice — making sure Canada has its World Championship berth. Interestingly, it was also on Team Einarson's shoulders to clinch Canada's berth into the 2022 Winter Olympics the last time it played in this building, at the 2021 World Women's Championship.
"It was definitely a lot less stressful (than 2021)," said Einarson with a chuckle. "But we were glad to get it done."
Carruthers departed for British Columbia prior to the game to play with his men's team at a World Curling Tour event in Penticton; his spot on the coaching bench will be taken by Jeff Hoffart for the remainder of the Pan Continental Championships.
In other games on Wednesday night, the U.S. defeated Kazakhstan's Team Angelina Ebauyer 9-0; Japan's Team Satsuki Fujisawa (5-1) was an 11-1 winner over Australia's Team Jennifer Westhagen (2-4); and New Zealand's Team Jessica Smith (2-3) stole one in the ninth and three in the 10th for an 8-6 win over Hong Kong's Team Ling-Yue Hung (1-4).
The 2022 Pan Continental Curling Championships continue on Thursday with Canada's Team Gushue back in action, at 9 a.m. against Australia's Team Jay Merchant (2-2).
Live scoring, standings and statistics for the 2022 Pan Continental Curling Championship are available by clicking here.
TSN and RDS2 will provide coverage of select games from the 2022 Pan Continental Curling Championships. Click here for the full schedule.
For ticket information for the 2022 Pan Continental Curling Championships, click here.
This story will be available in French as soon as possible here.