Winning in style!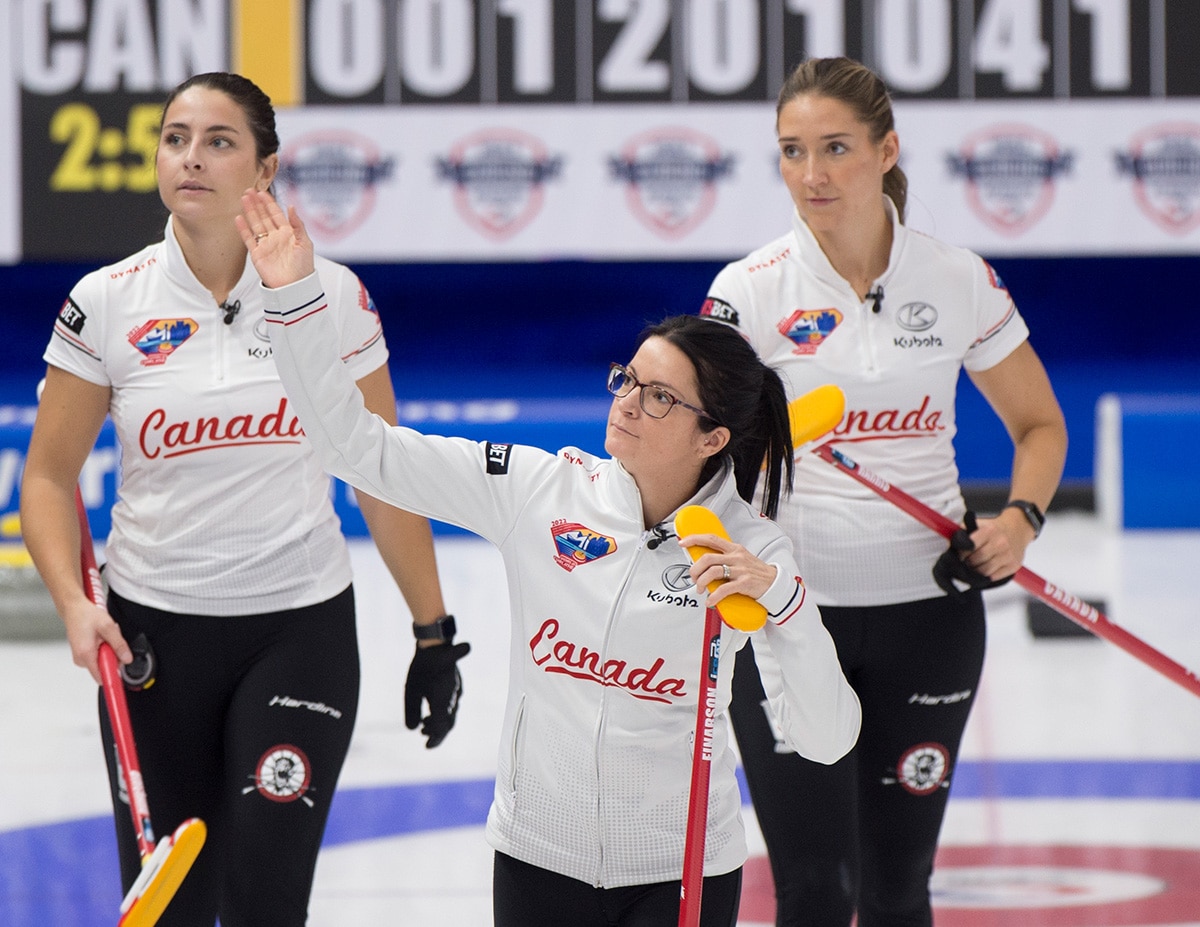 Team Canada gets its momentum back at Pan Continental Championships
A day earlier, Team Canada left the ice at the WinSport Event Centre with ambitions of completing round-robin play with two solid performances to prepare for Saturday's playoff semifinals at the inaugural Pan Continental Curling Championships.
Based on their performance on Friday morning against Japan's Team Satsuki Fujisawa, skip Kerri Einarson, vice-skip Val Sweeting, second Shannon Birchard and lead Briane Harris are in a good position to accomplish that goal.
The Canadian team from Gimli, Man., put together arguably its finest performance of the Pan Continental Championships, rolling to a 9-3 win over Japan.
The result left Team Canada, which is rounded out by alternate Rachel Brown, team coach Reid Carruthers and national coach Renee Sonnenberg, in a three-way logjam for top spot in the nine-team round-robin standings, tied at 6-1 with South Korea's Team Seungyoun Ha and Team Tabitha Peterson of the United States. Japan is alone in fourth at 6-2.
Those four teams have clinched semifinal spots; still to be determined is who plays whom Saturday at 1 p.m. (all times Mountain); first place will play fourth place while second will play third, with the winners playing for gold Sunday at 6 p.m., and the losers battling for bronze Sunday at 1 p.m.
Suffice it to say, Team Canada was in much better spirits than on Thursday following their loss to the United States.
"We shook that game off and came out and played like we can," said Einarson. "It's not that it was a horrible game (Thursday); we just weren't capitalizing on our opportunities. Today, we regrouped and came out there with a solid game."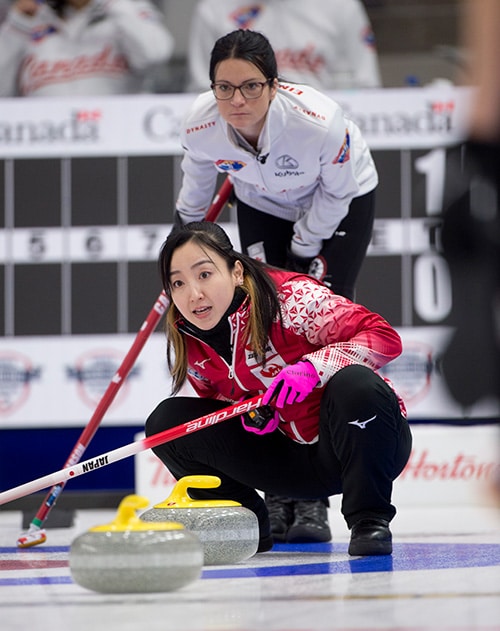 They did indeed; the Canadians played an efficient, tidy game, limiting their mistakes and taking advantage of Japanese misses to control the game.
Japan had a shot for two in the first, but Fujisawa was light on her draw and settled for one. Canada would blank the second and let one get away in the third when Einarson nose-hit on her blank attempt.
But in the fourth, Canada ratcheted up the pressure and was rewarded with a stolen deuce when Fujisawa missed on a tough runback attempt.
The teams would trade singles the next three ends before Canada put the game away in the eighth on a wonderful runback double takeout by Einarson that put four points on the scoreboard.
"We just weren't as sharp as we wanted to be yesterday and ultimately it was still pretty close," said Sweeting. "We just wanted to come out and get a good handle on the ice; it was a good team game. We knew it would be a close one, and Kerri made a nice one to blow it open there in the eighth.
"You're going to have bad games out there; we're all human. Just figure out what we can do to make the next one is the key. Always learning is the goal."
Canada closes out round-robin play later Friday against South Korea at 7 p.m.
"Coming out and playing like we did, it's a huge confidence booster — to know that we can just shake it off and play like we know we can," said Einarson. "We have another big game tonight, and we'll have to play really well again."
In other Friday morning games, South Korea ended the United States' win streak with a 9-5 win; Kazakhstan's Team Angelina Ebauyer (1-6) turned back Hong Kong's Team Ling-Yue Hung (1-6) 7-5; and New Zealand's Team Jessica Smith (4-3) rolled to a 10-4 win over Brazil's Team Isis Oliveira (0-7). Earlier, the World Curling Federation announced that New Zealand had clinched a top-five finish to qualify for its first World Women's Curling Championship.
The 2022 Pan Continental Curling Championships continue on Friday with Canada's Team Brad Gushue (5-1) back in action, at 2 p.m. against Chinese Taipei's Team Randie Shen (2-4) to close out the men's round robin.
Live scoring, standings and statistics for the 2022 Pan Continental Curling Championship are available by clicking here.
TSN and RDS2 will provide coverage of select games from the 2022 Pan Continental Curling Championships. Click here for the full schedule.
For ticket information for the 2022 Pan Continental Curling Championships, click here.
This story will be available in French as soon as possible here.