Chasing a threepeat!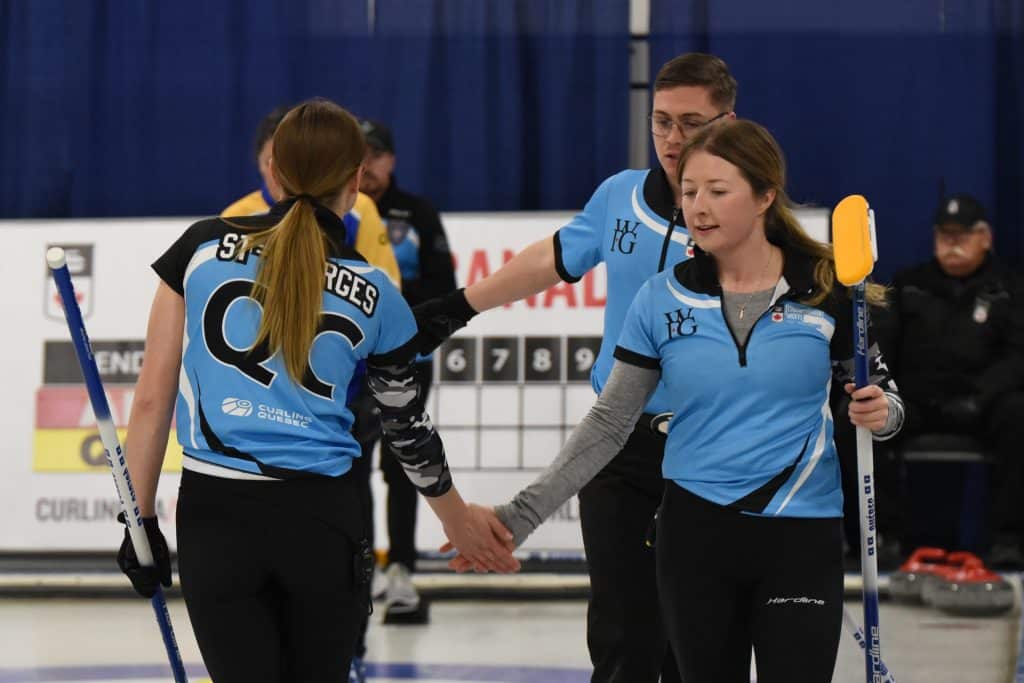 Québec clinches championship pool berth in quest for third straight Canadian mixed crown
Pressure may affect some players adversely but if you're team Québec skip Felix Asselin, pressure slides over you like teflon on ice.
And so far, that calm demeanor has Québec maintaining a perfect 4-0 record capped by a dominant 10-3 victory over British Columbia's Craig Miles (2-2; Victoria) at the 2022 Canadian Mixed Curling Championship from the Prince Albert Golf and Curling Centre in Saskatchewan.
Asselin and his Glenmore Curling Club team will need to maintain that stellar pace if they wish to win a historic third consecutive Canadian Mixed championship for Québec – all with entirely different lineups.
"No pressure," said Asselin about Québec's incredible success at the mixed as they strive for the province's third straight national championship title. "We've been putting our best elements into mixed these days and sending really good teams. It's paid in results."
No province or territory has won three straight Canadian championships with totally different teams since Manitoba did it at the 1929, 1930 and 1931 Briers. Team Jean-Michel Ménard recently captured the gold medal at the 2022 World Mixed Championship last month in Aberdeen, Scotland as the 2021 Canadian Mixed champion while team Jean-Sébastien Roy started the Quebec win streak with his victory at the 2020 Canadian Mixed in Saguenay, Qué.
"It's definitely good for curling in general in Québec," said Asselin about the province's recent success and World Mixed Championship gold medal. "It's going to push some kids to play and push some adults to compete. It's good all around."
The first step in Asselin's campaign for a Canadian mixed title is complete as the draw 7 win cements a berth into the championship pool for his belle province squadron of vice-skip Laurie St-Georges, second Émile Asselin, lead Emily Riley and coach Michel St-Georges
"We've been playing well so far. Trying to gear up for the championship pool from now on," said a composed Asselin after the Tuesday afternoon win over B.C. "A couple more big games, obviously. We can always get better, but it's a solid start."
Calling Québec's 4-0 record a solid start would seem a modest summation. Québec featured masterful control over every aspect of the game versus B.C., managing the scoring area, making clutch draws and executing high calibre hits and rolls throughout the lineup.
"We've set that tone," remarks Asselin about pressure from the front end in their win over British Columbia. "Before the first game, we said we would try to do that to everybody and we've put offense on everybody so far."
Being aggressive and leveraging pressure is a double edged sword however and Asselin knows the risks..
"It might backfire at some point obviously," said Asselin about an offense based strategy. "But we're ready for that. That's our game plan."
Team Québec is unique in that they're young yet boast a breadth of Canadian national experience with none of their players exceeding 27 years of age. St-Georges and Riley played together at the 2021 and 2022 Scotties Tournament of Hearts while the Asselin brothers have five Tim Hortons Brier appearances between them.
This exact lineup also represented Québec at the 2019 Canadian Mixed Curling Championship in Winnipeg going 9-3 overall and earning a bronze medal.
"It's a blend of everything," recounts Asselin when speaking about Québec's recipe for success at the 2022 Canadian mixed."I think we have the right players in the right positions and four solid players all around. We all enjoy being with each other and it's a blast so far. We're competing well."
Québec will next face the Yukon's Terry Miller (0-3; Whitehorse) on Wednesday morning at 10:00 a.m. (all times Central).
The championship features 14 teams (10 provinces plus Northern Ontario, Northwest Territories, Nunavut and Yukon) seeded and separated into two pools of seven teams each. The teams first play a round robin within their pool. At the conclusion of the round robin, the top four teams in each pool advance to the Championship Pool, when the teams play the teams from the opposite pool, carrying forward their full win-loss records. Meanwhile, the bottom three teams in each pool will go to the Seeding Pool, where they will compete against the three teams from the opposite pool to determine the final standings and set up the seedings for the 2023 Canadian Mixed Championship in Swift Current.
In other draw 7 action, host team Saskatchewan's Shaun Meachem (3-1; Swift Current) improved their record win a 12-1 thwacking of Nunavut's Peter Mackey (1-3; Iqaluit) while The Northwest Territories' Jamie Koe (3-0; Yellowknife) fended off a comeback to earn a 6-5 win over Prince Edward Island's Dennis Watts (1-3; Summerside) and Nova Scotia Paul Flemming (4-1; Halifax) stole a single in the eighth end to defeat Manitoba's Corey Chambers (1-3; Miami) by a 7-6 score.
Action from the 2022 Canadian Mixed Championship continues Tuesday evening at 6:00 p.m.
Live-streaming coverage of the 2022 Canadian Mixed will be available on Curling Canada's YouTube page. You can access the broadcast schedule by CLICKING HERE.
For event, team and draw information, visit www.curling.ca/2022mixed.
Draw scores/standings will be immediately available on Curling Canada's scoring website.