Three's Company!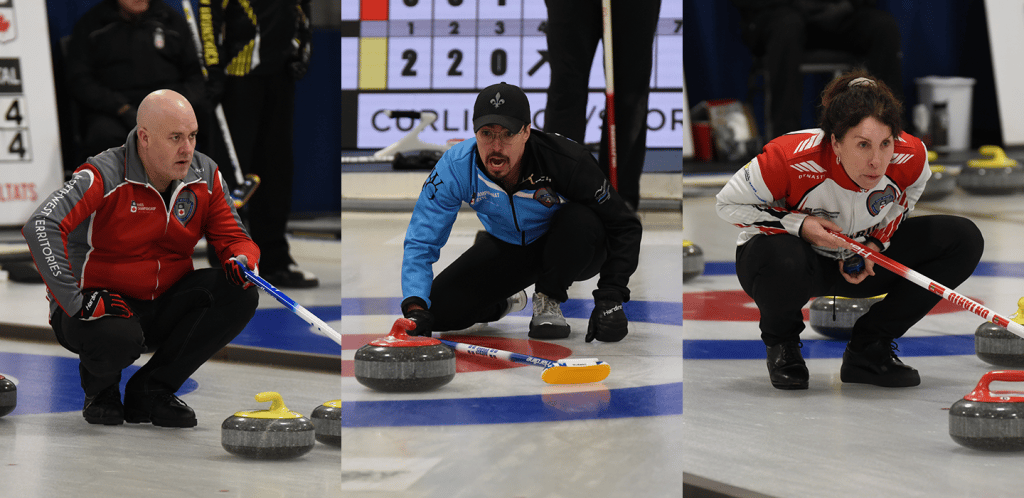 Northwest Territories, Québec and Ontario share 6-2 records atop Championship Pool at 2022 Canadian Mixed Curling Championship
There's no doubt that a star studded field at the 2022 Canadian Mixed Curling Championship from the Prince Albert Golf and Curling Centre in Saskatchewan would create some drama in the standings.
And after five days and fifteen draws at the Canadian Mixed, the Northwest Territories, Québec and Ontario find themselves sharing equal 6-2 records on top of the Championship Pool. Of those three teams however, not all have shared the same path to where they stand on the leaderboard.
Jamie Koe's Northwest Territories squad (6-2; Yellowknife) qualified for the Championship with a smooth 5-1 record through the round robin, but managed to split their two-game Thursday, falling 5-4 to Saskatchewan's Shaun Meachem (4-4; Swift Current) before rebounding with a strong 10-4 win over New Brunswick's Grant Odishaw (4-4; Moncton).
Québec's Felix Asselin (6-2; Dollard-Des Ormeaux) also qualified for the Championship Pool with a 5-1 record but will be looking to rebuild momentum having taken losses in two of their last four matches. Asselin and company also split their Thursday efforts with a 6-2 afternoon win over Northern Ontario's Trevor Bonot (5-3; Thunder Bay) before being served a tight 5-4 loss at the hands of Nova Scotia's Paul Flemming (5-3; Halifax).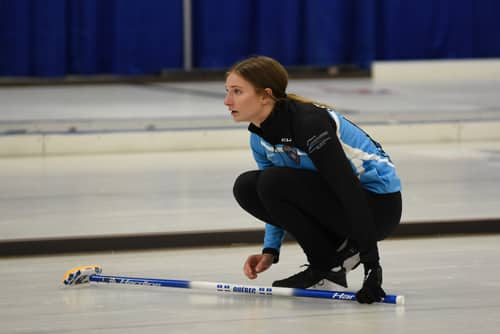 Ontario's Scott McDonald (6-2; St. Thomas), by contrast, has been surging as winners of six in a row after starting their 2022 Canadian Mixed campaign with a paltry 0-2 record. Ontario found itself up against the ropes in round robin play and facing relegation to the seeding pool before a clutch "must win" draw 11 victory over Manitoba's Corey Chambers (3-5; Miami) earned the trillium a Championship Pool berth.
With two games on its schedule on Thursday, Ontario kept up its winning ways defeating New Brunswick 7-5 in the afternoon followed by a commanding 9-5 win over Saskatchewan in the feature stream match hosted on Curling Canada's YouTube page.
"We put a lot of rocks in really good positions," said McDonald about his team's sustained success. "We made a couple really nice shots to give ourselves a chance to score as well. We're proud of the team effort tonight"
In the feature match Thursday evening, Ontario's resolve was steady. After trading deuces in the first two ends, McDonald would make an impressive runback triple in the third end to garner a score of three and open a 5-2 lead.
"It was a tricky shot," said McDonald when asked about the game changing runback triple. "We knew at very least we wanted to open it up and give ourselves a chance to score, and we knew if we hit it just right, we could be sitting three after it. Thankfully, we did that and got a bit of a miss from Shaun. We got lucky with a double jam and leaving us a draw for three."
In the fourth, Ontario had a house full of their own stones and had Saskatchewan skip Shaun Meachem in a heap of trouble, but would make a game saving hit and roll to ward off a steal threat and put a single on the board for Saskatchewan, who now trailed 5-3.
Ontario would throw another haymaker in the fifth end scoring three to open an 8-3 lead. Saskatchewan would respond with a score of two with hammer in the sixth, but the lead would prove to be too great as Saskatchewan would eventually be run out of rocks in the eighth end, marking a 9-5 victory for Ontario.
"We know that we're going to have four tough games in the Championship Pool," said McDonald about Ontario's two win Thursday. "We;ve gotten through two of them already. Hopefully we can continue with this momentum that we've been building and have a good day tomorrow."
Action continues from the 2022 Canadian Mixed Curling Championship with draws at 12:30 p.m., 4:00 p.m., and 7:30 p.m. (all times Central)
Live-streaming coverage of the 2022 Canadian Mixed will be available on Curling Canada's YouTube page. You can access the broadcast schedule by CLICKING HERE.
For event, team and draw information, visit www.curling.ca/2022mixed.
Draw scores/standings will be immediately available on Curling Canada's scoring website.