Playoff Chaos!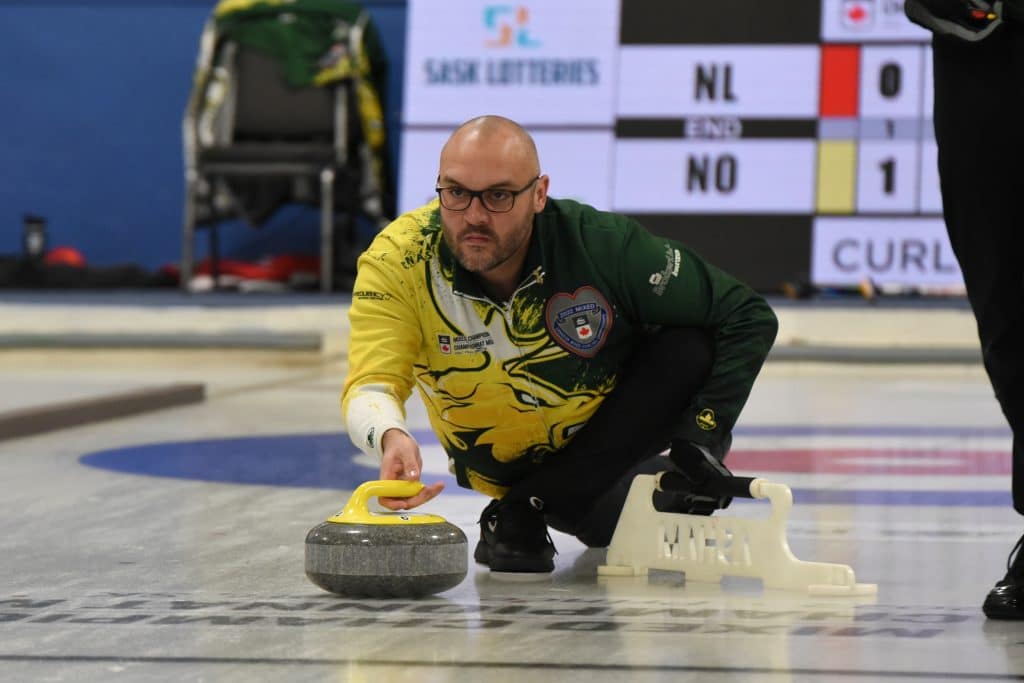 Wild finish to Championship Pool sees top four teams advance to playoffs at 2022 Canadian Mixed Championship
With the dust settling on the Championship Pool at the 2022 Canadian Mixed Curling Championship from the Prince Albert Golf and Curling Centre in Saskatchewan on Friday evening, four teams stand alone and have earned berths into the playoffs.
And with the number one seed as well as several playoff spots on the line in the Championship Pool's final draw, there was plenty of tie-breaker speculation and scoreboard watching to be found.
As a refresher on the Canadian Mixed playoff format, four teams qualify for the playoffs and are seeded into semifinals scheduled for Saturday at 10 a.m., (all times Central) pitting 1 vs. 4 and 2 vs. 3 from the Championship Pool standings. The two winners then advance to the gold-medal final Saturday afternoon at 2:30 p.m. while the two losing teams meet in the bronze-medal game at the same time.
Insulated from the chaos in the standings below them thanks to 7-2 records headed into Friday evening's action, Québec's Felix Asselin (8-2; Dollard-Des Ormeaux) and the Northwest Territories' Jamie Koe (7-3; Yellowknife) faced off in the Championship Pool's final draw, vying for the number one playoff seed.
Both teams approached the match from a cautious position which manifested into three straight blanks by the Northwest Territories in the opening ends. Québec would eventually force Koe in the fourth to mark a 1-0 lead for the Northerners at the break.
The second half saw Québec take a single of their own in the fifth, then adding another single in the sixth via a steal. The Northwest Territories would crack the game's only score of two in the seventh, before Québec secured a single in the eighth to force an extra end. In the extra, Québec managed to steal, earning a 4-3 victory and the number one playoff seed.
Meanwhile further down the standings, a 6-4 record would prove to be where the logjam would squeeze with every other game in action having playoff implications.
Despite dropping its Friday evening match to Saskatchewan's Shaun Meachem (6-4; Swift Current) by an 8-5 score, Northern Ontario's Trevor Bonot (6-4; Thunder Bay) earned the third overall seed in the playoffs thanks to its head to head win-loss record as a tie-breaker and some early week wins as padding.
Incidentally, the same Northern Ontario lineup of vice-skip Jackie McCormick, second Mike McCarville and lead Amanda Gates posted a 6-4 record at the 2021 Canadian Mixed in Canmore, Alta., but did not qualify for the playoffs.
Bonot, who won a silver medal at the 2017 World Mixed Curling Championship in Champéry, Switzerland, recognizes how help from other teams in the standings earned the moose a playoff berth.
"In all my years of curling, it's actually never worked out for me, so I'm pretty happy it did today," said Bonot about his team's qualification luck. "Last year, we were kind of in the same boat. We needed one game to go the right way but this year? We needed a bunch with us losing and it all worked out for us."
The luck buff stacks for Northern Ontario and Bonot, who won the Canadian Mixed title the last time they qualified for playoffs in this event in 2017.
"It's our fourth trip here, but our first time back in the playoffs," said Bonot about getting the playoff monkey off his back. "We're looking forward to two games tomorrow and hopefully they're two W's"
Northern Ontario is set to face second seed Northwest Territories in a semifinal on Saturday.
On the other side of the action, British Columbia's Craig Miles (6-4; Victoria) would need a win versus Ontario's Scott McDonald (6-4; St. Thomas) to keep its playoff ambitions alive. The B.C. bunch made no mistake, garnering a tidy 6-3 victory over Ontario in draw 18 earning the fourth place playoff seed.
It wasn't always roses for the provincial representatives from the Pacific coast. British Columbia opened their week with a 2-2 record and lost their Friday afternoon matchup versus the Northwest Territories 5-3 earlier in the day. They'd also rely on head to head tie-breakers to earn a playoff berth.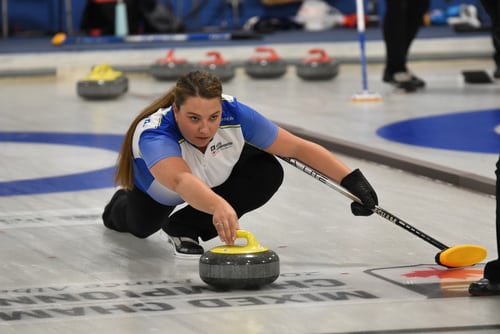 British Columbia vice-skip Stephanie Baier-Jackson credits some introspection after the loss the Northwest Territories for the rebound victory over Ontario, locking down their playoff berth.
"We had a good reset between games," said Baier-Jackson. "We went up and had a cheers with NWT, we went out for lunch, full reset, get back up, pumped up, full warm ups; we knew we had to come out firing and we did."
British Columbia will now square off versus a red-hot team Québec in their upcoming semifinal match.
"They're shooters. They've been on fire all week," mentions Baier-Jackson about their upcoming opposition. "We didn't have our best game against them last time but we expect them to come out shooting real well."
Live-streaming coverage of the 2022 Canadian Mixed will be available on Curling Canada's YouTube page. You can access the broadcast schedule by CLICKING HERE.
For event, team and draw information, visit www.curling.ca/2022mixed.
Draw scores/standings will be immediately available on Curling Canada's scoring website.