Pursuing playoffs!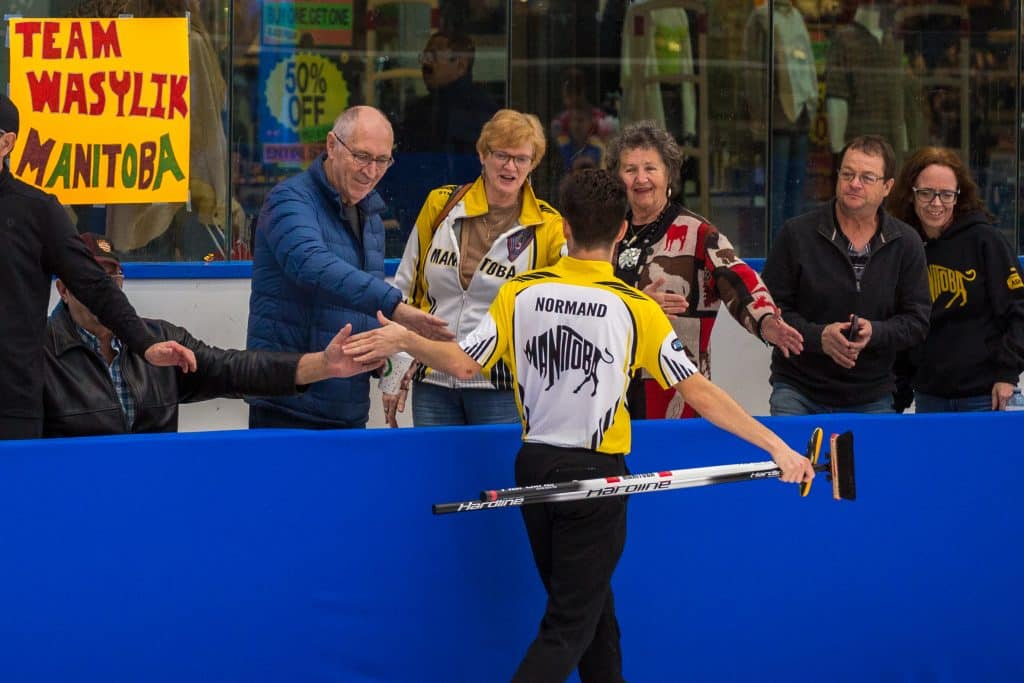 Club teams shopping for playoff spots at the West Edmonton Mall
Manitoba's Zachary Wasylik is hoping the fourth time will be the golden charm on his resume of national curling appearances.
So far, the skip from the Pembina Curling Club in Winnipeg is thrilled with the success he's had at the 2022 Everest Canadian Curling Club Championships.
Wasylik, vice-skip Jack Hykaway, second Joshua Harding, lead Graham Normand and alternate Andrew Peck secured their spot in the event's playoffs thanks to their fifth straight win on Thursday morning.
Wasylik has previous national experience at two U18 Canadian Championships and most recently at the 2020 New Holland Canadian Under 21 Curling Championships in Langley, B.C., where his team finished with a 5-5 record.
"Anytime you have the chance to play in a national championship it's huge and to be able to secure our spot here in the playoffs is really special," Wasylik said rinkside at the Ice Palace in the West Edmonton Mall on Thursday.
The rest of Wasylik's squad is making its debut at a Canadian championship.
"I've dreamed of wearing the yellow and white my entire life. We're just trying to be good ambassadors for Manitoba. This whole event means everything to me," second Joshua Harding said after defeating Alberta 5-3 on Thursday morning.
Harding credits his calm skip with helping propel the team through round robin success. "Zach has elevated our game a lot. His leadership has been crucial and I've never felt so confident in who's been throwing my last rocks. It's a good feeling."
Another veteran men's skip is on a roll at this year's event. Ontario's Greg Balsdon competed in the 2014 Tim Hortons Brier and he's been to this event before. This time his foursome from the Richmond Hill Curling Club in Richmond Hill, Ont., has achieved its first goal of making the playoffs.
Balsdon is clear what the second goal is, "Win the whole thing. Absolutely… We want to come out strong against Québec tonight and finish first in our pool. That's the goal but we're really planning for a good Friday."
Ontario faces Québec's Jasmin Gibeau on Friday at 7:30 p.m. (all times Mountain) in the final round robin draw.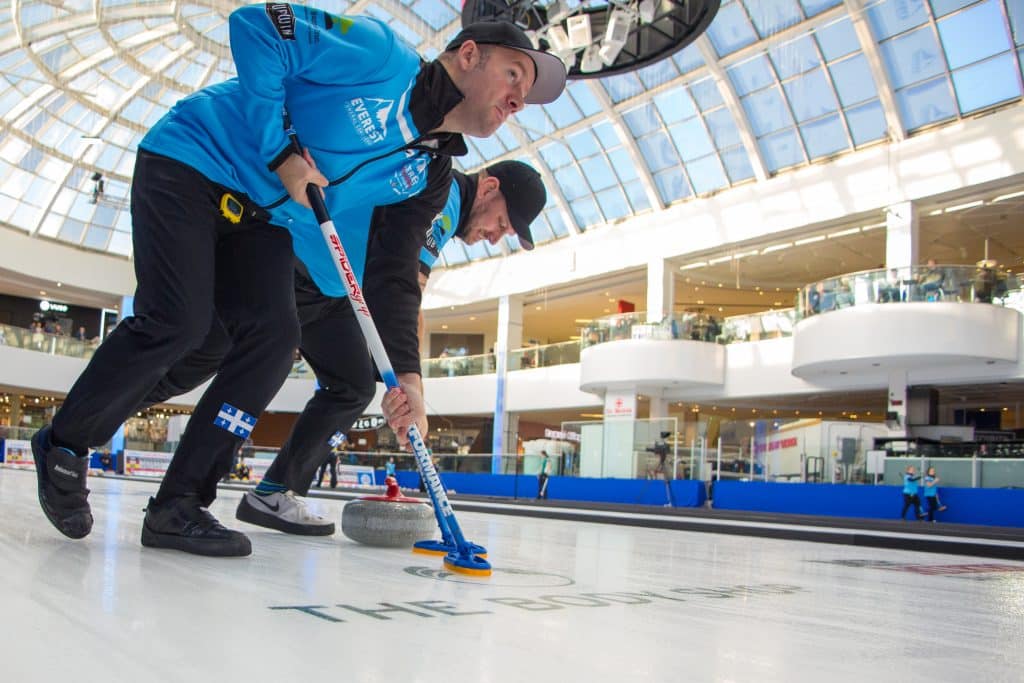 Balsdon and Gibeau are both previous silver medalists at this event – Québec having finished second three years ago in Leduc, Alta., and Balsdon earning silver in Richmond, B.C., in 2011.
Québec has also secured its spot in this year's modified double-knockout playoffs which start Friday at the West Edmonton Mall.
The men's field is divided into two pools of seven teams and the women's has two pools of six. The top four teams from each pool advance to the playoffs.
New Brunswick and Northern Ontario also booked spots in the final eight, with the remaining three men's playoff spots up for grabs in Draws 14 and 15.
Manitoba, Saskatchewan, Alberta were the first teams on Thursday to secure three of the eight women's playoff berths.
The event concludes with the gold and bronze-medal games on Saturday, Nov. 26.
Teams at this year's Everest Curling Club Championship are also competing off the ice. New this year is an online auction with unique items from across Canada that were contributed by the teams and Curling Canada. The three teams with the highest funds raised through the auction will win a team prize and a cash grant for their curling centre to invest in the programs and initiatives that matter most to their curling community. The auction closes Friday at 7 p.m. MT.
On the final day between the semifinals and medal games, a variety of curling disciplines will be on display to mall-goers, including stick curling and wheelchair curling. Learn to curl opportunities will also be available for those passing by through opportunities with Curling Alberta.
Games from the 2022 Everest Canadian Curling Club Championships are live-streamed on Curling Canada's YouTube channel and features commentary from world men's champion Randy Ferbey, Olympic gold-medallist and world women's champion Jennifer Jones and Olympic silver-medallist Cheryl Bernard. The event is also streamed on the TSN app.
For the up-to-date broadcast schedule, click here.
Scores and standings from the event are available at by clicking here. For draw times, team lineups and other event info, click here