History made at the mall!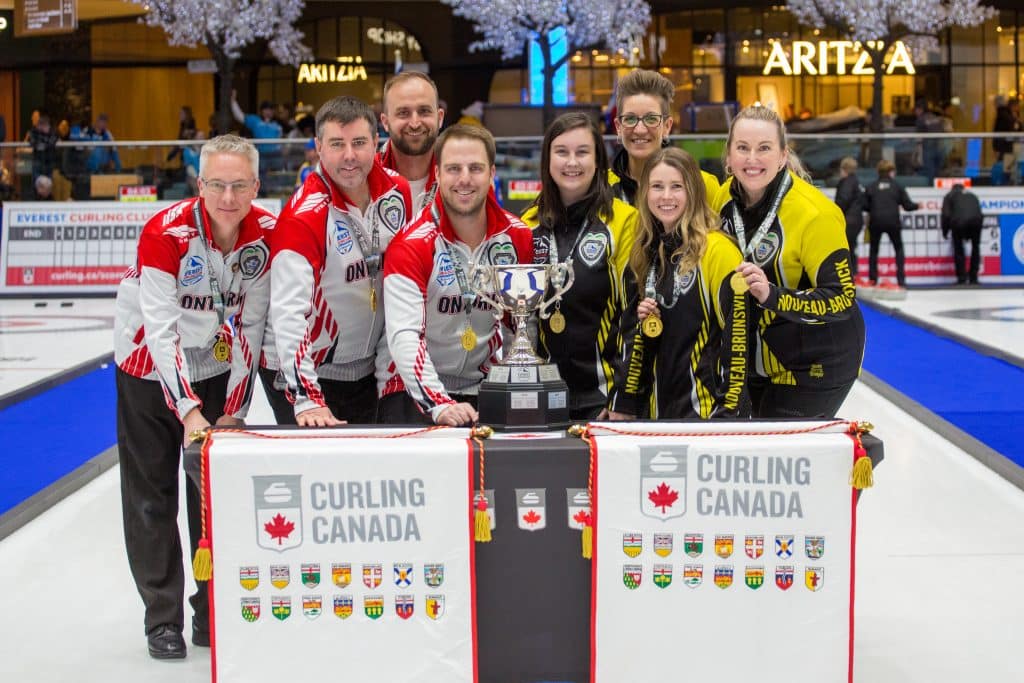 Ontario wins record fourth men's Club title, New Brunswick wins its first women's Everest crown
Ontario's Team Greg Balsdon and New Brunswick's Team Shaelyn Park were crowned as the best male and female curling club teams in the country on Saturday. The teams won gold-medal games at the 2022 Everest Canadian Curling Clubs Championships at the Ice Palace in West Edmonton Mall in front of a packed arena.
It was the first gold for New Brunswick in the history of the event and a record fourth time for an Ontario men's team. Balsdon improved on his silver medal from the 2011 event with a perfect 10-0 record in Edmonton.
"We've been together for a very long time. My guys are so supportive and lift me up when I'm down and we've been trying to get better and better and we were pretty darn good this week," Balsdon said after his 6-2 over Québec.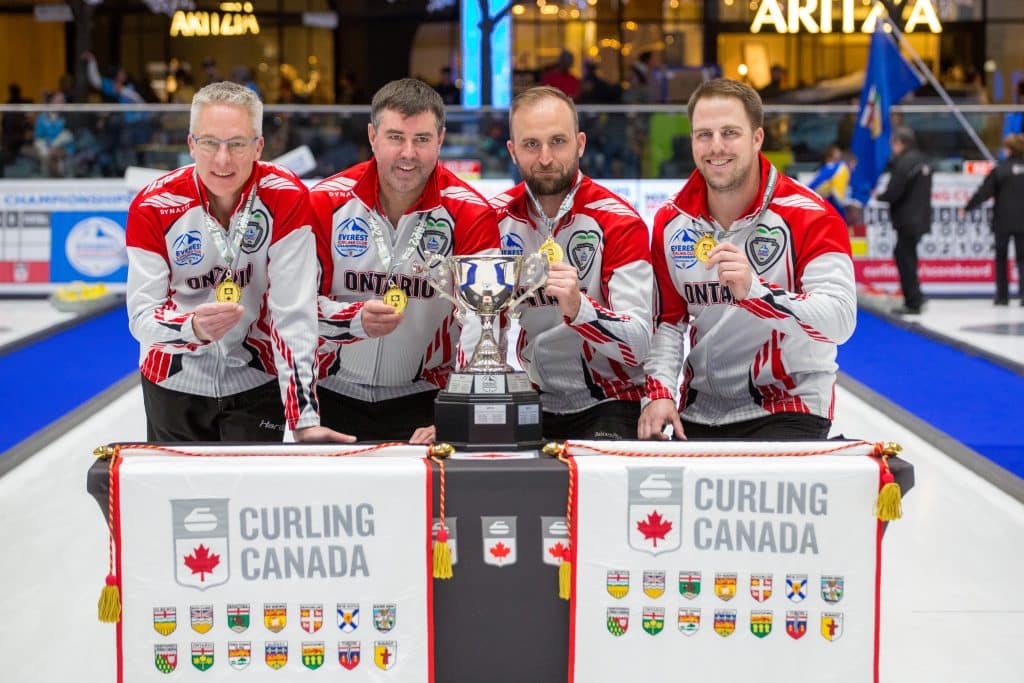 Balsdon, vice-skip Jordan Keon, second Curtis Samoy and lead Trevor Talbott have been curling together for over a decade.
Jasmin Gibeau and his team from Club de curling de Buckingham in Buckingham, Q.C. earned silver medals for the second time in three years.
The Ontario team from the Richmond Hill Curling Club opened the scoring with a draw for two in the first end before forcing Québec to a blank in the second end and a single point in the third end. Québec had Ontario in trouble in the fourth end but Balsdon made a double to secure the point and go ahead 3-1 at the halfway point. Ontario never lost control of the second half of the game and ran the Québec team out of rocks in the eighth end.
In the women's final, New Brunswick broke open the game in the fourth end when Ontario skip Chrissy Cadorin crashed on a pile of New Brunswick granite in the four-foot on her final stone. After a three-way measurement, Park and her team stole three points and moved ahead 6-2. Cadorin's foursome fought back to tie the game in the seventh but Park was able to capitalize with hammer in the eighth end and secure an 8-7 victory.
"What did we just do?" an astonished New Brunswick lead Shannon Tatlock asked after winning gold with teammates Park, vice-skip Krista Flanagan and second Lynn LeBlanc.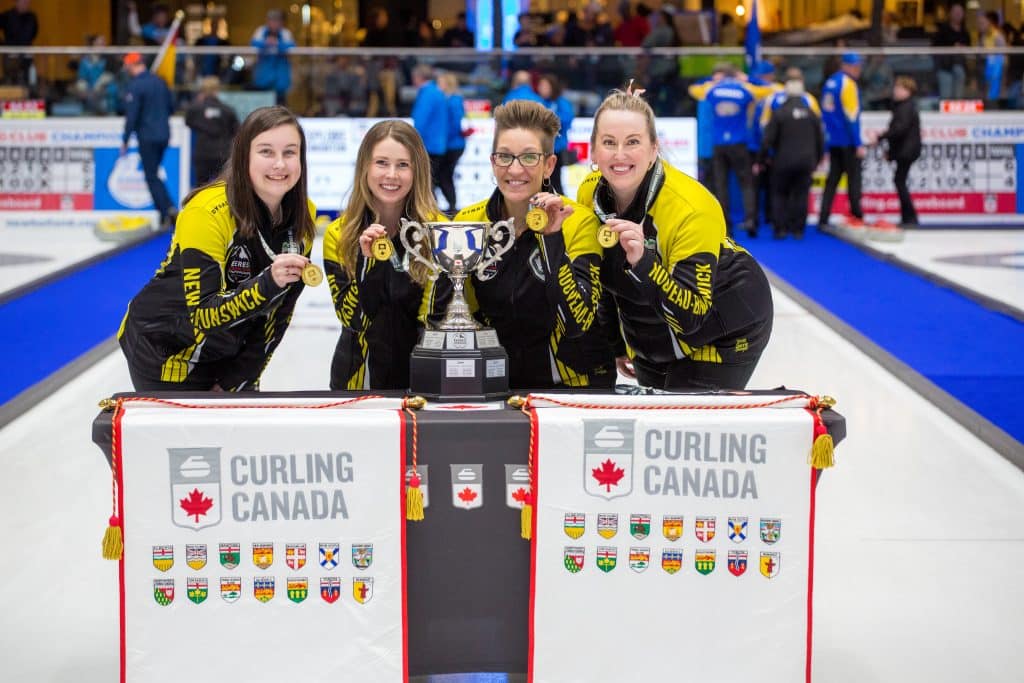 "I can't even put into words what just happened … it just means a lot and shows people that even if you're an underdog there's always hope for you, just go out there and have fun and try your hardest," Park said after the medal ceremony in front of fans and passerby at the West Edmonton Mall.
In the women's bronze-medal game, Nova Scotia's Meredith Harrison of the Bluenose Curling Club in New Glasgow, N.S. bested Québec's Isabelle Neron of the Chicoutimi Curling Club by a score of 6-5. In the men's bronze-medal game, Alberta's Robert Johnson of the Irricana Curling Club defeated Northern Ontario's Ben Mikkelsen of the Port Arthur Curling Club in Thunder Bay by a score of 6-4.
Québec vice-skip Dan deWaard and Nova Scotia skip Meredith Harrison were awarded Most Valuable Player accolades as chosen by Curling Canada Umpires at the conclusion of the event.
Four women's and four men's participants were chosen by their peers as winners of the sportsmanship awards at this year's event. New Brunswick lead Shannon Tatlock, Prince Edward Island second Emily Best, Northwest Territories vice-skip Halli-Rai Delorey and Northern Ontario skip Jodi Judd received their awards at a Saturday evening banquet. Prince Edward Island lead Andrew MacDougall, New Brunswick second Peter Case, British Columbia vice-skip Norm Cote and Nunavut skip Wade Kingdon were selected by their male peers.
It was the 13th edition of the Canadian Curling Club Championships and the second year Everest has been title sponsor of the event showcasing grassroots curling in Canada.
"Everest put on a really great show with the lounges every night, all the fans and what a first class event this has been," Balsdon said.
Balsdon and Park's victories also earned their teams an invitation to compete at the 2023 PointsBet Invitational (date and location to be announced by Curling Canada).
The Everest Canadian Curling Club Championships features recreational, club-level curlers who don't have the time or resources to compete at the high-performance level; the event gives club curlers the exciting opportunity to represent their home province or territory on the national stage.
Wheelchair, stick, youth and university curling were also on display at the final day of the championships. The week-long event also offered shoppers and passerby information from Curling Alberta on learn-to-curl opportunities in the region.
The Everest Canadian Curling Club Championships have been hosted since 2009. Ontario now leads all Member Associations with four men's gold-medal wins and Alberta has three. Manitoba leads the way with four gold-medal wins on the women's side.
Scores and standings from the event are available at by clicking here.
For draw times, team lineups and other event info, click here.