Québec keeps it cool!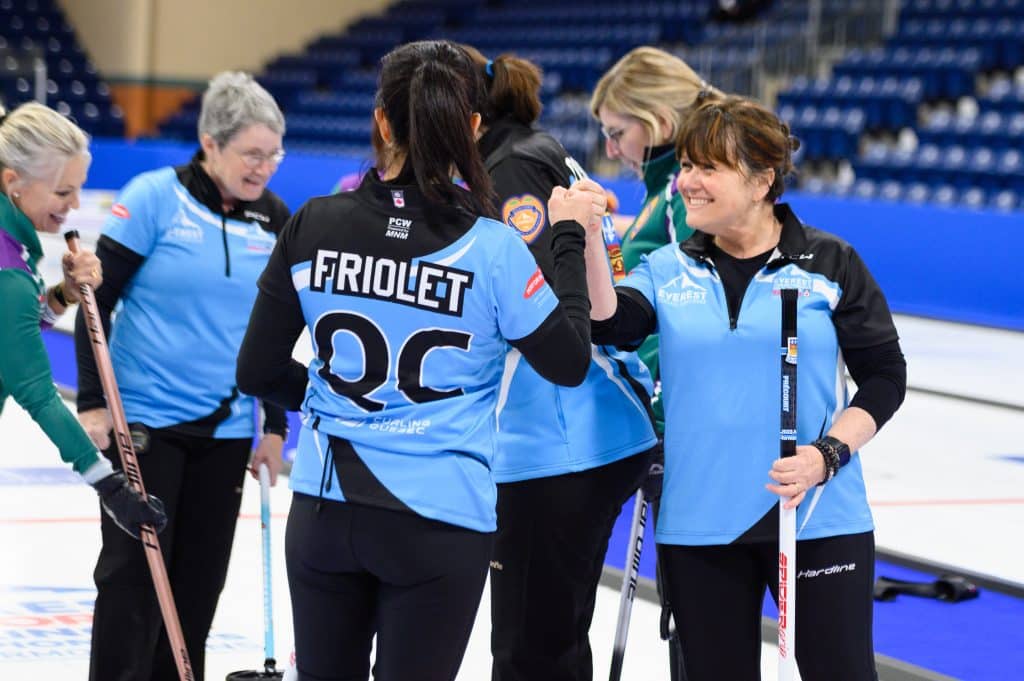 Team Québec women credit a balanced approach for success at 2022 Everest Canadian Senior Curling Championships
Scoreboard watching can be a stressful endeavour for any curling team in a Canadian national championship. When the stakes are high, seeing how your record matches up versus your competition can bring even the toughest curler to their knees.
And though the rigours of competition are ramping up at the 2022 Everest Canadian Senior Curling Championships from the Mariners Centre and Yarmouth Curling Club in Nova Scotia, the ladies of Team Québec are stoic in their demeanour and steadfast in the approach.
After all, the Québec foursome of skip Chantal Osborne, vice-skip Josée Friolet, second Marie-Josée Précourt and lead Sylvie Daniel representing Thurso/Laval-sur-le-Lac/Roberval have managed a quality 3-1 record thus far; with two games remaining before the field is divided into the Championship Pool and the Seeding Pool.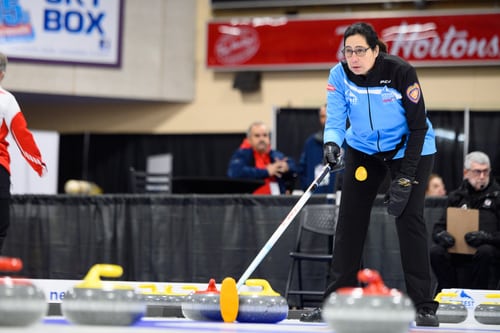 The top four in each pool then advance to the Championship Pool for crossover games against teams from the other pool, while the remaining teams go to the Seeding Pool.
Québec currently finds itself alone in second place in pool B trailing only the undefeated Nova Scotian rink helmed by Theresa Breen (4-0; Halifax), with Ontario's Jo-Ann Rizzo (3-1; Mississauga) comfortably rounding out the third place position while a heap of teams are still in the mix for Pool B's fourth and final Championship Pool spot.
You can't count your chickens before they hatch however, and this is a philosophy that Team Québec have taken to heart.
"We play our game," said Québec skip Chantal Osborne about the team's approach to success. "It's a long week. Our first goal is to try and make it to the Championship Pool. We know that all games are important because if we do make that goal, then you carry over your record with you. We're taking it one game at a time, rock by rock and trying to enjoy the moment"
That measured approach paid dividends on Tuesday afternoon seeing Team Québec defeat Prince Edward Island's Shelly Bradley (1-4; Cornwall) by a 6-1 score in seven ends as part of the featured broadcast available on TSN.ca and Curling Canada's YouTube page.
And though Team Québec walked quietly, they carried a big stick. The scoreboard reflects what could be considered a blowout, but it was slow, unyielding momentum that won the day for Québec. There were no truly killer blows exchanged, with the only multipoint end scored by either team coming in the sixth when a Prince Edward Island final stone draw slipped deep, allowing two Québec stones to steal.
"We went for it a little bit," said Osborne about how the sixth end came to fruition. "I had a break there when my rock rubbed and ended up second shot covering my (shot stone) in the back. Shelly had to go wide and that was not an easy shot. The difference was half an inch on our side today."
The majority of Québec's offence came from constant pressure and quality draws, which led to 5 stolen points over seven ends.
To their credit, Prince Edward Island hung tough. Skip Shelly Bradley make a clutch draw which saw her wick off a Québec stone and flip to the side of the button in the third end to score a single. The shot was a potential multipoint swing, as Québec was set up to steal in that end as well.
"It was inches on both sides," said a modest Osborne about the result of the match. "Both teams were playing well at the beginning, and then we had a couple breaks. The girls were playing so nice so even my shots, a lot of times, I only had to throw guards so it was easier on me."
The win constitutes a rebound for the Québec ladies who were fresh off a tight 6-5 loss in their draw 5 matchup versus Nova Scotia, marking the only loss of their women's senior national campaign thus far.
"We play our games now at the arena," said Osborne about their prospects going forward. "We've got a good feel for the ice so that helped us turn things around."
Ultimately, Osborne and her team carry a massive amount of respect for their opposition and their skill, so they're focused on controlling what they can.
"Everybody understands that," said Osborne when asked about the exceptional talent level not only in her pool, but at the 2022 Everest Canadian Senior Curling Championships as a whole. "When you talk about Nova Scotia and the experience on that team, obviously Ontario with Jo-Ann (Rizzo), Lori (Eddy), all of them, basically. We cannot concentrate on what they're doing. We just have to concentrate on us."
Pool play action will continue from the 2022 Everest Canadian Senior Championships with men's and women's draws at 6:30 p.m. (all times Atlantic).
Live scoring updates for the 2022 Everest Canadian Seniors are available by clicking here. For event information, click here.
Games from the 2022 Everest Canadian Senior Championships will be live-streamed on TSN.ca as well as on Curling Canada's YouTube channel. For the up-to-date broadcast schedule, click here.