Farewell to the Iceman!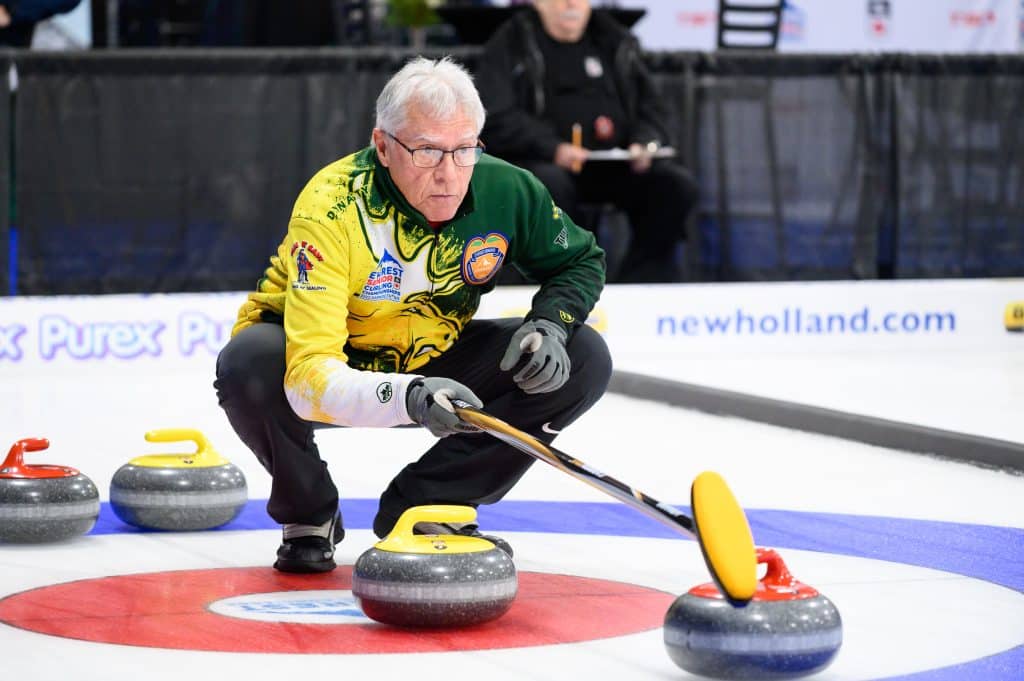 Curling Canada Hall of Famer and two time world men's champion Al Hackner set to retire from competitive curling
After nearly five decades of championship calibre play which saw The Iceman win two world men's curling championships, appear in nine Briers and win a world senior curling silver medal, Al Hackner has decided to hang up his shoes and call it a career.
And though the topic of retirement has come up before, Hackner says it's for real this time.
"I announced at the start of the year that this would be my last national; that I wouldn't be chasing them anymore," said Hackner in an interview at the 2022 Everest Canadian Senior Curling Championships in Yarmouth, Nova Scotia on Thursday. "Still going to do league play and our Thunder Bay major league but no more playdowns."
The list of Hackner's accolades are among some of the best, ranking him as a Canadian all-time great and a Curling Canada Hall of Fame inductee for both team (1988) and individual (1992) accomplishments. Hackner was the first skip in Brier history to earn seven appearances at the men's national championship and once held the all-time winningest skip title with 51 Canadian men's national victories. He would end his Brier career with nine appearances, 62 wins and amassed nearly 2000 stones thrown at the Brier alone.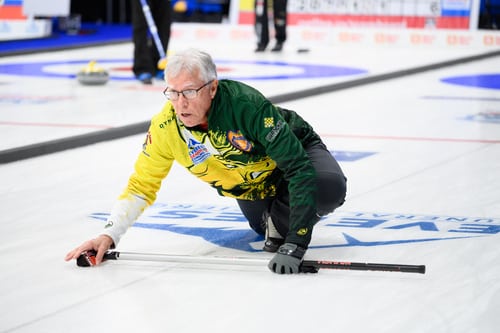 His success spans from appearances in the Canadian Mixed national championship in 1977 with Alberta skip Don Sutton all the way to his current appearance representing his home province of Northern Ontario at the 2022 Everest Canadian Senior Men's Curling Championship. He's also the only skip to ever win a Brier, a Canadian senior men's national title and a Canadian masters curling title, a crown he claimed all but a few short weeks ago. 
"This is my 19th national," laughed Hackner about his appearance at this year's Everest Canadian Senior Men's Curling Championship. "I think that's enough. I felt that, you know, in playing in these two nationals this year just finishing the Masters a few weeks ago, I'd finish up with those and that's a good way to go out."
Alongside Hackner for his final tour of national competition at the 2022 Everest Canadian Senior Men's Curling Championship are vice-skip Frank Morissette, second Rob Sinclair and lead Gary Champagne of the Fort William Curling Club in Thunder Bay.
Unfortunately, the Northern Ontario foursome haven't had the success they desired and find themselves in the seeding pool carrying a 3-4 record after a Thursday afternoon 8-1 loss to Newfoundland & Labrador's Keith Ryan (4-4; Labrador City)
Regardless of the results on the standings board, Hackner is keeping it light and having fun at the competition.
"Yeah, the ice is very good. It's a lot of fun to play on when you get a lot of curl like this," said Hackner. "We're enjoying the games. We lost a couple tough ones earlier that could have put us in the Championship Pool, but you know, the teams here are pretty good so not only do you have to play well, you have to get your breaks too and we just seemed to be on the wrong side of the inch. Here we are in the seeding pool."
While Hackner's legacy was already cemented into the annals of history by the early 1990s, Hackner still enjoys reflecting upon his impact on the game of curling.
"I think it's good," said Hackner when asked about his generation-spanning influence on curling. "That's one of the reasons why I said I was going to pack it in. I'm quite happy and satisfied with what I've done in curling and I still feel very fortunate to have been able to do that for as long as I've done and still continue to play pretty good."
Those who weren't around during Hackner's prime years in the 1980's and 1990's have likely heard of Hackner from his famous 10th end thin double takeout in the 1985 Brier final against Alberta's Pat Ryan to force an extra end. The shot would be deemed the "Hackner double" and is considered one of the greatest shots in curling history. Hackner and his Northern Ontario rink would go on to steal the extra end of the 1985 men's national final to claim the championship crown.
Though that one shot is certainly recognizable, Hackner is proud of his legacy which spans more than just that one moment. 
"It's more than just the one shot," said Hackner. "It's the 19 nationals, the five Canadian titles. That's a legacy that anyone would be proud of."
With his impending retirement, Hackner was able to share some of his top secret advice that allowed him to see an unprecedented and sustained level of success on a curling sheet.
"It's not easy, because first of all, you have to stay alive," laughed Hackner when asked about his longevity and success. "You have to stay healthy; keep your knees and your back and everything. There's a lot of very good curlers that just can't play anymore because their body has given out."
And though curling specific training can help, Hackner transitioned into a two-sport athlete in his adult years, which he credits for keeping his strength up.
"One of the things that really helped me out is I started playing hockey again when I was 45." said Hackner about his success in staying fit. "I play about three or four times a week. It keeps me in shape, it keeps my legs strong and that's part of it."
For an all-time great curler like Hackner, it would be nearly impossible to pin down a single best memory of his career and playing time, but he says many of his off-ice memories are wholly cherished too.
"All the nationals are memorable, even the ones we didn't do that well in," said Hackner. "But I just loved going to all the different cities, and competing and all the friends we've met over the decades. There's lots of friends that I'm still in contact with from different provinces and just to have that, those memories, with all my good buddies."
Ultimately, Hackner feels like he's going out on top and, most importantly, on his own terms.
"I want to pull this retirement off while I'm still throwing it good," said Hackner. "Not because I can't win anymore, so I felt it was time."
Hackner and his Northern Ontario rink will celebrate his final national championship match versus Prince Edward Island's Phillip Gorveatt (4-4; Montague) on Friday at 2:00 p.m. (all times Atlantic).
Live scoring updates for the 2022 Everest Canadian Seniors are available by clicking here. For event information, click here.
Games from the 2022 Everest Canadian Senior Championships will be live-streamed on TSN.ca as well as on Curling Canada's YouTube channel. For the up-to-date broadcast schedule, click here.