Panda Hut!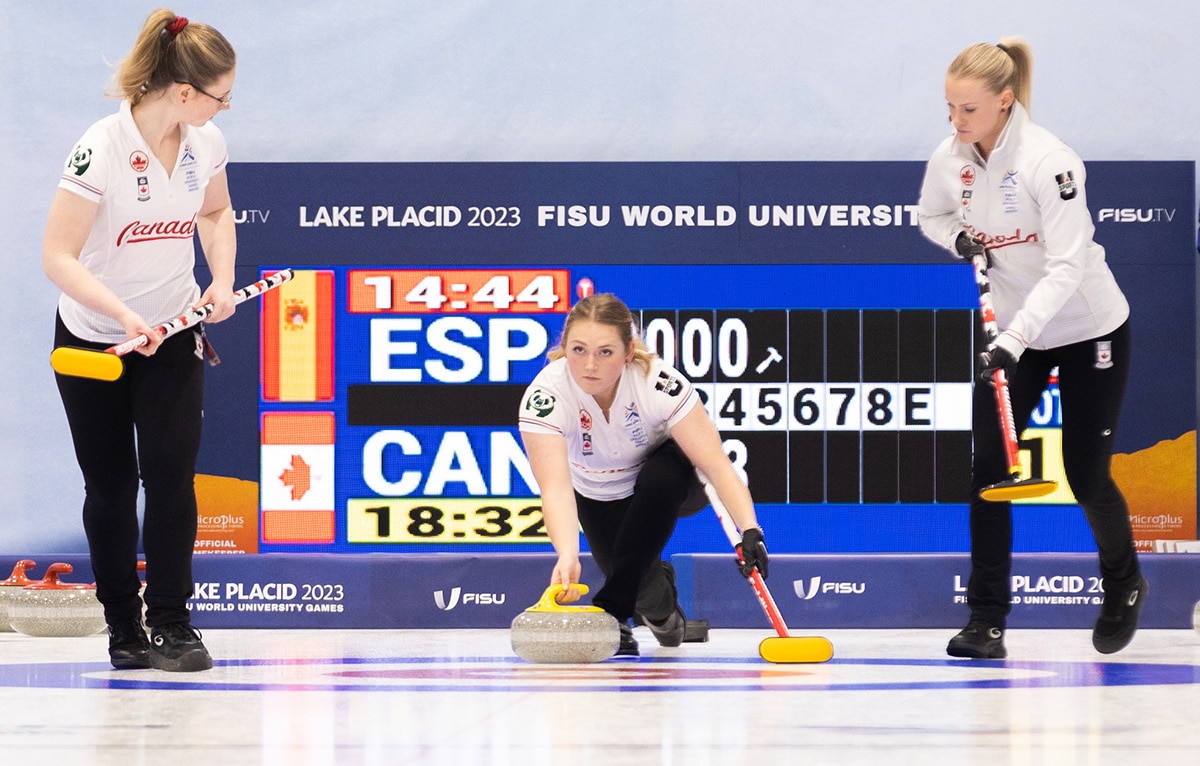 Papley treasuring final FISU Games with curling roommates; three wins for Canada on Sunday
SARANAC LAKE, N.Y. — There is unmistakable cohesion amongst the women's curling team representing Canada at the 2023 FISU World University Games in Lake Placid, N.Y.
They're teammates on the ice. And some are roommates off of it.
Team Abby Marks of the University of Alberta Pandas (Edmonton) has battled back to .500 (2-2) through four games in the women's curling competition. The team completed the latest run with a 12-2 win against Spain's Team Carmen Perez (0-4) on Sunday afternoon at Saranac Lake Civic Centre.
The win gets Canada skip Marks, vice-skip Catherine Clifford, second Brianna Cullen, lead Paige Papley, alternate Serena Gray-Withers, coach Amanda St. Laurent and team lead Helen Radford back into the mix for playoffs.
It is Papley's second appearance at the FISU World University Games. Papley is competing at the event with her roommates Clifford and Gray-Withers, making their debuts.
The three share an apartment dubbed "The Panda Hut." It pays homage to former University of Alberta Pandas players who roomed together in a house with the same name. Alumni of the original Panda Hut include 2017 and 2019 FISU Games competitors Kristen Streifel, Kelsey Rocque, Danielle Schmiemann and Taylore Maschmeyer (Theroux).
Papley, an Earth and Atmospheric Sciences graduate, had two rooms open up in her three-room apartment. Clifford, whom Papley curled with last season, moved in with her. Gray-Withers moved from Winnipeg to Edmonton to join the University of Alberta curling program and also moved in.
"We're all really good friends. We have a good time on the ice and off the ice and I love talking to them about [the Games] and seeing their reaction to some of the stuff that I've fortunately seen before and see the reactions through their eyes," Papley said following the team's afternoon win.
For Papley, wearing the Maple Leaf for a third time in her career – twice at the FISU Games and once at the world juniors – is a tremendous feeling. The 23-year-old served as Canada's alternate at the 2019 FISU Games in Krasnoyarsk, Russia. She also won a silver medal for Canada at the world juniors that same year.
She is a product of the University of Alberta curling system. Papley grew up wishing to be in the program, win national titles and represent her country on an international stage. Now, she has achieved those goals. The 2023 Lake Placid games represent a transition for her life as it will be the final Games she competes in as a student-athlete.
"Being a student-athlete made me learn how to balance my time. I love being busy and – you can ask anyone – I keep myself very busy. All of our practices and gearing up for stuff like this makes me figure out what I can do when and how I can manage my time," Papley said. "Playing for the university is so cool and I loved it. Being at these games are amazing. There's nothing like preparing for this."
Making a run into the playoffs would mean everything to Papley. And the latest performances from the team are showing promising signs of a strong showing during the second half of the curling competition.
Team Marks is back on Monday with two games. First, it faces a tough test against China's undefeated Team Yu Han (4-0) at 9 a.m. (all times ET). Canada also plays Sweden's Team Emma Moberg (2-2) at 7 p.m.
The Canadian men's team from Dalhousie University (Halifax) had a two-win day and improved to 3-1.
Skip Owen Purcell, vice-skip Jeffrey Meagher, second Adam McEachren, lead David McCurdy, alternate Caelan McPherson, coach Anthony Purcell and team lead Radford outlasted Japan's Team Hayato Sato (1-3) by a score of 5-3.
Tied at three apiece, Canada was forced to one in the sixth and stole a point in the seventh. Canada ran Japan out of rocks in the eighth end for the victory.
"We managed the angles quite well and I think that's extremely important at an event as difficult as this. The teams are all so good, so getting those angles down and getting our draw weight is just so crucial," Purcell said.
During the Sunday morning draw, Canada started the day with a steadfast 10-2 victory against Brazil's Team Vitor de Mello (0-4).
Team Purcell takes on Sweden's Team Johan Nygren (2-2) at 2 p.m. on Monday.
Live scoring, standings and statistics for the 2023 FISU World University Games are available by clicking here.
TSN will broadcast select curling games. Click here for the full schedule.
This story will be available in French as soon as possible here.