P.E.I. making waves!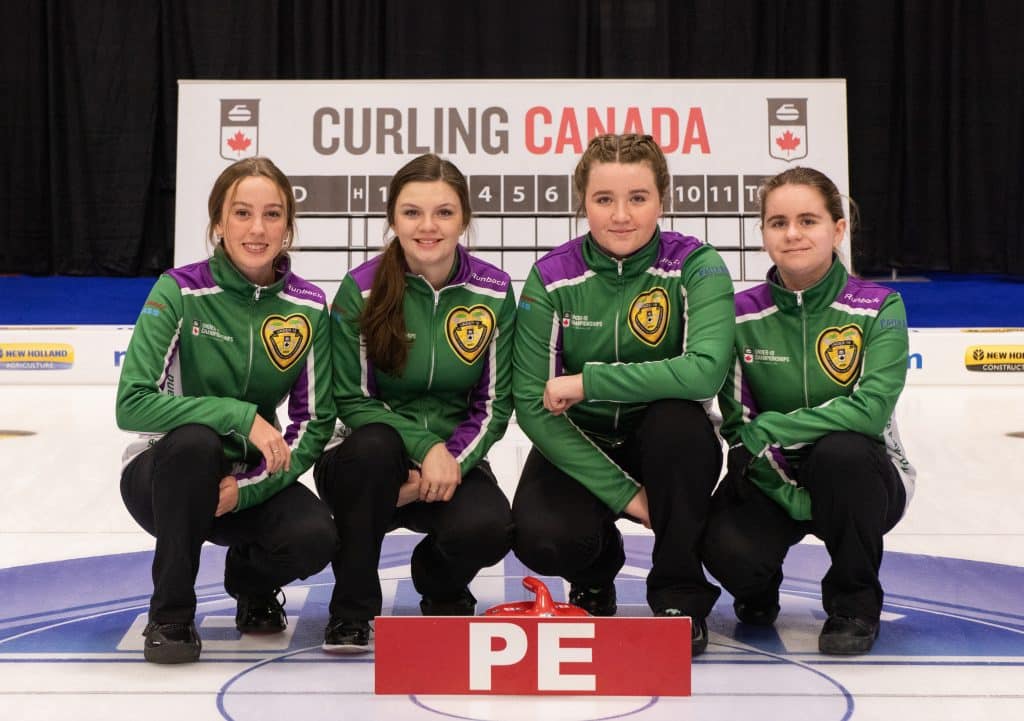 Team Prince Edward Island Boys and Girls find the win column on day 1 of the 2023 Under-18 Boys and Girls Canadian Curling Championships
Nevermind convention and disregard the expectations; Prince Edward Island's Ella Lenentine is determined to carve her own path.
She's focused exclusively on her impact and being a model teammate on the ice at the 2023 Under-18 Canadian Girls Curling Championship, hosted at the McIntyre Arena in Timmins, Ontario.
And though she may be the younger sister of team Jennifer Jones lead/alternate Lauren Lenentine, who is set to represent Manitoba at the upcoming 2023 Scotties Tournament of Hearts in Kamloops, B.C., Ella Lenentine is not about to let her sister's success in women's play define her play.
"I'm going to make my own story," said Lenentine after the championship's opening ceremonies on Sunday afternoon. "Do my own things."
It's not that Ella doesn't celebrate her sister Lauren's success, nor does it fuel any jealousy. Ella simply wants to find success her way.
"It would be cool," said Ella when asked about emulating her older sisters on ice success as her curling aspirations continue to grow and develop. "But I'm going to do my own things."
Lenentine and her Cornwall Curling Club rink of vice-skip Makiya Noonan, second Kacey Gauthier, lead Erika Pater and coach Robbie Lenentine are already off to a pristine start to their 2023 Under-18 Canadian Girls Curling Championship winning their opening day draw 9-2 over Manitoba #1's Dayna Wahl.
"We came out really strong," said Lenentine about her teams performance in their win over Manitoba #1. "I think we just kind of played calm, played like how we can and we succeeded, so that's great."
Though Prince Edward Island will face some tough teams in their schedule, the plan remains to focus on consistency and let the wins accumulate.
"We're just going to go into every game with the same mindset and hopefully it turns out the same," said Lenentine.
Not to be excluded from the win parade, the P.E.I boys representatives of skip Brayden Snow, third Jack MacFayden, second Davis Nicholson, lead Anderson MacDougall and coach David MacFayden of the Cornwall and Summerside Curling Clubs respectively split their opening day on Sunday with an 8-0 win over B.C. #2's Adrian Tam followed by a 6-3 loss to New Brunswick's #1's Timothy Marin.
Regardless of the split record, Snow remains in good spirits.
"We feel pretty good," said Snow about his team's day one performance. "We're just getting used to the ice and having everybody out on the ice surface with us. We're playing good so far. Just a few unlucky breaks in the last game."
It is a markedly loud crowd at the 2023 Canadian Under-18 Curling Championships; a stark contrast from the typical club play with no fans in proximity to the playing area that many of this year's players are accustomed to.
Snow and his P.E.I. rink are looking to use the fans' energy to fuel their performance.
"There's been lots of team P.E.I. fans coming out to cheer us on. Friends and family and teammates. It's always nice," said Snow.
Live-streaming coverage of the 2023 Canadian Under-18 Curling Championships will be available on Curling Canada +, Curling Canada's new streaming platform. You can access the broadcast schedule by CLICKING HERE.
For event, team and draw information, visit https://www.curling.ca/2023under18/.
Draw scores/standings will be immediately available on Curling Canada's scoring website.