No holding back!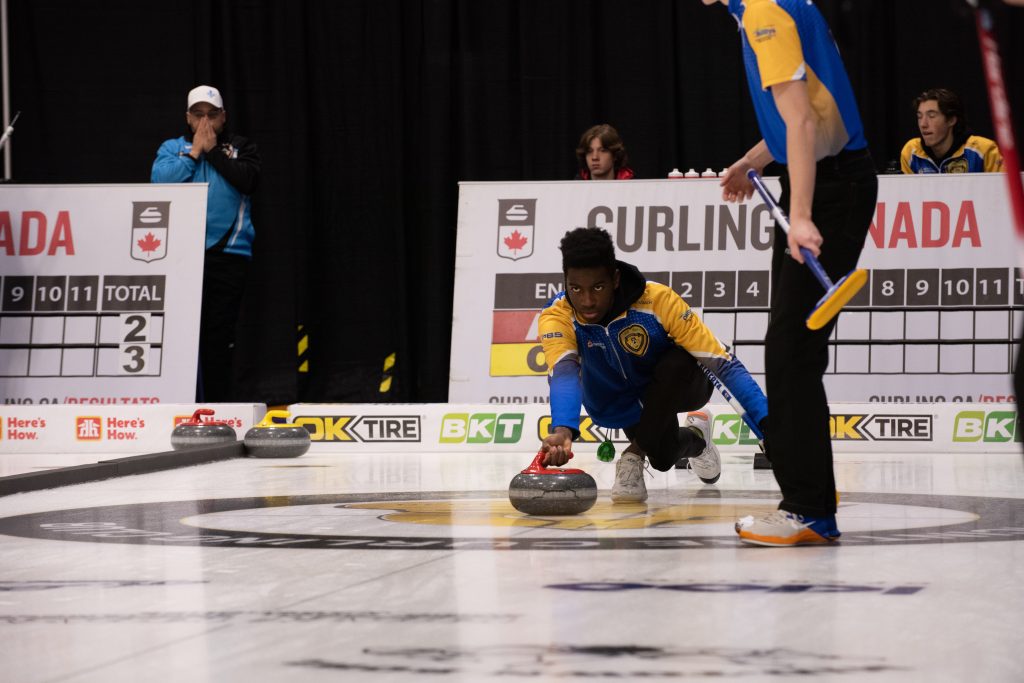 Young Albertans put personal touches on their performances at the 2023 Canadian Under-18 Boys and Girls Curling Championships
If you want to see a snapshot of what the next generation of elite curlers in Canada will be like, look no further than Alberta's Jaxon Hiebert and Myla Plett.
Both Alberta #1 skips are in action at the 2023 Canadian Under-18 Boys and Girls Curling Championships at the McIntyre Community Centre and Arena in Timmins, Ontario and both are finding ways to win as they each stand undefeated in their respective pools.
While donning an Alberta crest on your back and winning on a national stage are often packaged together without a second thought, what makes Jaxon Hiebert's Sherwood Park Curling Club rink of vice-skip Oliver Burton, second Kolby MacDonald, lead Nate Burton, alternate Aidan Snider and coach Brent MacDonald different is how they go about winning.
The Alberta #1 boys team plays with a fiery zest on the ice. They celebrate their made shots with high fives, fist pumps and encouragement for their teammates. They don't shy away from wearing their emotions on their sleeves.
It's an infectious energy; one that has captivated fans in the stands at the McIntyre Community Centre and Arena so far this week.
It also paints a new future for a sport which has traditionally lauded quiet success, featuring players who become champions all while never breaking a stoic demeanor. Even fans are beginning to change and turning from simple observers to all-out cheering sections.
It's a change that is wholly welcomed by these next generation curlers.
"Having our fans out there is amazing," said Hiebert when asked about the environment at the 2023 Canadian Under-18 Boys and Girls Curling Championships. "We love being able to hear your fans cheering and their conversations. It's been really cool."
Feeding off the energy in the stands has been essential to the Alberta #1 boys' success thus far and Hiebert credits the fan interaction for rallying after what he modestly calls "not a great start" to his own performance at the championship.
"I'm trying to get fired up now," said Hiebert about improving as the week progresses. "The team has been really good this week. They've been helping and supporting me a lot. I just have to make my last one and see what happens."
On the girls' side, team Alberta #1's Myla Plett is the defending Canadian U18 champion and back at the 2023 iteration of the championship to defend her title.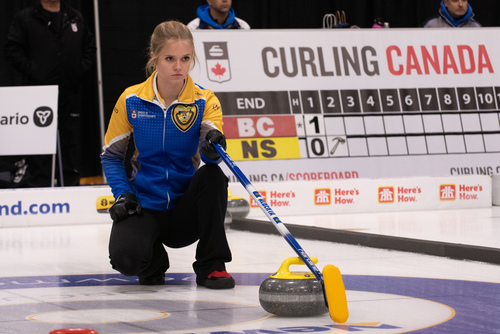 And while she doesn't wear her emotions on her sleeve quite the same way as the Alberta #1 boys rink does, Plett comes across as more fearless and focused.
She and her rink of vice-skip Alyssa Nedohin, second Chloe Fediuk, lead Allie Iskiw and coach Blair Lenton of Airdrie / Sherwood Park are intensely skilled and operate as a well-oiled machine, often wearing down their opponents with sheer attrition and shot making.
There are few in the field that can match them. Their style? Impetuous. Their defense? Impregnable. They are nothing short of ferocious all while wearing a sublimated provincial heart.
"Teams are definitely out for us with the target on our backs," said Plett when asked about being the defending U18 girls Canadian champion. "But we go into every game assuming that any team can beat us, so we have to play our best."
Though Plett seems unshaken on the outside, she still feels the regular nerves that most curlers feel. Those nerves were tested in an extra end 9-7 win over Nova Scotia's Sophie Blades (1-3; Chester) on Tuesday afternoon.
"Still a bit nervous and a bit shaky but it was a really good game by both teams," said Plett after the victory. "Tough win, but a good one."
Balance remains paramount for Plett, who knows that winning on the ice only comes when you handle business off the ice as well.
"Lots of mental preparation," said Plett about how her team stays successful."Eating well, getting enough sleep, getting our other stresses done like homework, talking to our family and stuff. Just trying to manage all of our time."
Action from the 2023 Canadian Under-18 Boys and Girls Curling Championships resumes on Wednesday morning at 9:30 a.m. (all times Eastern).
Live-streaming coverage of the 2023 Canadian Under-18 Curling Championships will be available on Curling Canada +, Curling Canada's new streaming platform. You can access the broadcast schedule by CLICKING HERE.
For event, team and draw information, visit https://www.curling.ca/2023under18/.
Draw scores/standings will be immediately available on Curling Canada's scoring website.