Magnificent Manitoba!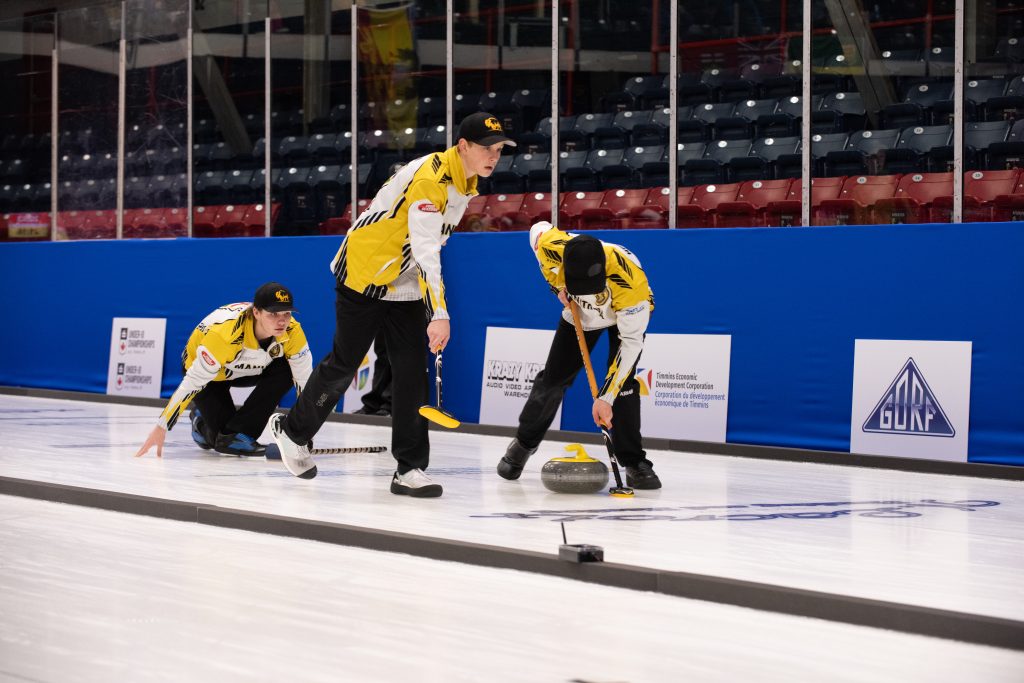 Manitoba #1 mounts magnificent comeback to earn quaterfinal berth at 2023 Canadian Under-18 Boys Curling Championship
Even when backed into a corner, you can never count the bison out.
The bison embodies all that is resilient; a thick hide to endure prairie winters, rounded horns for protection against predators and if you're Manitoba #1 skip Jace Freeman, a never say die attitude.
That can-do approach would prove essential during their first match of the playoff round at the 2023 Canadian Under-18 Boys Curling Championship from the McIntyre Community Centre and Arena where Freeman and his rink of third Elias Huminicki, second Jack Steski, lead Rylan Graham and coach Graham Freeman of the Virden Curling Club took on Québec's Raphaël Tremblay (Des Collines).
Things did not start well for the Manitobans, who found themselves down 5-1 after five ends of play. Québec's aggressive play paid dividends, racking up back to back steals of one in the fourth and fifth ends to extend the lead.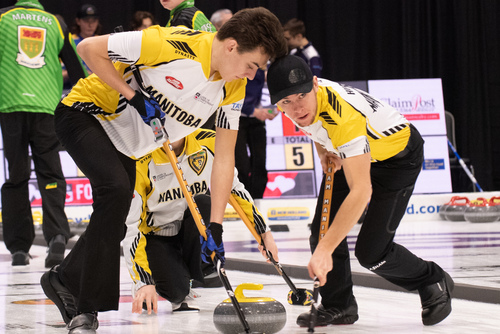 It wasn't until the sixth end where Manitoba #1, cornered and on the verge of having the game and its gold medal aspirations slip away, fought back scoring six points in the sixth end.
The massive score would see Manitoba #1 jump out to a 7-5 lead, one they would never relinquish on its way to a 8-6 victory.
"Biggest comeback of my life," said skip Jace Freeman after the match. "We were really struggling in the first half, me especially. I was pretty locked in all week and felt the struggle in the first half. Made a beauty on my first though and that changed the momentum, huge"
Manitoba #1 had been stymied by Québec's incessant attack for five ends before turning the tide and using the very same stones that Québec employed to attack against them to manifest the score of six.
"I was quite shocked," said Freeman about Québec's comfort level with messy ends up four points. "They were playing pretty aggressive all game and it had been working for them, so I guess they decided to keep that going. We managed to turn it against them and made all our shots for once in that game."
Manitoba #1 would then force Québec to a single in the seventh end before taking a single in the eighth, closing out the victory.
It's not all sunshine and rainbows for the Manitoba #1 foursome yet though, as they now have a date with the number one seed Alberta #2 rink, skipped by Zack Davies at 8:30 a.m. on Friday (all times Eastern).
Though Manitoba #1 is the underseed in the quaterfinal match-up, Freeman and his team won't be intimidated by any competitor.
"We have just as good of a chance as anybody," said Freeman about his playoff chances. "The only two games we've lost have come right down to last shot. This will really get us excited, this big comeback win. We have a lot of momentum."
Putting his faith in the resiliency of the bison and the heart crest on the front of his jacket as Manitoba champion, Freeman sees being battle tested as his path to success.
"We knew that making it out of Manitoba, we'd have a good shot here if we play like we can," said Freeman."We've been playing good competition all year so we're ready."
Action from the 2023 Canadian Under-18 Boys and Girls Curling Championships continues Thursday evening at 8:30 p.m.
Live-streaming coverage of the 2023 Canadian Under-18 Curling Championships will be available on Curling Canada +, Curling Canada's new streaming platform. You can access the broadcast schedule by CLICKING HERE.
For event, team and draw information, visit https://www.curling.ca/2023under18/.
Draw scores/standings will be immediately available on Curling Canada's scoring website.