Jubilation!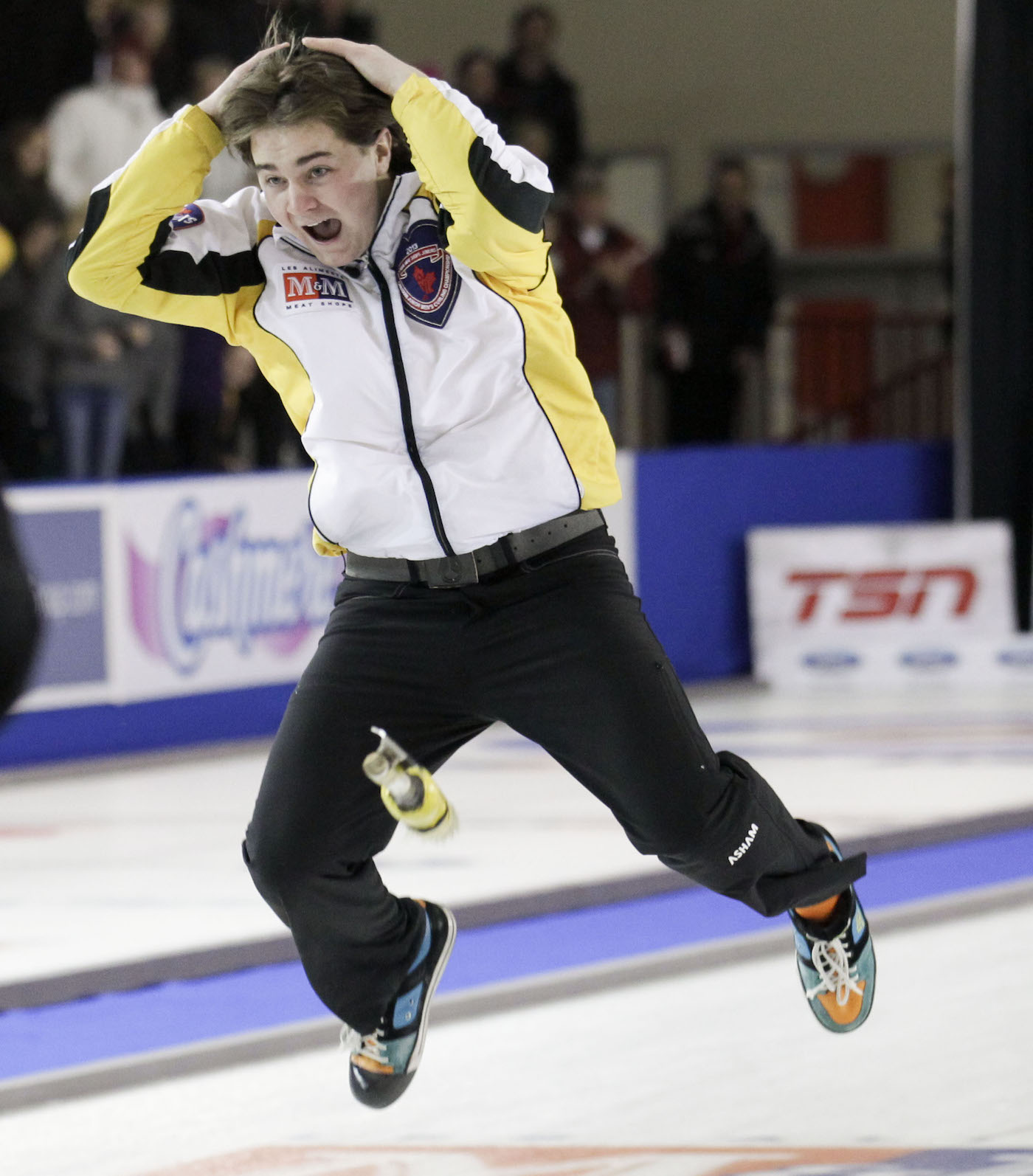 Season of Champions is also known as Celebration Season
By DAVE KOMOSKY
When it comes to sports jubilation, it's hard to beat the reaction of top-flight curlers when they've won something big.
The bigger the stakes, the bigger the celebration, it seems. Curlers, grasping the magnitude of the event they just won, go all-bonkers at the finish, with ecstatic jumping, broom tossing, high-pitched whoops of joy, and plenty of hugs. Some even break out in tears.
The best celebrations come after eye-popping final shots to win; at one point appearing dead in the water, and the next instant — champions!
Calgary skip Kayla Skrlik is the latest to join the list of players to make a spectacular final shot to touch off some serious celebratory fireworks. Her final shot at the 2023 Sentinel Storage Alberta Scotties Tournament of Hearts last month in Wetaskiwin carried her team to the 2023 Scotties Tournament of Hearts Canadian women's championship, where fans will be witness to more great curling and celebrations as the Season of Champions event kicks off Friday in Kamloops, B.C.
The Internet documents many of these wild celebrations. So looking back over our shoulder, let's visit a few of those great ones, and read what the joyous winners have to say about them today.
Kayla Skrlik, 2023 Alberta Scotties
Did anyone pick Skrlik to win the Alberta women's title last month in Wetaskiwin?
Well, perhaps nobody outside her immediate family.
But there she was Jan. 21, jumping for joy as brushes flew in the air after winning the 2023 Sentinel Storage Alberta Scotties Tournament of Hearts, following a gutsy final win over Lethbridge's Team Casey Scheidegger to complete an undefeated run at Wetaskiwin Civic Twin Arenas.
It was complete bedlam for sure when it was all over as Skrlik, 25, and the rest of her Garrison Curling Club team — third Brittany Tran, veteran second Geri-Lynn Ramsey, sister lead Ashton Skrlik, alternate Crystal Webster and coach Shannon Kleibrink — gathered for a group hug.
"My sister actually lifted me off the ground," said the skipper. "I had sprinted to her so quickly that she told me later on that I was actually going to bulldozer her. It's a miracle we didn't end up on the ground."
The win came in storybook fashion. Skrlik, trailing 8-7 in the 10th end but with hammer, needed a difficult double with her last rock to win, but it was no bargain. Shot stone was on the button, almost completely covered. Skrlik needed to skinny the front guard, remove the shot stone, and then bounce over to kick out Scheidegger's No. 2 counter.
"Honestly, when I was looking at it in the house, it looked like I could see more of it than I really could," she said. "I was already committed to throw it. I got in the hack and I think you can hear me on the livestream say to Brittany about how tight it was to the guard, and she told me I could change my mind.
"I didn't think it was that makable — maybe a 10 per cent chance of making it. But threw it . . . and made it.
"That game went so back and forth," said Skrlik. "It wasn't just that shot that was high pressure, the whole game it seemed like we were battling for control. Luckily we flipped it on the last shot. Winning that type of game was so much sweeter."
Skrlik said it was complete euphoria after that.
"What dreams are made of," she said after clinching her first provincial women's title.
Pat Simmons, 2015 Tim Hortons Brier
Pat Simmons may have taken celebratory broom tossing to new heights in 2015 after guiding Team Canada to a Tim Hortons Brier win in Calgary.
Simmons needed a cold draw to the button to win the final in an extra end, and after some serious brushing, sweepers Carter Rycroft and Nolan Thiessen got it there to defeat Northern Ontario's Brad Jacobs 6-5.
The shot made, Simmons stood up from his crouch, smiled broadly, and up went the broom. Way up. If not for being in a building, it could be orbiting today somewhere in space (CLICK HERE to see the actual toss).
"It went a ways" laughed Simmons, who today is Director of High Performance for CURLSASK. "It (throw) wasn't planned, or anything. It grazed the bottom of the Jumbotron, which is good, otherwise it may have been in with the fans. I think it dropped onto Sheet A. But I still have it."
The victory was extra sweet for Simmons and Co., who went into the Tim Hortons Brier as the first Team Canada, and a rebuilt one at that. Calgary's skip Kevin Koe left the Alberta team the previous summer after winning the 2014 Tim Hortons Brier. The team, now with John Morris skipping, got off to a slow 2-3 start, which prompted a switch to Simmons to take over at the T-head. The team rebounded, but just snuck into the playoffs with a 7-4 record.
But they were not to be denied once the playoffs began.
Simmons said he was relaxed and confident when he went to throw his final stone.
"We planned and called the whole extra end to leave that," he said. "It was probably as scripted as it could be. I felt as good as I could in that situation. It was a case where I had to throw it so the guys had to do a little work and sweep it a bit. Obviously there was a lot on the line but it (missing) never really crossed my mind. It all happened pretty quick."
Simmons suggested that the turbulence of the week in Calgary contributed to the celebration at the end.
"The way it ended was exciting but also the way the week went," he said. "There was so much about that week, the roller-coaster ride we were on. The big reason for our reaction was we were all so proud of ourselves for overcoming so much that week."
Matt Dunstone, 2013 New Holland Canadian Juniors
What happens when you've just made the biggest shot of your young curling career to secure a national championship?
As Matt Dunstone explained it, you lose all sense of body control.
"When you're in that moment you don't realize what you're doing," said Dunstone. "Instinct and reaction take over. You don't even have much control over what your body is doing. But looking back at it (video replay), it was a cool moment."
Dunstone was a veritable jumping jack after throwing a remarkable double takeout to win the 2013 New Holland Canadian junior men's championship in Fort McMurray, Alta. His trusty corn broom went flying and his ball cap almost came off as he bounced down the ice to join his Manitoba teammates — third Colton Lott, second Daniel Grant and lead Brendan MacCuish — after a 4-3 win.
Talk about youthful exuberance!
It was another one of those 10th-end, last-rock, throw-and-pray shots that bring out the best celebrations.
This time Dunstone, with last rock, needed to spill two Alberta stones in the four-foot, but the shot required him to play off his own third shot next to the two counters at just the right angle — and speed.
Big weight was required and if Dunstone can do anything, it's throw up-weight.
He made it perfectly, breaking the hearts of the Albertans, skipped by Thomas Scoffin.
"Looking back at it, I don't think it was very good odds at all," he said. "I was only 17 years old and pretty young. It wasn't the right call by any stretch of the imagination, a very low percentage shot, but the stars managed to align and I managed to make it. It was definitely one of the harder shots I've had to make."
Dunstone says winning in dramatic style sure gets the juices flowing at the end.
"That's the kind of excitement, the raw emotion, you can't create when the game is lopsided."
The corn broom he flung in the air is still with him.
"It's 20 years old and nearing retirement," he said, "but it's going to be a keepsake for me forever.
Jennifer Jones, 2005 Scotties Tournament of Hearts
It will go down in Canadian curling history as 'The Shot'.
Perhaps no event stood out more for its great-shot-great-celebration finale than the 2005 Scotties Tournament of Hearts in St. John's, N.L, and to no surprise the great Jennifer Jones of Manitoba was at the centre of it. It was a shot that paved the way for one of the greatest careers in curling history.
Jones failed to win at her first Scotties in Brandon in 2002, and it didn't appear she was going to win this one, either. The final curtain was coming down in the 10th end and the plot was pretty clear. Jones needed a ridiculous in-off to win against Ontario's Jenn Hanna, and the shot was so difficult that CBC-TV announcers, Don Wittman and Mike Harris, had their serious doubts.
"If she makes this shot, it will be the best shot I've ever seen to win a game," said Harris. "This is so tough."
Wittman agreed. "A most difficult attempt, trying to come in on a rock on the outside (of the rings)."
There was an anxious buzz in Mile One Stadium as Jones hunkered down for that final shot.
"When I was in the hack I was just grateful to have the opportunity to win the game," said Jones. "I just knew I had to throw it hard and see what happened. When I let it go I knew it was close. That was a pretty good feeling.
"I think we all believed we were going to make it. In that moment you just feel like you have to believe you're going to make it."
History will show Jones was inch perfect, ricocheting inward off a rock outside the side rings toward Hanna's shot stone buried on the button to score four and claim a 8-6 win and her first Scotties championship.
It was one of the most clutch moments in Canadian curling history. Disbelief was followed by wild jubilation. Jones could hardly contain herself and jumped for joy as the arena exploded in cheers and her teammates, Cathy Gauthier, Jill Officer and Cathy-Overton Clapham, raced down the sheet to embrace her.
Jones was not surprised at her reaction.
"No, not at all. I mean it was a dream come true truly, the first time we won. Growing up you dream you're going to win but never know if it's going to happen, so when it does . . . on a shot you might not make all the time, it was a pretty exciting way to win."
Jones has made many great shots in her legendary curling career, but none will top 'The Shot' for its timing, difficulty and resulting celebration.
Greg Smith, 2018 Newfoundland/Labrador men's Tankard
It's certainly another to win it in Newfoundland and Labrador, where skip Brad Gushue has reigned supreme for more than two decades.
Which may account for the memorable celebration Smith and his fellow teammates from St. John's enjoyed after winning the 2018 Tim Hortons Brier berth. Gushue's absence from the provincial playdowns that year (he was destined for the Tim Hortons Brier as Team Canada) offered a window of opportunity, and Smith and Co. — third Matthew Hunt, second Andrew Taylor and lead Ian Withycombe — climbed through. It was the first time since 2006 that the event was not won by Gushue.
The excitement quotient was amped up at the finish because, as Smith tells it, his team was given no chance to win.
"I just came out of juniors the year before and going into that event we were probably ranked fifth or sixth out of the nine that were there," he said. "No one had us on their radar. It was a rag-tag team of scraps that were left of players that were good but never had a team. We formed a team over a couple of drinks. It was like 'Hey, we should do this.' "
Smith's team rolled through the event undefeated going into the final, and then took out Andrew Symonds 8-6 in the final.
The celebration at the end was part disbelief and pure joy.
"It was a whole Cinderella story," said Smith. There was also the Brad Gushue Factor. It was something I was dreaming about since I was a kid.
"There was just a flood of emotions. We had the fire in our eyes the whole week. The fact we could see it happen was hard to process."
The title secured, Smith hip-hopped down the ice after his final shot, slipping and almost hitting the deck at one point, before falling into the arms of teammates for some prolonged revelry.
"I looked like a buffoon coming down the ice," he laughed. "The best of it was I almost slipped in the celebration. Imagine if I had hurt myself celebrating.
"But it was a big moment in my curling career. It's something I'll never, ever forget."