Unleashed, at last!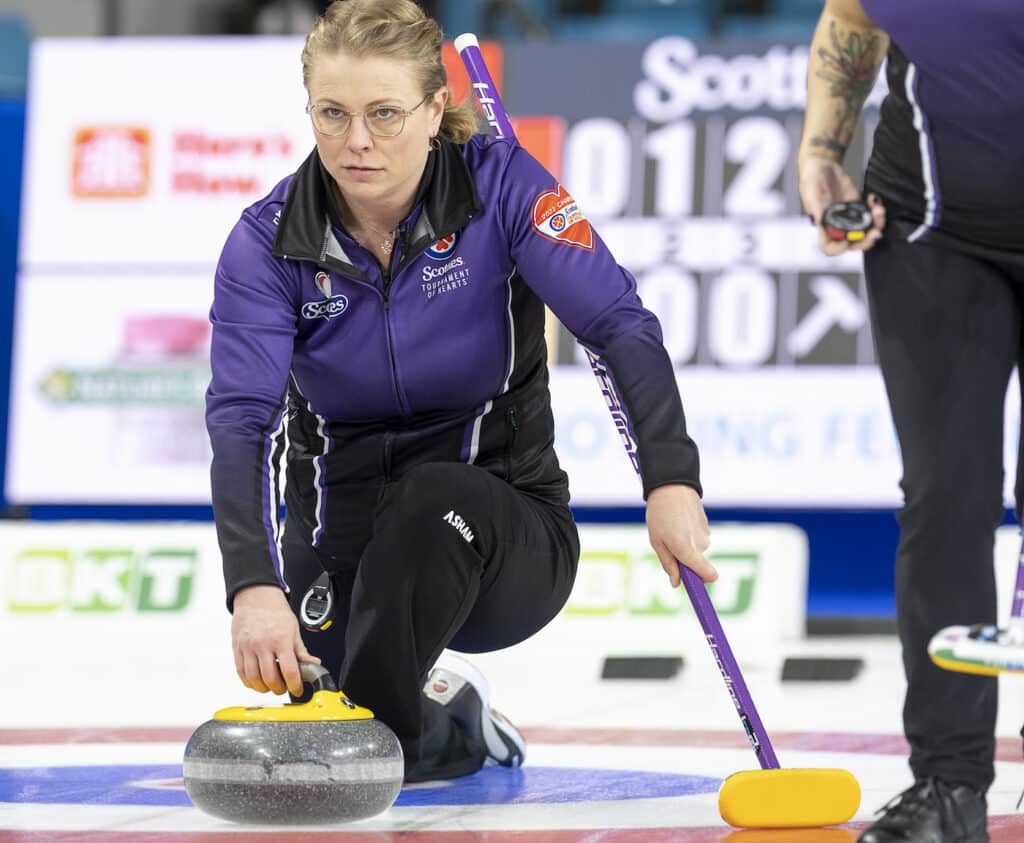 Team Yukon thrilled to get started at Scotties Tournament of Hearts
Hailey Birnie and her Team Yukon from Whitehorse arrived in Kamloops, B.C., for the 2023 Scotties Tournament of Hearts on Wednesday.
You can only imagine their thrill to finally get on the ice for their first game Sunday morning.
Quirks in the schedule mean somebody has to be last on the ice, and this time it was the northerners who had to watch as the other 17 teams in the field got to mix it up Friday and Saturday.
Sunday morning they were finally unleashed at the Sandman Centre.
"Being on the ice for the first time Sunday is a little bit tough," smiled the affable Birnie, who is a mental health councillor and film producer back home. "Some teams have already had two games and any team we play is already a game up on us. So we do feel it's a bit of a disadvantage but somebody has to be last and it just happens to be us."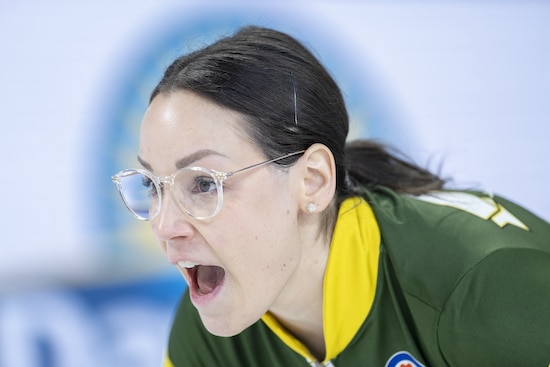 The Yukoners weren't exactly idle while the other teams frolicked. They did get in some practice time. But there's nothing like game action to get the juices flowing.
It wasn't the debut Birnie and her support staff were hoping for Sunday. Team Yukon had its struggles and went down to a 11-4 defeat in eight ends at the hands of Team Newfoundland and Labrador (1-1, St. John's), skipped by Stacie Curtis.
Birnie has no illusions about what the week will bring. Her team — third Chelsea Jarvis, second Kerry Campbell, lead Kimberly Tuor and alternate Jenna Duncan — is up against it playing the best teams in the country. They just don't get the reps in like the top Canadians enjoy playing big bonspiels on the circuit.
Still, the joy in playing in the Scotties is evident in their smiles.
"We're going to enjoy this," said Birnie, who is in her fourth Scotties. "Hopefully we can get a win or two out there."
It may not have been the best result for Team Yukon to kick off Sunday's action at the Scotties, but it certainly was for Krista McCarville. The skip of Northern Ontario (2-0, Thunder Bay) defeated Casey Scheidegger's Team Wild Card #2 9-6 to underline her team's status as one of the country's best and a threat to win it all this week.
McCarville, who finished runner-up to eventual champion Team Kerri Einarson last season in Thunder Bay, was thrown a tough schedule coming in with three top teams to face right off the bat.
"We knew it was a tough start", said McCarville, who opened with a tough 11-8 victory over six-time national champion Jennifer Jones and her Team Manitoba the night before. "Again, we're at the Scotties. We're playing tough teams every game. Looking at our draw we were hoping to get a couple wins early and we'd feel really good about it."
Northern Ontario takes on three-time Canadian champion Rachel Homan and her Team Ontario tonight.
McCarville said her team caught onto the ice early against Team Wild Card #2 and that may have made the difference.
"That was a positive and a bonus because yesterday in the first draw you're always second-guessing yourself," she said. "But I felt pretty good putting the broom down today."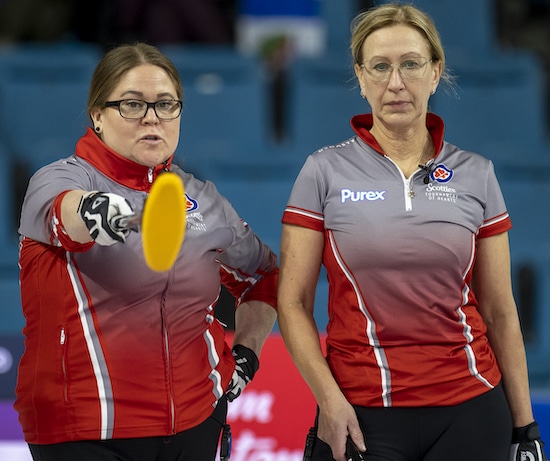 It was also a good morning for Jones (1-1, Winnipeg/Altona) who shrugged off her opening loss to McCarville to clobber Wild Card #3 (0-2, East St. Paul, Man.), skipped by Meghan Walter, 12-5 in eight ends.
Jones raced away to a quick 8-0 lead, but credit to Walter's young team for not rolling over. Thanks to Walter's super raise takeout in the fourth end, they cut the lead to 8-4, but that would be as close as they got.
It was a generational battle on the ice between the two Manitoba teams. Walter was born Feb. 22, 2002. A day later Jones appeared in her first Scotties in Brandon, Man.
In the other Pool B game, skip Kerry Galusha's Team Northwest Territories (2-0, Yellowknife) continued its recent mastery over Ontario teams at the Scotties by defeating Homan (1-1, Ottawa) 8-4. The Polars have beaten Ontario three straight straight times at the Scotties, including a win over Team Homan in 2021.
Team Northwest Territories jumped out to an early 4-0 lead and then hung on for the win.
"It's a little nerve-wracking when you get up on Homan," said Galusha. "But we tried to stay calm and play the way we can."
Team New Brunswick (0-1, Fredericton), skipped by Andrea Kelly, had the bye.
The 18 Scotties teams are split into two pools of nine, and will play a complete eight-game round robin. The top three teams in each pool advance to the playoffs where it will be further reduced to a Final Four and a Page playoff system.
The final goes Sunday, Feb. 26.
The Scotties champion will represent Canada at the 2023 Women's Curling Championship in Sandviken, Sweden, from March 18-26.
The 2023 Scotties Tournament of Hearts continues Sunday with draws at 1:30 p.m. and 6:30 p.m. (all times PST).
Live scoring, standings and statistics for the 2023 Scotties Tournament of Hearts are available at www.curling.ca/scoreboard/.
TSN and RDS2 will provide complete coverage of the 2023 Scotties Tournament of Hearts. CLICK HERE for the complete schedule.
For ticket information for the 2023 Scotties Tournament of Hearts, go to www.curling.ca/2023scotties/tickets/.
This story will be available in French as soon as possible at www.curling.ca/2023scotties/nouvelles/?lang=fr.