Bluenosers smell success!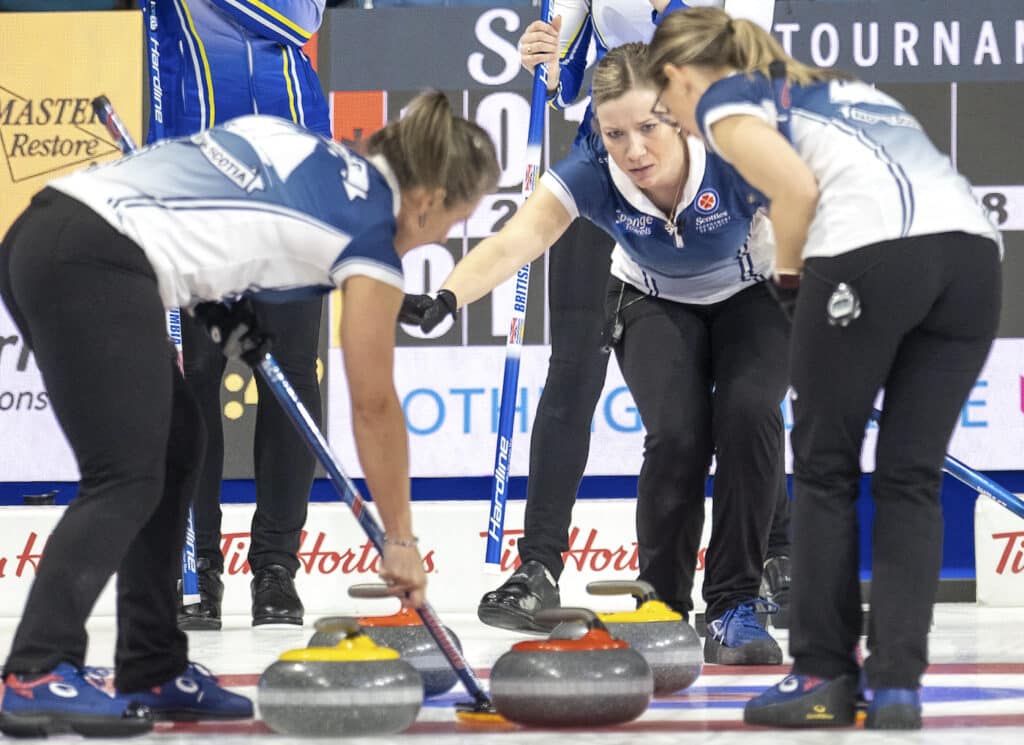 Nova Scotia making a strong bid at Scotties Tournament of Hearts
Not since the glory days of Colleen Jones strutting her stuff at the Scotties Tournament of Hearts has Team Nova Scotia ruled the Canadian women's curling championship.
Could this be the year for the Bluenosers with Christina Black calling the shots as skip?
These are still early days of the Scotties in Kamloops, B.C., but Black and Co. from the Dartmouth Club are sitting pretty at 3-1, fresh off an impressive 8-2 win over Team British Columbia (2-2, Vancouver) skipped by Clancy Grandy in an early morning draw that combined teams from both A and B Pools.
Black is not surprised by her quick start to the week. She admits breaking in a new front end — second Karlee Everist and lead Shelley Barker — last year in the Scotties in Thunder Bay, Ont., has helped immensely this year in Kamloops, B.C.
"It was their first Scotties," said Black. "For them it was a great starter Scotties. There were no fans, none of the other distractions, so you just get used to the curling in that environment and not worry about the other things. It was also more experience for me skipping. We learned a lot last year."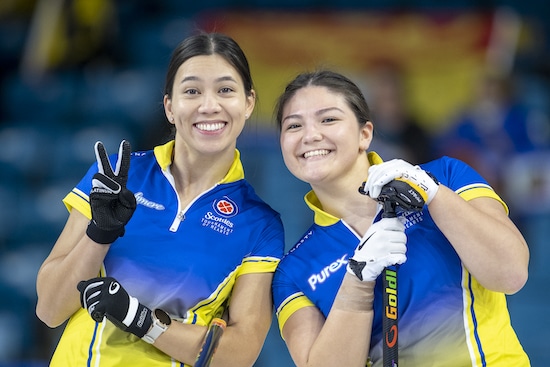 Team Nova Scotia's lineup is rounded out with third Jennifer Baxter, alternate Carole MacLean and coach Stuart MacLean.
Team Black was handed a huge break against the home-province hopefuls when Grandy was heavy with a draw, facing three enemy stones, in the fifth end. That boosted the Bluenosers' lead to 6-1, and it was basically game, set and match.
"We figured it would be a close back-and-forth battle, but we got a little lucky and she got heavy," said Black. "But there was still a lot of game left, so it's don't let off the gas because it's pretty easy out there to give up a big end."
Team Nova Scotia still has a long way to go to pull off a 'Rocky' moment this year, but team members are confident they can qualify for the playoffs.
"That was a very big win," said Black. "You don't want to drop too many early. We have another big game later today (against defending champs Team Canada) so you need to come out and win the first one and you know you're in a good position."
The 18 Scotties teams are split into two pools of nine, and will play a complete eight-game round robin. The top three teams in each pool advance to the playoffs where it will be further reduced to a Final Four and a Page playoff system.
A national title for a Nova Scotia team hasn't happened since Jones skipped Team Canada to a record fourth-straight national title in 2004.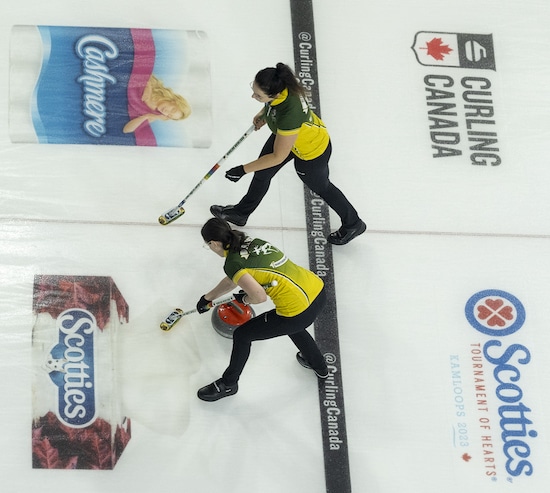 In the other Pool A game on the ice, Scotties rookies from the Garrison Club, skipped by Kayla Skrlik, carried Team Alberta (1-2, Calgary) to its first win, 9-4 over skip Brigitte MacPhail's Team Nunavut (0-3, Iqaluit).
Meanwhile, in Pool B play, Team Northern Ontario and Team Northwest Territories upped their records with wins. Skip Krista McCarville, still sleepy-eyed from playing the night before, guided Team Northern Ontario (3-1, Thunder Bay) to an 8-6 extra-end win over skip Andrea Kelly's Team New Brunswick (1-2, Fredericton), while skip Kerry Galusha, who also played Sunday night, helped Team Northwest Territories (3-1, Yellowknife) secure a 14-8 victory over Newfoundland and Labrador (1-3, St. John's) skipped by Stacie Curtis. The Polars hung up two fours and a three on the scoreboard en route to the win.
Team McCarville and Team Galusha are scheduled to meet Tuesday in what shapes up to be a key matchup.
The final goes Sunday, Feb. 26.
The Scotties champion will represent Canada at the 2023 Women's Curling Championship in Sandviken, Sweden, from March 18-26.
The 2023 Scotties Tournament of Hearts continues Monday with draws at 1:30 p.m. an 6:30 p.m. (all times PST).
Live scoring, standings and statistics for the 2023 Scotties Tournament of Hearts are available at www.curling.ca/scoreboard/.
TSN and RDS2 will provide complete coverage of the 2023 Scotties Tournament of Hearts. CLICK HERE for the complete schedule.
For ticket information for the 2023 Scotties Tournament of Hearts, go to www.curling.ca/2023scotties/tickets/.
This story will be available in French as soon as possible at www.curling.ca/2023scotties/nouvelles/?lang=fr.