Unbeaten teams tumble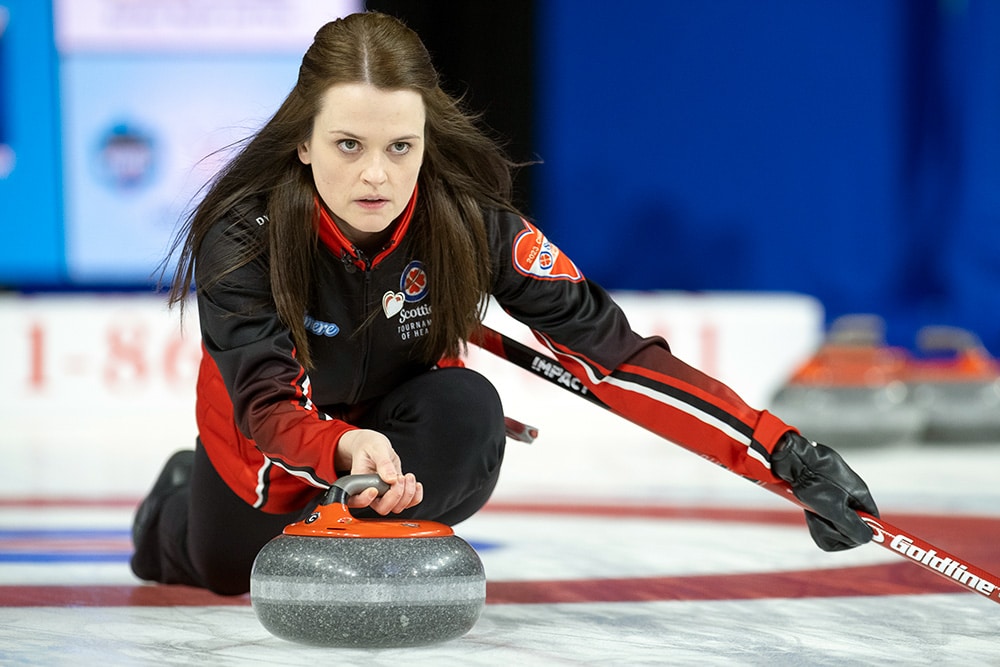 Team Ontario flexes muscles in toppling unbeaten Team Northern Ontario
Question: What happens when you put one of the best shooters in women's curling together with a skip who is smart, confident and fearless in calling a game?
Answer: A dangerous team.
And that's what Team Ontario (2-1, Ottawa) represents at the 2023 Scotties Tournament of Hearts in Kamloops, B.C.
The combination of Tracy Fleury skipping and Rachel Homan throwing fourth stones can be a pretty special package when right, and Sunday evening they gave a demonstration of that by posting a 7-5 victory over previously unbeaten Team Northern Ontario (2-1, Thunder Bay), skipped by Krista McCarville, in Pool B action at the Sandman Centre.
Nobody knew how the new combination of Homan, a three-time Canadian champion and 2017 world champion, and Fleury, a well-respected skip who reached the finals at the 2021 Tim Hortons Canadian Curling Trials, would mix on the ice when they joined forces in the off-season. Homan recruited Fleury to skip and Homan concentrated on throwing last stones.
So far it's worked out well. Team Ontario, which also includes second Emma Miskew, lead Sarah Wilkes, alternate Kira Brunton and coach Ryan Fry, has performed well in Kamloops, with the only blemish an 8-4 loss to Kerry Galusha's Team Northwest Territories (2-1, Yellowknife) earlier on Sunday.
"It's always a tough game against Team McCarville," said Fleury. "They're all great shooters and we knew it would be a close one. It could have gone either way."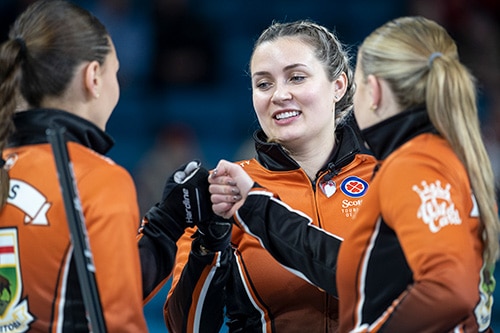 Fleury said the fact the game was a nail-biter was not a bad thing.
"It's nice to get some practise in those close games and feel a little pressure," she said.
Team Ontario was solid against Team McCarville, opening with a deuce and then recovering from a stolen two points in the sixth end that looked ominous as the team fell behind 5-4. But Ontario quickly found a way back and Homan closed the game out with a beautiful double with her last shot in the 10th.
"There's still room for improvement but we're trending in the right direction," said Fleury.
Team McCarville wasn't the only outfit to see its bubble burst Sunday. Team Galusha had a chance to keep her Polars unbeaten but was ambushed 8-6 by Team Wild Card 3 (1-2, Winnipeg) skipped by Meghan Walter.
Manitoba's Team Jennifer Jones (2-1, Winnipeg/Altona) crept into the first-place logjam after a 7-4 decision over skip Stacie Curtis and her Newfoundland and Labrador team (1-2, St. John's).
Jones is looking to win her seventh national women's curling championship, more than any other curler in the country. Jones entered the 2023 Scotties tied with Colleen Jones and Jill Offer with six Scotties titles.
In the only other game on the Pool B docket Sunday, Team New Brunswick skipped by Andrea Kelly (1-1, Fredericton) rolled to a 14-3 victory over Hailey Birnie's Team Yukon (0-2, Whitehorse) in eight ends.
Wild Card 2 (1-1, Lethbridge, Alta.), skipped by Casey Scheidegger, had the bye.
The 18 Scotties teams are split into two pools of nine, and will play a complete eight-game round robin. The top three teams in each pool advance to the playoffs where it will be further reduced to a Final Four and a Page playoff system.
The final goes Sunday, Feb. 26.
The 2023 Scotties Tournament of Hearts continues Monday with draws at 8:30 a.m., 1:30 p.m. and 6:30 p.m. (all times PST).
Live scoring, standings and statistics for the 2023 Scotties Tournament of Hearts are available at www.curling.ca/scoreboard/.
TSN and RDS2 will provide complete coverage of the 2023 Scotties Tournament of Hearts. CLICK HERE for the complete schedule.
For ticket information for the 2023 Scotties Tournament of Hearts, go to www.curling.ca/2023scotties/tickets/.
This story will be available in French as soon as possible at www.curling.ca/2023scotties/nouvelles/?lang=fr.