Champs playoff bound!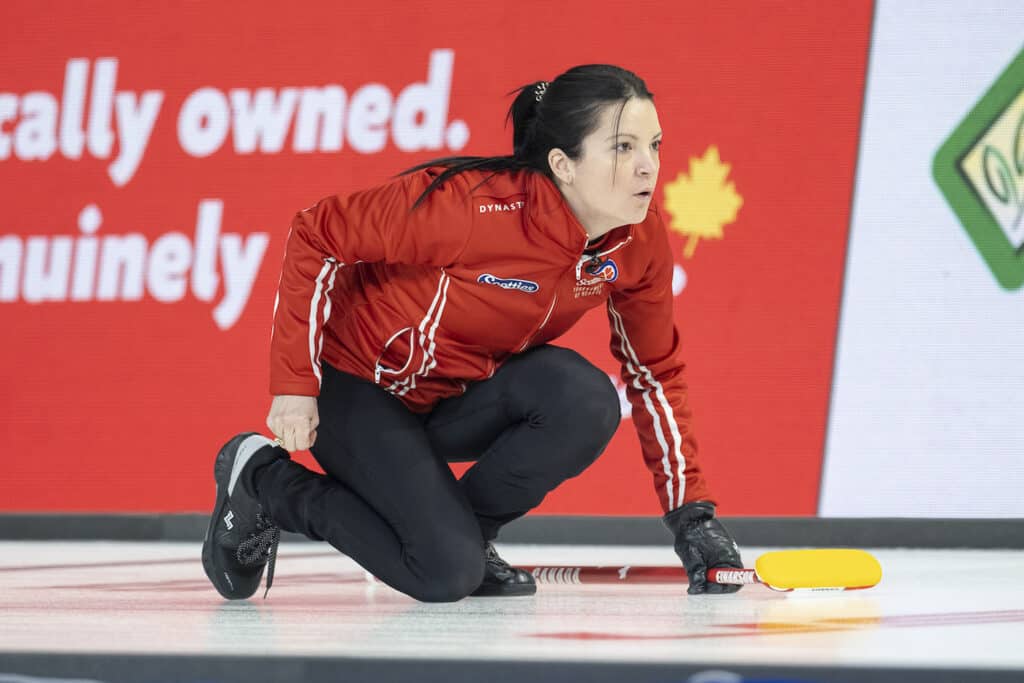 Team Canada remains unbeaten and clinches playoff spot at Scotties
Defending a championship is tough. Everything must go right once more, and the target on the back grows bigger by the day.
Imagine, then, how tough it is to repeat that again and again and again.
That's the challenge that faces skip Kerri Einarson and her Team Canada this week at the 2023 Scotties Tournament of Hearts in Kamloops, B.C. Everything must fall into place once more, and there are landmines everywhere.
The defending champs have not stepped on one yet. Einarson and her team (6-0, Gimli, Man.) have served notice they're not going to give up their Canadian women's curling championship easily after clinching a playoff spot while remaining unbeaten after cruising to a 10-3 win over skip Robyn Silvernagle's Team Saskatchewan (1-5, North Battleford) Tuesday afternoon in Pool A action at the Sandman Centre.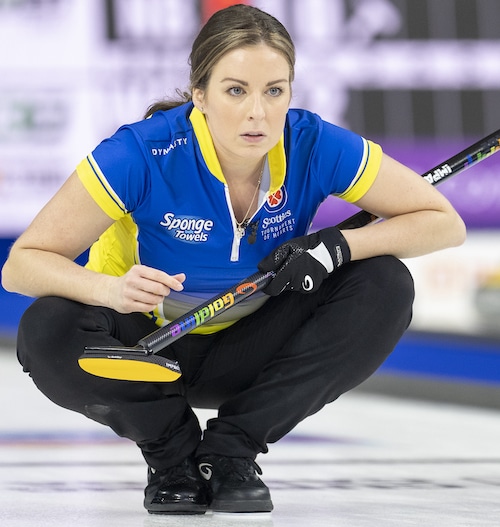 The storyline entering the Scotties was whether Team Einarson could put it all together once more in its bid to win a fourth consecutive Canadian women's curling championship title. A fourth straight crown would tie the team with Nova Scotia's legendary Team Colleen Jones of Halifax, who won four straight (2001-2004).
It's been smooth sailing so far.
Einarson was surprised when told she had clinched a playoff spot.
"Oh, I guess so. I haven't even looked at that yet," she said. "We still have two tough games to play."
Einarson said figuring out the ice has been the key to her team's success.
"It was a little tricky last night and I was a little frustrated," she said, "but once we got it figured out, it was good."
It also helps when your skipper is shooting the lights out. Einarson, at 83 per cent, is the top shooting skip in the field.
She said her weight control and rock placement have been her best weapons.
"And amazing sweepers," added Einarson, back with her familiar lineup of third Val Sweeting, second Shannon Birchard, lead Briane Harris, alternate Krysten Karwacki and coach Reid Carruthers. "They make a lot of shots for me."
The win improved Team Einarson's record at the Scotties to an incredible 40-5 over the past four years.
Team Canada may be chasing one record this week but so is Jennifer Jones. The Grande Dame of Canadian women's curling who is skipping Team Manitoba (Winnipeg/Altona), entered the 2023 Scotties tied with Colleen Jones and Jill Officer with six Scotties titles. Another title and she would move to the top of the hill.
She crept ever so closer to that goal Tuesday with a 10-5 win over Team Yukon (1-4, Whitehorse) skipped by Hailey Birnie. Jones, third Karlee Burgess and her rotating front end of Mackenzie Zacharias, Emily Zacharias and Lauren Lenentine have won four straight games to improve to 5-1 and moved into a tie with skip Krista McCarville of Northern Ontario for top spot in Pool B.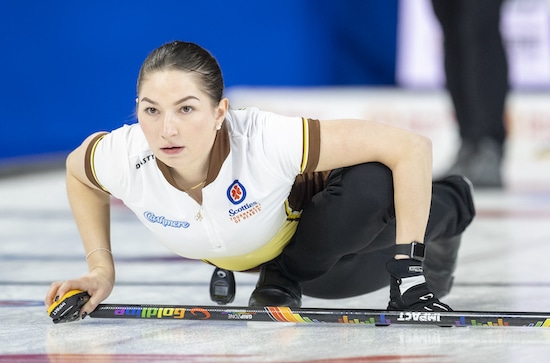 "Two really big wins against two good teams," said Jones, who defeated skip Kerry Galusha's Team Northwest Territories 10-8 in the morning. "I don't even know how the format works. I just want to get as many wins as we can and see where the dust settles."
Meanwhile, skip Meghan Walter's Team Wild Card #3 (2-2, East St. Paul, Man.) defeated Andrea Kelly's Team New Brunswick (2-2, Fredericton) 8-5 to remain a factor in Pool B.
On the next sheet over, Scotties newbie skip Kayla Skrlik and her Team Alberta (3-2, Calgary) continued to climb up the Pool A standings after posting a 10-7 win over skip Marie Christianson's Team Prince Edward Island (1-4, Cornwall).
The 18 Scotties teams are split into two pools of nine, and will play a complete eight-game round robin. The top three teams in each pool advance to the playoffs where it will be further reduced to a Final Four and a Page playoff system.
The Scotties champion will represent Canada at the 2023 Women's Curling Championship in Sandviken, Sweden, from March 18-26.
The final goes Sunday, Feb. 26.
The 2023 Scotties Tournament of Hearts continues Tuesday with a draw at 6:30 p.m. (all times PST).
Live scoring, standings and statistics for the 2023 Scotties Tournament of Hearts are available at www.curling.ca/scoreboard/.
TSN and RDS2 will provide complete coverage of the 2023 Scotties Tournament of Hearts. CLICK HERE for the complete schedule.
For ticket information for the 2023 Scotties Tournament of Hearts, go to www.curling.ca/2023scotties/tickets/.
This story will be available in French as soon as possible at www.curling.ca/2023scotties/nouvelles/?lang=fr.