Rested and ready!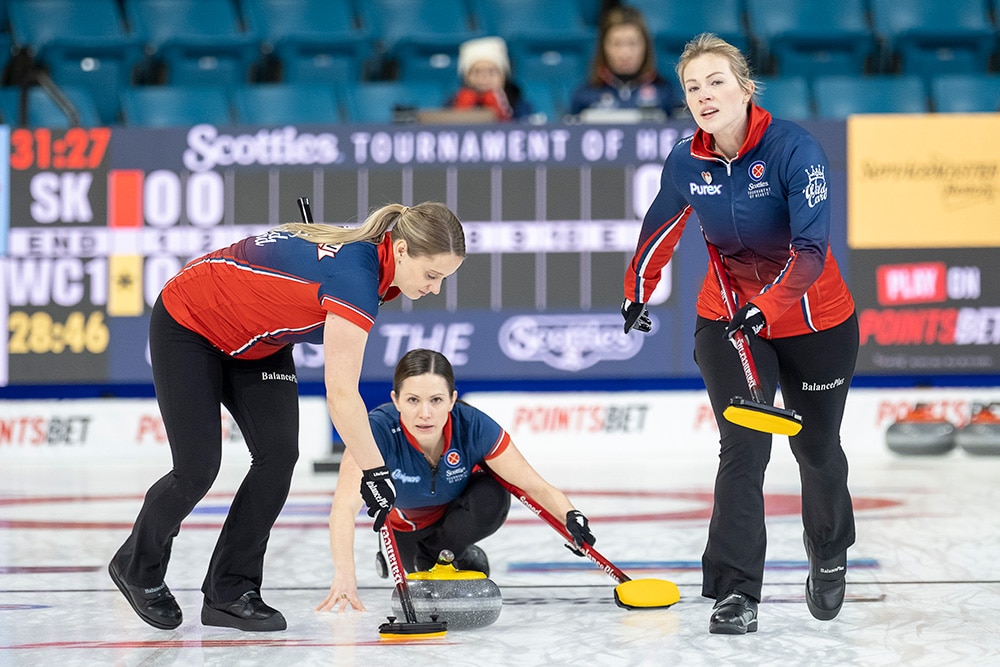 Wild Card 1's Team Lawes in peak form following day off at 2023 Scotties
There's nothing like a day off in the middle of the Scotties Tournament of Hearts to refresh the body and mind and get a team ready for the stressful final-half chase for the playoffs.
Kaitlyn Lawes and her Wild Card 1 team out of the Fort Rouge Curling Club in Winnipeg enjoyed their day of rest Monday and returned to the ice Tuesday morning with an impressive 8-3 win over Team Robyn Silvernagle of Saskatchewan (1-4, North Battleford).
"It was nice for me, to have the newborn here, I wanted to make sure I got a little reset and feel good going into (the final eight draws)," said Lawes, who is in Kamloops, B.C., at the Sandman Centre with her two-month-old daughter Myla. "We have a busy schedule today and tomorrow, two-game days."
Lawes and crew played a patient game, blanking the first two ends waiting for a chance for a multiple score end. But they were forced to take one in the third only to steal one in the fourth and two in the sixth for a comfortable 4-0 lead. 
"I would describe our whole team attitude right now is just be patient," Lawes said. "There are a lot of good teams out here and we have to take it one shot at a time and try to stay focused."
Even after giving up three to Saskatchewan in the eighth the Wild Card 1 team didn't panic, bouncing back with three of its own in the ninth.
"Even in the eighth end Robyn made an amazing shot, little triple to sit three. I got a little unlucky hitting the guard on my last one."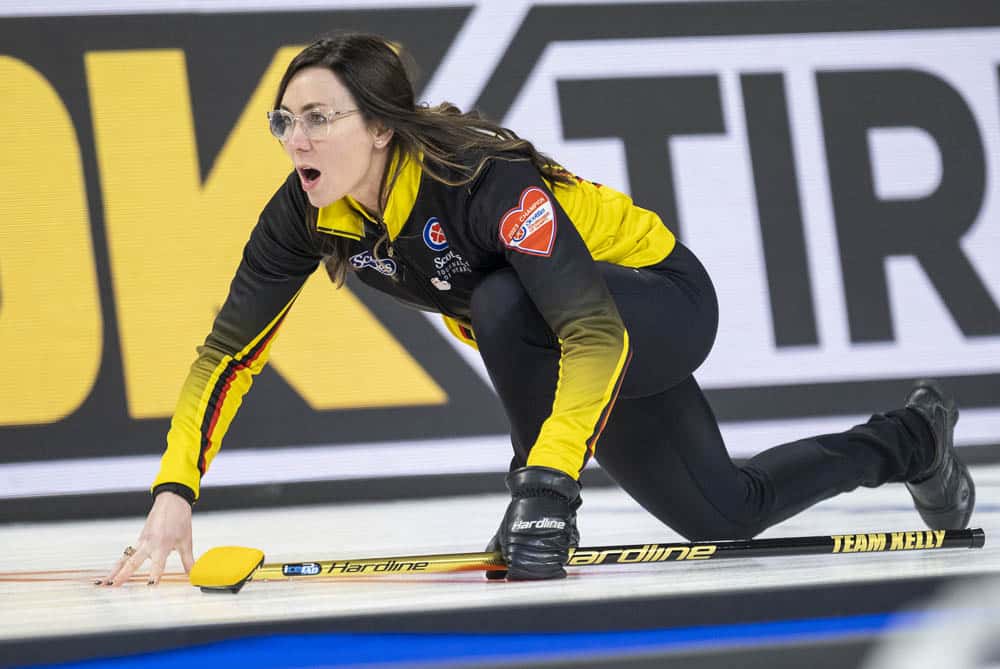 The win improved Lawes, vice-skip Laura Walker, second Jocelyn Peterman, lead Kristin MacCuish, Selena Njegovan – on parental leave – and coach Lisa Weagle to 3-1 and into second spot in Pool A behind Canada's undefeated Team Kerri Einarson (5-0, Gimli, Man.)
Meanwhile, in a key Pool B match six-time Scotties champion Jennifer Jones of Manitoba (4-1, Winnipeg/Altona) had a wild start and a scary finish before emerging with a key 10-8 win over Kerry Galusha of Northwest Territories (3-2, Yellowknife).
Jones needed to come through a narrow port to execute a tap back to score one with her final stone in the 10th end for the win after building an 8-2 lead after the first three ends. Jones jumped on a couple of near misses by the Galusha foursome to score three in the first end, gave up two to Team Galusha in a wild second which saw 14 of the 16 rocks in play, but posted five in the third. At that point, not even Jones anticipated she would need to make a tough last rock in the tenth to win.
"No, but as long as you have that last rock that's what you want," Jones said. "We gave up a couple of steals based on the scoreboard and then they made a few good shots and all of a sudden we're only one up.
"We felt like we were in control. One up, coming home. It's just that you don't want to give up those steals and we didn't play as well in the second half as we would like."
Jones, third Karlee Burgess and her rotating front end of Mackenzie and Emily Zacharias and Lauren Lenentine have won three straight games to improve to 4-1 and move into a tie with Krista McCarville of Northern Ontario for top spot in Pool B.
Galusha, who throws lead stones, Jo-Ann Rizzo, who throws last stones, third Margot Flemming, second Sarah Koltun, alternate Megan Koehler and coach Shona Barbour, fall to 3-2, tied with Ontario's Team Rachel Homan (3-2, Ottawa).
In the other morning games, Team Casey Scheidegger and Wild Card 2 (1-3, Lethbridge) lost 7-6 to Team Andrea Kelly of New Brunswick (2-2, Fredericton) and Team Clancy Grandy of British Columbia (3-2, Vancouver) beat Team Brigitte MacPhail of Nunavut (0-4, Iqaluit) 12-4.
The 18 Scotties teams are split into two pools of nine, and will play a complete eight-game round robin. The top three teams in each pool advance to the playoffs where it will be further reduced to a Final Four and a Page playoff system.
The final goes Sunday, Feb. 26.
The Scotties champion will represent Canada at the 2023 Women's Curling Championship in Sandviken, Sweden, from March 18-26.
The 2023 Scotties Tournament of Hearts continues Tuesday with draws at 1:30 and 6:30 p.m. (all times PST).
Live scoring, standings and statistics for the 2023 Scotties Tournament of Hearts are available at www.curling.ca/scoreboard/.
TSN and RDS2 will provide complete coverage of the 2023 Scotties Tournament of Hearts. CLICK HERE for the complete schedule.
For ticket information for the 2023 Scotties Tournament of Hearts, go to www.curling.ca/2023scotties/tickets/.
This story will be available in French as soon as possible at www.curling.ca/2023scotties/nouvelles/?lang=fr.