Rocky Mountain High!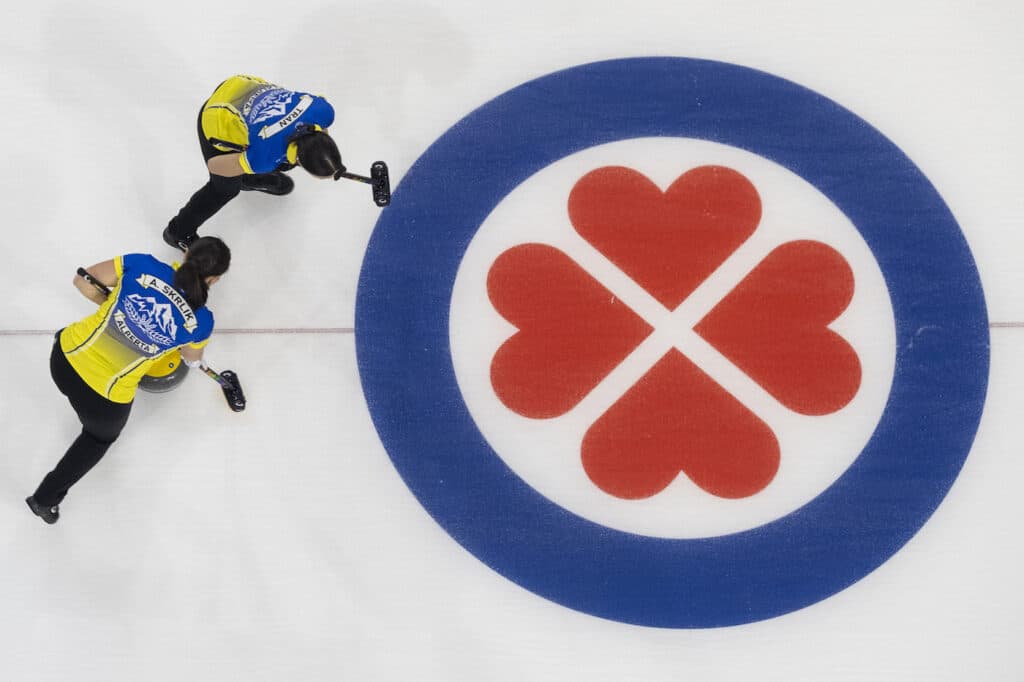 Team Alberta bounces back with two big wins at Scotties
Alarm bells may have been going off in curling clubs across Alberta after learning their flag-bearers dropped the first two game of their schedule at the 2023 Scotties Tournament of Hearts in Kamloops, B.C.
But skip Kayla Skrlik and her team from the Garrison Club in Calgary have allayed any fears of a disastrous Scotties for Alberta with a rebound that — presto-chango — has them in the thick of things at the Canadian women's curling championship.
The Albertans notched win No. 1 Monday afternoon to get the monkey off their backs, then blew the doors off Team Quebec (2-2, Laval-sur-le-Lac/Glenmore) skipped by Laurie St-Georges, to complete a two-win day in Pool A.
Happy days are here again for Wild Rose Country.
"We knew today was going to be important," said Skrlik, who scored a whopping six-ender on her way to a 12-4 win over the team from La Belle Province. "Honestly, we really struggled with the ice the first two games. I struggled to put the broom down on the right spot. But we seemed to figure it out today."
The sluggish start may have been expected from the Alberta team, which is rounded out with third Brittany Tran, second Geri-Lynn Ramsay, lead Ashton Skrlik, alternate Crystal Webster and coached by Shannon Kleibrink. They're basically Scotties rookies, although Tran played in a couple of them in 2019 and 2021.
The bright lights and TV cameras may have startled them at first, but they've found their mojo and are poised to make a playoff run if they can keep up their solid play.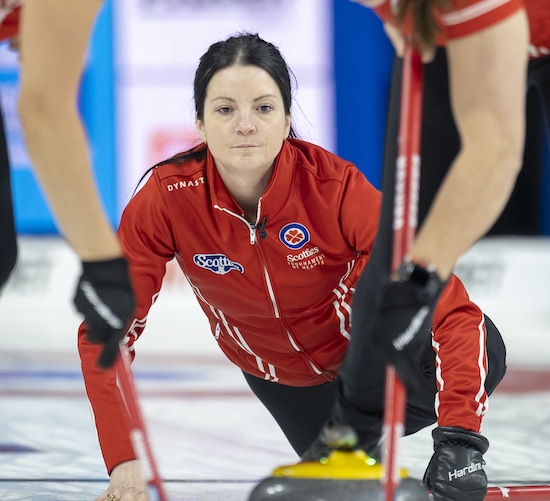 And it should come as no surprise because Skrlik and Co. went through their provincial playdowns in Wetaskiwn unbeaten, and the name on their backs says ALBERTA, a curling powerhouse.
Meanwhile, skip Kerri Einarson's Team Canada from Gimli, Man., kept slam-banging its way through the field, winning its fifth straight game without a defeat. Einarson is on the hunt for a fourth consecutive Canadian women's curling championship title, which would tie her with Nova Scotia's legendary Colleen Jones of Halifax who won four straight (2001-2004).
Team Canada had all they could handle with Christina Black's Team Nova Scotia (3-2, Dartmouth) before pulling out a 9-4 win in an entertaining Pool A game.
"It took a little while to figure out the ice," said second Shannon Birchard. "There was quite a bit more frost. Figuring out the adjustments rock-to-rock was challenging."
Einarson, back with her familiar lineup of third Val Sweeting, Birchard, lead Briane Harris, alternate Krysten Karwacki and coach Reid Carruthers, can clinch a playoff spot with one more round-robin win this week.
Birchard said going unbeaten would be great, but playing their style of game is most important.
"Part of what makes our team great is we're able to grind through wins," she said. "Dropping a game in the long run is not going to hurt us, but we definitely don't want to do that."
The 18 Scotties teams are split into two pools of nine, and will play a complete eight-game round robin. The top three teams in each pool advance to the playoffs where it will be further reduced to a Final Four and a Page playoff system.
Skip Krista McCarville and her Team Northern Ontario (4-1, Thunder Bay) kept rolling as two Pool B games also hit the ice on the night shift. Team McCarville scored an 8-5 win over Team Wild Card #3 (1-3, Winnipeg) skipped by Meghan Walter. Meanwhile, Team Ontario's Rachel Homan (3-2, Ottawa) rebounded from a tough loss to Team Manitoba in the afternoon to score a 13-8 decision over skip Hailey Birnie's stubborn Team Yukon (1-3, Whitehorse) in a game that was much closer than the score indicates.
The Scotties champion will represent Canada at the 2023 Women's Curling Championship in Sandviken, Sweden, from March 18-26.
The final goes Sunday.
The 2023 Scotties Tournament of Hearts continues Tuesday with draws at 8:30 a.m., 1:30 p.m. an 6:30 p.m. (all times PST).
Live scoring, standings and statistics for the 2023 Scotties Tournament of Hearts are available at www.curling.ca/scoreboard/.
TSN and RDS2 will provide complete coverage of the 2023 Scotties Tournament of Hearts. CLICK HERE for the complete schedule.
For ticket information for the 2023 Scotties Tournament of Hearts, go to www.curling.ca/2023scotties/tickets/.
This story will be available in French as soon as possible at www.curling.ca/2023scotties/nouvelles/?lang=fr.