Pressure shot wins it!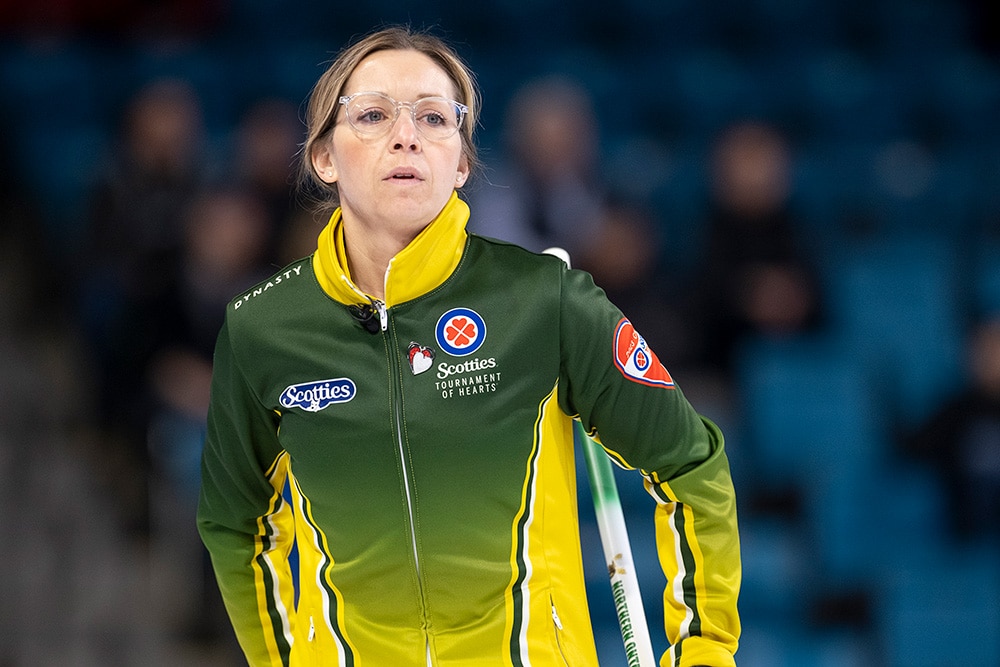 Skip McCarville comes through under pressure to boost Team Northern Ontario 
Overcoming a devastating defeat is sometimes the toughest thing to do in sports.
Skip Krista McCarville insists she's parked her gold-medal game loss at last season's Scotties Tournament of Hearts, and is confident her head is in the right space to make a spirited run on the ice at the Canadian women's curling championship this season.
So far, it sure looks like she's right as she works her way through the 2023 Scotties in Kamloops, B.C.
McCarville and her team from Thunder Bay, Ont., look as dangerous as ever, upping their record to 5-1 and into a share of first place in Pool B after Tuesday's evening draw at the Sandman Centre.
McCarville was forced to make a pressure come-around draw facing an enemy stone at the back of the button for a tense 5-4 win over veteran skip Kerry Galusha's Team Northwest Territories (3-3, Yellowknife), which has shown a lot of spunk at the Scotties this year.
"The first half of the last end went well until we had an 'oopsie' but that's my job to make that last shot and I did, so I'm thankful for that," said McCarville. "We have two more tough games and we have to play a little bit better than we did today."
McCarville, who finished runner-up to eventual champion, Canada's Team Kerri Einarson, last season in Thunder Bay, Ont., was thrown a tough schedule coming up against three top teams — Team Manitoba's Jennifer Jones, Team Wild Card #2's Casey Scheidegger and Team Ontario's Rachel Homan — to start proceedings. She survived with a 2-1 record, clearing the runway for what she hopes is a trip to the playoffs.
Nobody should be surprised that McCarville is making noise at the Scotties — again. Her teams have always performed well in major events and have been excellent for quite some time. Her current team lineup – with third Kendra Lilly, second Ashley Sippala, lead Sarah Potts and coach Rick Lang – earned silver at the Scotties last season, although McCarville's loss in the final was a gut punch, coming in her own hometown of Thunder Bay.
But she says she's over that, although it took some time to wipe it from her mind.
"It definitely lingered for a while. You get so close," she said. "We thought after we reached the final in 2016 would we ever be back to the Scotties. You kind of think that way. Will we be back? The Scotties is such a tough tournament to play.
"Obviously we want to be in the final again and win the Scotties," said McCarville. "But we know how long of a week it is but the final is still far away. We don't want to think about it."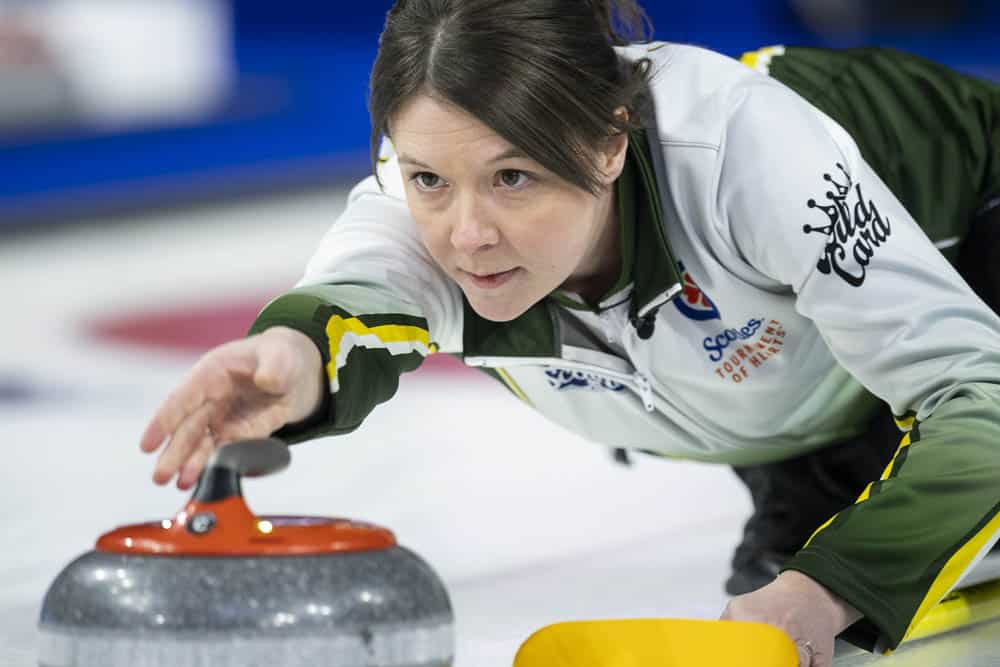 Team McCarville had a battle on its hands from the get-go with the Polars, who leaned on the brilliant shooting of Jo-Ann Rizzo who throws fourth stones.
It was a second heartbreaking loss for Team Northwest Territories which also lost a last-rock decision to Team Manitoba skipped by Jones in the afternoon. Galusha, however, remains in the hunt for a playoff spot and has a big game against Team Scheidegger (Wild Card 2) Wednesday, which will be crucial.
Teams with three losses, however, are still in the mix in the bumper-to-bumper, rush-hour race to the playoffs.
Team Wild Card 1 skipped by Kaitlyn Lawes (3-2, Winnipeg) had a chance to make a move up the standings in Pool A, but fan favourite Team Quebec (3-2, Laval-sur-le-Lac/Glenmore) skipped by Laurie St-Georges rolled to a 9-7 victory. It went down to last rock as well when St-Georges, with the hammer, spilled the last Team Lawes rock out of the house.
In other action, Wild Card 2's Team Scheidegger (2-3, Lethbridge, Alta.) opened with a five-ender against Newfoundland and Labrador's Team Stacie Curtis (1-4, St. John's) to earn a 12-5 win. In the final game of the evening, Nova Scotia's Team Christina Black (4-2, Dartmouth) maintained its favourable position in the lead-up to the playoffs in Pool A with a 9-5 victory against Nunavut's Team Brigitte MacPhail (0-5; Iqaluit).
The 18 Scotties teams are split into two pools of nine, and will play a complete eight-game round robin. The top three teams in each pool advance to the playoffs where it will be further reduced to a Final Four and a Page playoff system.
The final goes Sunday, Feb. 26.
The 2023 Scotties Tournament of Hearts continues Wednesday with draws at 8:30 a.m., 1:30 p.m. and 6:30 p.m. (all times PST).
Live scoring, standings and statistics for the 2023 Scotties Tournament of Hearts are available at www.curling.ca/scoreboard/.
TSN and RDS2 will provide complete coverage of the 2023 Scotties Tournament of Hearts. CLICK HERE for the complete schedule.
For ticket information for the 2023 Scotties Tournament of Hearts, go to www.curling.ca/2023scotties/tickets/.
This story will be available in French as soon as possible at www.curling.ca/2023scotties/nouvelles/?lang=fr.