Finish line in sight!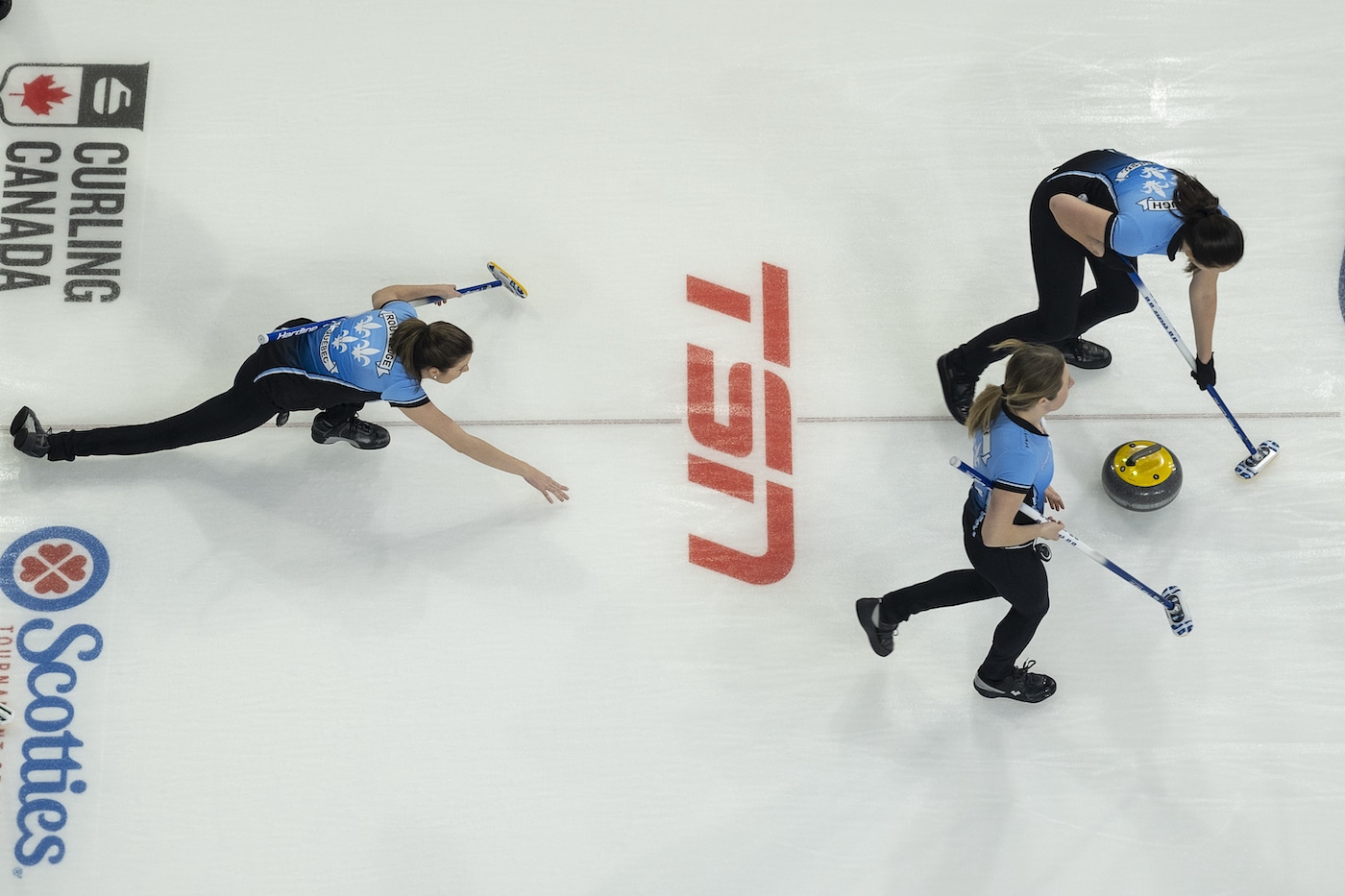 Plenty on the line for final day of round-robin play at the Scotties
It is the fans' ideal scenario: half of the six playoff spots available at the Scotties Tournament of Hearts have not been decided going into Thursday's final day of round-robin play. And in Pool A the two remaining places won't be decided until the final draw, or perhaps even a tiebreaker Friday morning.
Even the players are thrilled to have so much on the line going into the final day.
"I mean it's exciting, it's exciting," said Laurie St-Georges after a dramatic win kept her Team Quebec with only two losses. "It means every team has a chance. It's beautiful. That's what's beautiful about curling, every team has a chance."
Only three-time defending champion Kerri Einarson and Team Canada (6-0, Gimli, Man.), Team Krista McCarville of Northern Ontario (7-1, Thunder Bay) and Team Jennifer Jones representing Manitoba (6-1, Winnipeg) have earned advancement through six days of play.
The one thing decided in the final of three draws on Thursday was McCarville and her teammates clinched top spot in Pool B with an 8-7 win over Stacie Curtis and Team Newfoundland and Labrador.
"It's huge," McCarville said of earning the top spot after stealing one in the 10th to end a difficult battle. "Being No. 1 you get one less game, the less pressure of the do or die, that two versus three game, you lose you're out so getting that No. 1 spot is huge."
They did it, added third Kendra Lilly, in "the McCarville fashion; we like to do things the hard way. We had control in the first half of the game and then we kind of let up. The other team played great, made a ton of shots, make it tough for us. We made her throw a tough one on her last and we just got lucky."
Kaitlyn Lawes and her Team Wild Card #1 (4-3, Winnipeg) kept its playoff hopes alive with a 10-4 win over Brigitte MacPhail's Team Nunavut.(0-7, Iqaluit).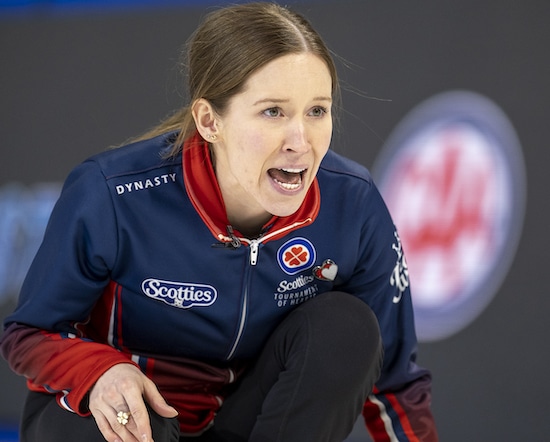 "We just wanted to rebound after our game this afternoon (a difficult 7-5 loss to Clancy Grandy and Team British Columbia) and stay focused on one shot at a time," said Lawes. "Had to shake it off and forget that last shot of mine and try to keep learning what the ice is doing and build momentum for the next couple of days."
St-Georges inched her final shot past a guard to make a double takeout and score a decisive three in the ninth end to give Team Quebec (5-2, Glenmore/Laval-sur-le-Lac) a 9-6 win over Grandy and Team British Columbia (4-3, Vancouver).
"Well I flashed the first one," St-Georges chuckled about her first attempt that sailed wide. "I saw probably half, It looked tight in the hack, but I knew exactly where to put the broom, a little less ice, I knew exactly how to throw it because I flashed the first one.
"A third loss you're in big trouble so to have that win is amazing," she added. "And it keeps the momentum up for the rest of the tournament.
The win left Quebec with a 5-2 record in second place. Grandy slipped to 4-3, the same record as Kayla Skrlik and Team Alberta, Christina Black and Team Nova Scotia and Lawes.
Over in Pool B, Kerry Galusha and Team Northwest Territories (3-4, Yellowknife), who at one point this week were atop the standings at 3-1, lost its third straight, 7-6 to Casey Scheidegger and Team Wild Card #2 (3-4, Lethbridge, Alta.)
In a seesaw battle Team Galusha was up 6-4 into the 10th end only to suffer another one-point loss on a dramatic last-rock angled double takeout by Scheidegger to score three and take the win.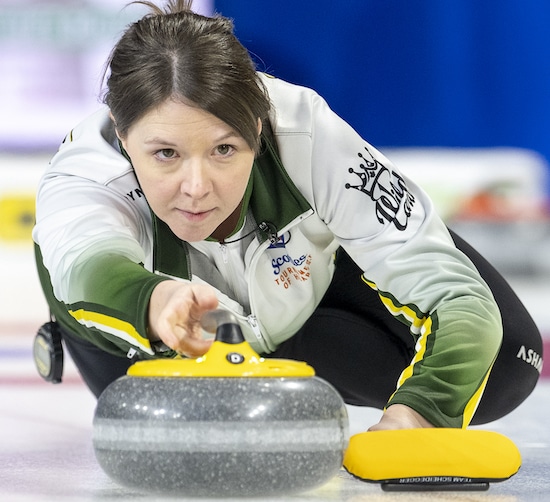 Asked what she was thinking as she prepared for the final stone, Scheidegger replied: "Let's just make this for fun, kind of what I felt. It hasn't been our week so we're kind of playing for pride and making good shots and I think we did that today."
The 2023 Scotties Tournament of Hearts continues with draws Friday at 8:30 a.m. 1:30 p.m. and 6:30 p.m. (all times PST).
Live scoring, standings and statistics for the 2023 Scotties Tournament of Hearts are available at www.curling.ca/scoreboard/.
TSN and RDS2 will provide complete coverage of the 2023 Scotties Tournament of Hearts. CLICK HERE for the complete schedule.
For ticket information for the 2023 Scotties Tournament of Hearts, go to www.curling.ca/2023scotties/tickets/.
This story will be available in French as soon as possible at www.curling.ca/2023scotties/nouvelles/?lang=fr.