Stayin' alive!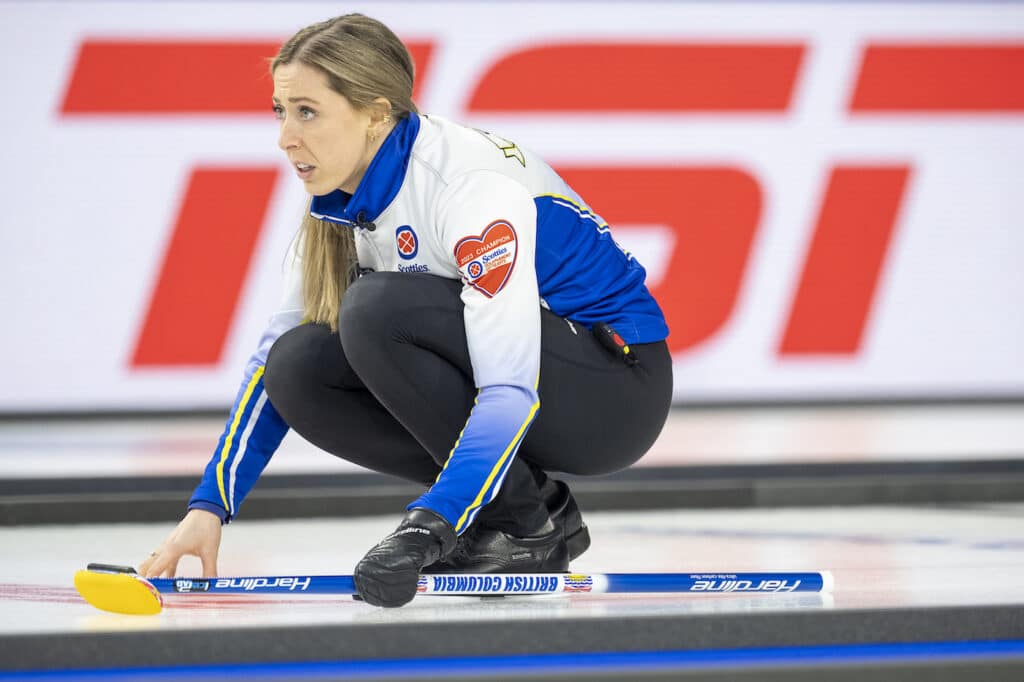 Teams B.C., Nova Scotia win key tiebreaker games at Scotties
A team wearing British Columbia colours hasn't won the Scotties Tournament of Hearts since 2006 when skip Kelly Scott turned the trick.
She would do it again a year later, skipping her Kelowna team to a second straight title in 2007.
Thanks to an 'outsider' from Ontario, a B.C. team not wearing a Team Canada uniform is still alive in a bid to be national champions.
There's still a long way to go and several huge obstacles in front of her, but skip Clancy Grandy has her Vancouver Curling Club team well positioned to make a run for the roses in the 2023 Scotties Tournament of Hearts in Kamloops, B.C.
Grandy and Co. — third Kayla MacMillan, second Lindsay Dubue, lead Sarah Loken, alternate Katie Witt and coach Niklas Edin — rolled to an impressive 8-3 win over Team Quebec's Laurie St-Georges (Laval-sur-le-Lac/Glenmore) in one of two tiebreakers Friday morning.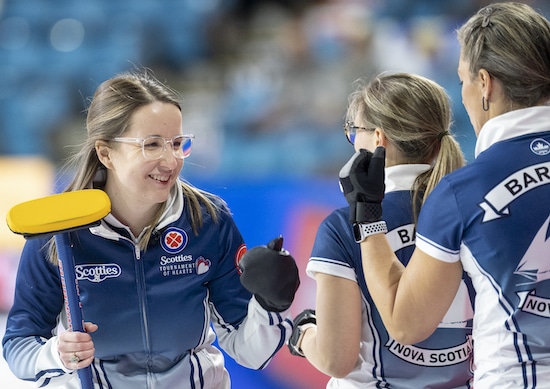 In the other tiebreaker, it was white-knuckle time as skip Christine Black's Team Nova Scotia (Dartmouth) needed some spectacular shooting to finally subdue Team Wild Card #1 skipped by Winnipeg's Kaitlyn Lawes. The game swung back and forth like a clock pendulum until a spectacular raise to the button by Black to set up a steal and a 7-6, extra-end win. She made other game-saving shots throughout the game.
"That's Kristina, she's been doing that all week," said Nova Scotia coach Stuart MacLean.
Grandy, 32, is emerging as an interesting story at the Scotties. She curled in Ontario until 2022 but made the move to the west coast to seek glory on the ice. MacMillan, also from Ontario, attends the University of British Columbia and had coached together with Grandy. The two thought it would be neat to curl together and the deed was done.
Some pundits didn't think the team would get this far, this fast, but they have.
"We felt confident going into the week," said Grandy, who had St-Georges on the run most of the game. "We've played a lot of these teams this year and started proving ourselves, so I think we've just been continuing that.
"We're feeling good. A couple of must-win games have been really good for us. We still have more in the tank energy-wise."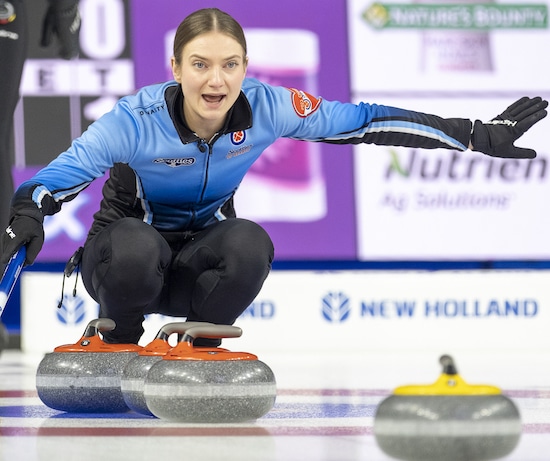 The tiebreakers were necessary after the four teams finished deadlocked for second place in Pool A with identical 5-3 records. The tiebreaker results rewarded Team Nova Scotia with the No. 2 spot while Team Grandy finished third in Pool A.
The wins advance both Team Grandy and Team Black into this afternoon's 1 p.m. (all times Pacific) Page Playoff Qualifying round with Team Ontario, skipped by Tracy Fleury (Ottawa), and six-time national champion Jennifer Jones (Winnipeg/Altona).
Grandy has her work cut out facing a rested Team Jones while Black squares off against Team Homan of Ontario.
Pool winners Team Canada, skipped by Kerri Einarson, (Gimli, Man.) and Team Northern Ontario, skipped by Krista McCarville (Northern Ontario), have the first-round bye.
The Page Seeding round is scheduled for 6 p.m. Friday
The final goes Sunday, Feb. 26.
Live scoring, standings and statistics for the 2023 Scotties Tournament of Hearts are available at www.curling.ca/scoreboard/.
TSN and RDS2 will provide complete coverage of the 2023 Scotties Tournament of Hearts. CLICK HERE for the complete schedule.
For ticket information for the 2023 Scotties Tournament of Hearts, go to www.curling.ca/2023scotties/tickets/.
This story will be available in French as soon as possible at www.curling.ca/2023scotties/nouvelles/?lang=fr.