Bounce-back win!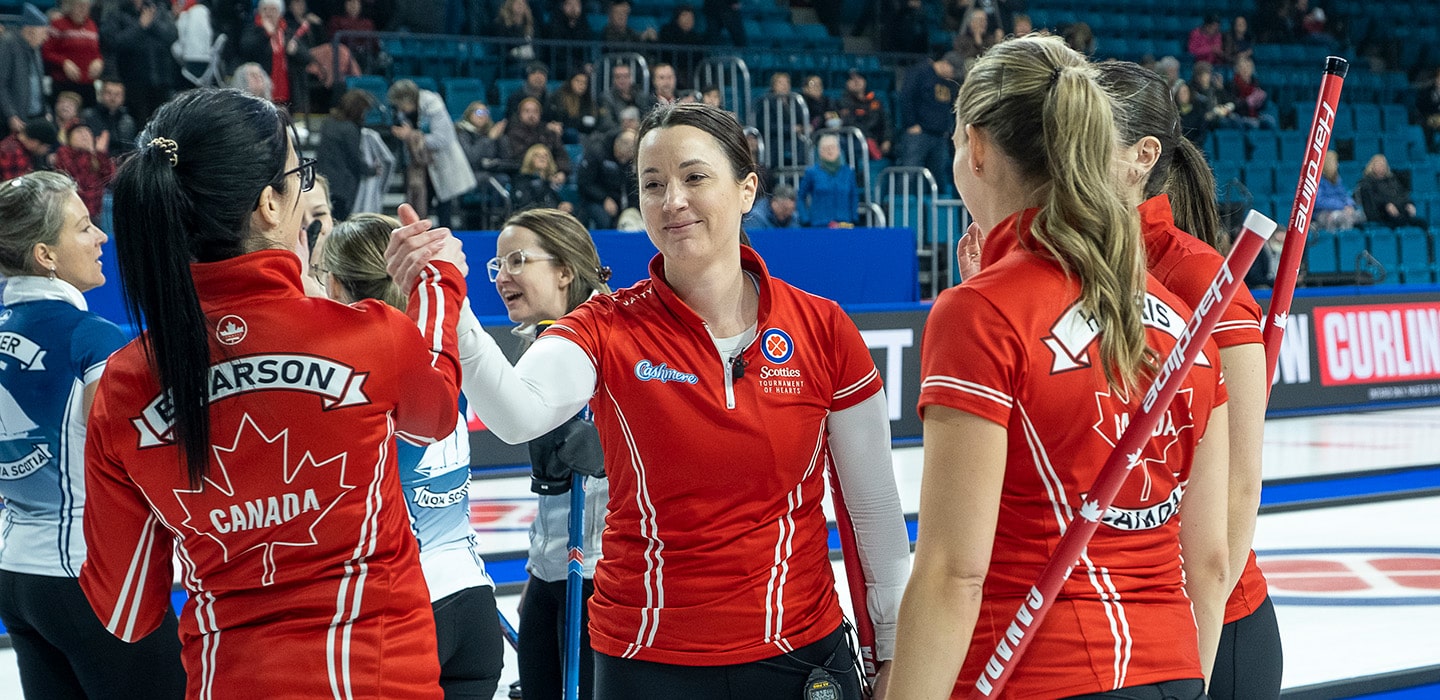 Team Canada still in line for fourth straight title at Scotties
It's not the preferred route to the 2023 Scotties Tournament of Hearts championship, but Team Canada skip Kerri Einarson knows the path well, and is following it straight on.
Einarson, attempting to skip her Gimli, Man., team to its fourth straight national women's curling championship, scored a decisive bounce-back 9-4 win over Team Nova Scotia, skipped by Christina Black's Dartmouth foursome in the 3v4 Page playoff game Saturday afternoon at the Sandman Centre in Kamloops, B.C.
The win propelled the three-time champs into Sunday's semifinal where they will meet the loser of tonight's 1v2 Page playoff game featuring six-time Canadian champion Jennifer Jones of Team Manitoba and the 2022 Scotties silver-medallists Thunder Bay's Krista McCarville of Northern Ontario.
"This was the best our team played yet," said Einarson, who rebounded from her first loss of the competition Friday night when she was knocked off by Jones in the Page seeding game.
Team Einarson had rolled to an 8-0 record in round-robin play before stepping on its first landmine.
The loss didn't rattle Einarson, who is looking to become only the second team to win four straight Scotties. Nova Scotia's legendary Team Colleen Jones of Halifax won four straight between 2001 and 2004.
Having to go the long route to the Scotties championship is nothing new for Einarson and her support staff, including vice-skip Val Sweeting, second Shannon Birchard, lead Briane Harris, alternate Krysten Karwacki and coached by Reid Carruthers. She had to play the 3-4 game last year in Thunder Bay before running the table. Team Einarson also had to win the semifinal game at the Calgary bubble Scotties in 2021.
"This team doesn't seem to do things the easy way," said Einarson. "Our team never lets up and never gives up."
Einarson admitted her team was on its game Saturday.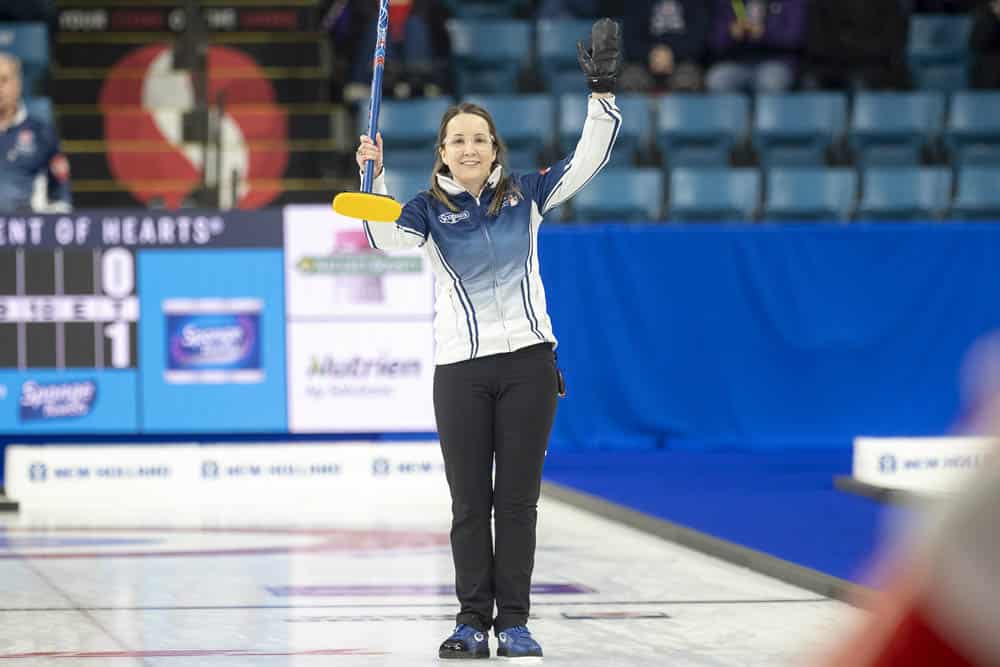 "My team played amazing," said Einarson. "We really had good rock placement, and that helped. They were making a lot of draws in previous games and that was our game plan going in not to leave freezes for them."
The loss put an end to the sensational run by the Bluenosers who thrilled the spectators all week with their shotmaking and magical escapes from the jaws of defeat. Three times they stole away victories without hammer in the final end.
There would be no escaping this time.
The stats spelled it out. Einarson shot a sparkling 96 per cent to Black's 69 per cent.
Team Canada, as it has done repeatedly over its run of success at the Scotties, applied pressure from the start, scoring deuces in the third and fifth ends to go up 5-2. Black, who had few self-inflicted wounds this week, suffered a big one in the fifth when she failed to guard her shot stone in the four-foot, allowing Einarson to kick it out to score two.
Going down 5-2 to Einarson is usually a recipe for disaster.
Einarson would seal the deal in the seventh when she threw up-weight to spill a couple of Nova Scotia stones, leaving two more Team Canada counters behind.
"They're an incredible team," said Black. "They gave us some chances so you better capitalize because they don't give you many of them. But a little fatigue may have set in."
Black and Co. had to go through three tough games Friday, winning two of them.
"I'm thrilled, so proud of my team," said Black, who had terrific support from third Jennifer Baxter, second Karlee Everist, lead Shelley Barker, alternate Carole MacLean and coached by Stuart MacLean.
A fourth title for Einarson would mean something else for her team. It would offer them a chance to represent the country outside of Canada for the first time. The 2023 LGT World Women's Curling Championship, presented by New Holland, will be held in Sandviken, Sweden, from March 18-26. Einarson's world events have been held in Prince George, B.C., and the Calgary bubble. The 2020 event, scheduled for Prince George, was cancelled due to the COVID-19 virus.
The final goes Sunday, Feb. 26.
Live scoring, standings and statistics for the 2023 Scotties Tournament of Hearts are available at www.curling.ca/scoreboard/.
TSN and RDS2 will provide complete coverage of the 2023 Scotties Tournament of Hearts. CLICK HERE for the complete schedule.
For ticket information for the 2023 Scotties Tournament of Hearts, go to www.curling.ca/2023scotties/tickets/.
This story will be available in French as soon as possible at www.curling.ca/2023scotties/nouvelles/?lang=fr.