One Step Closer!
Manitoba, Northern Ontario win Friday night Scotties showdowns
The road to a possible record-breaking seventh Scotties Tournament of Hearts championship got a touch easier for Jennifer Jones Friday evening.
For Kerri Einarson's Team Canada, their bid for a fourth consecutive championship got a little bit more difficult.
Jones and her Winnipeg-based Team Manitoba stole four in the second end and held on for an 8-6 victory over Einarson in one of two Page Playoff seeding games. In the other Krista McCarville and Northern Ontario beat Team Nova Scotia, skipped by Christina Black, 6-3. 
The loss was the first in the tournament for Team Einarson, who went through the round-robin at 8-0 to finish first in Pool A. The win was the eighth straight for Team Jones after it lost its opening game.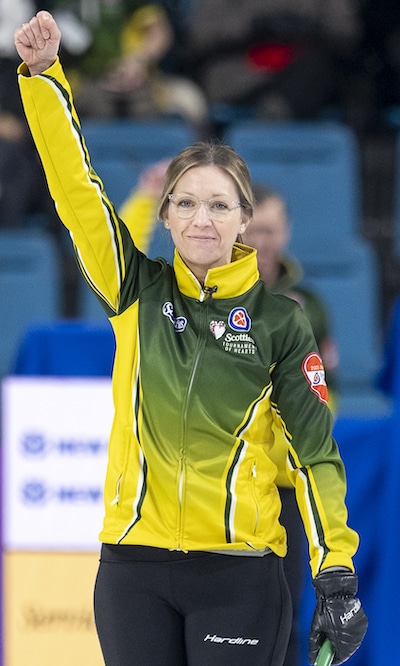 The win moves Manitoba into the Page 1-2 game Saturday at 6 p.m. (all times Pacific), where it will meet Northern Ontario, with the winner moving directly into Sunday's 6 p.m. final. The loser plays in the semifinal Sunday at noon. Team Canada will now play in the sudden-death Page 3-4 game Saturday at 1 p.m. against Nova Scotia. The loser of that game will be eliminated with the winner moving into the semifinal.
"It's always nice to play in the 1-2 game," said Jones. "You don't have to but it's a nice thing to play in. I'm just happy with the way we came out and played today with our backs against the wall. I thought this was our best day. If you're going to have a best day best to do it later in the week.
Jones, backed by third Karlee Burgess and a front end of Mackenzie and Emily Zacharias and Lauren Lenentine and coach Glenn Howard, got a huge break in the second end. Einarson's last-rock draw slid through the house leaving Manitoba with a steal of four.
"We put our rocks in really good spots and they missed a couple of runbacks," said Jones. "She had a tough draw to give us one and we got lucky enough it was heavy to give us four."
Einarson, third Val Sweeting, second Shannon Birchard, lead Briane Harris, alternate Krysten Karwacki and coach Reid Carruthers battled back to get within a single point, but Jones used the hammer in the 10th to score a single for the victory.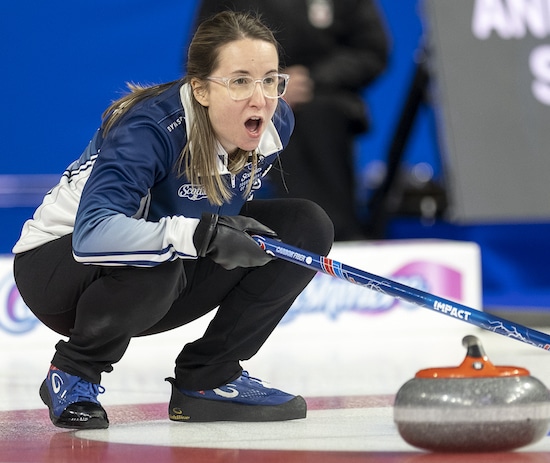 McCarville and her Thunder Bay team of third Kendra Killy, second Ashley Sippala, lead Sarah Potts and coach Rick Lang, who finished atop Pool B at 7-1, needed a last-rock double takeout by the skip to score three for the win.
"My very last one I could have come around the same way that she did and tapped it… that would have been super hard," McCarville said of the shot she selected after a time out. "Or I had the exact same shot I had just threw. That was the one I was super confident in."
Black, third Jennifer Baxter, second Karlee Everist, lead Shelley Barker, alternate Carole MacLean and coach Stuart MacLean, had won twice earlier Friday, each time stealing singles in an extra end for 7-6 victories. Even in defeat in their third game of the day, Black and her teammates were laughing and enjoying their battle against last year's Scotties finalist.
Live scoring, standings and statistics for the 2023 Scotties Tournament of Hearts are available at www.curling.ca/scoreboard/.
TSN and RDS2 will provide complete coverage of the 2023 Scotties Tournament of Hearts. CLICK HERE for the complete schedule.
For ticket information for the 2023 Scotties Tournament of Hearts, go to www.curling.ca/2023scotties/tickets/.
This story will be available in French as soon as possible at www.curling.ca/2023scotties/nouvelles/?lang=fr.