Slow start, fast finish!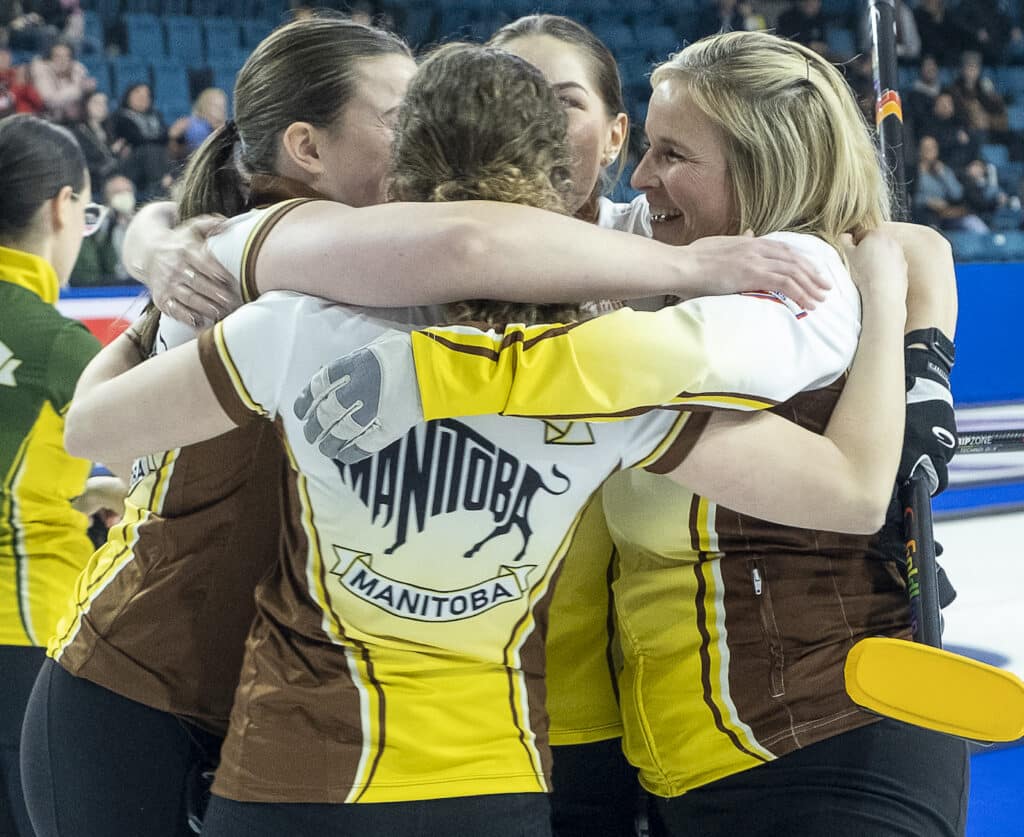 Team Jones recovers from disastrous start to move one win from Scotties title
Jennifer Jones's bid for a record-breaking seventh Scotties Tournament of Hearts championship is now firmly within her grasp.
Jones and Team Manitoba shook off what could have been a devastating opening three ends and went on to score an 8-5 win over Northern Ontario's Team Krista McCarville in the Page 1-2 playoff game Saturday evening at the Sandman Centre in Kamloops.
The win sends Team Jones directly into Sunday's championship game at 6 p.m. (all times Pacific). Team McCarville will now play Kerri Einarson and Team Canada in the semifinal at noon. Team Einarson, chasing a fourth straight Scotties championship, advanced to the semifinal with a 9-4 win over Team Christina Black of Nova Scotia in the Page 3-4 game earlier Saturday.
The Page 1-2 game took a stunning turn in the first end. Jones, whose only loss here was to Northern Ontario in the opening draw a week ago, was sitting four and McCarville's final try for a triple takeout got only one Jones rock. Jones tried a straight hit for a possible three or four points but rubbed a guard and tapped a Northern Ontario stone to shot rock for a steal of one.
McCarville stole singles in the second end, when Jones was heavy on a draw, and in the third when Jones tried a desperation in-off takeout that didn't succeed.
"I thought it was a great start and then I just feather-ticked in the first end. It felt like it just wasn't working out," Jones said of the start. "But we threw a lot of great shots to put some pressure on them. We just had to hang in there and keep doing what we were doing and it turned around for us."
And like a vintage red wine that gets better with age, the ageless Jones has shown all week she can still make the shots needed to win, just as she has throughout her illustrious career. While she couldn't execute early in the game, shooting just 46 per cent through four ends, the 48-year-old veteran found her game in the middle ends.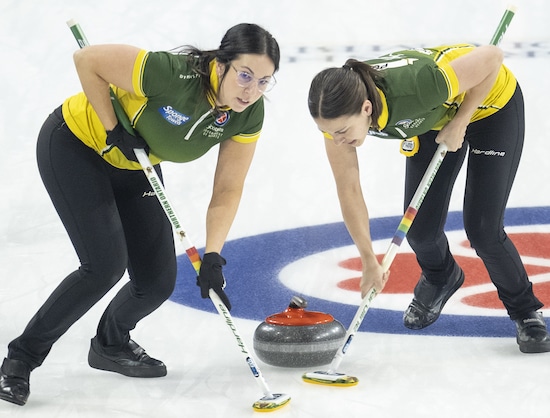 She made two excellent draws – in the fourth to score a deuce and in the fifth for steal of one and a 3-3 deadlock. With her and third Karlee Burgess outshooting McCarville and third Kendra Lilly, Team Jones finally got the lead with a steal in eight.
Tied 5-5 in the 10th, McCarville came up short of the house with her final stone to leave Jones sitting three for the win.
Jones hasn't won the Scotties since 2018 and is chasing a record seventh Scotties title with an entirely new team this season. Gone are Kaitlyn Lawes, Jocelyn Peterman and Dawn McEwen, replaced by three youngsters all in their 20s: Burgess and a rotating front end of Mackenzie and Emily Zacharias and Lauren Lenentine, and coach Glenn Howard.
And the youngsters, hoping for their first Scotties victory, showed plenty of poise after the early struggles.
"Nothing fazes them," Jones said of her teammates. "They just have a joy of curling. They weren't upset we missed that shot."
And the comeback, she said, will be a huge benefit going into the final.
"I think it was massive; get down a bit early and fi a way to hang in there and come back; it will instill a lot of character for tomorrow."
The loss for McCarville, third Kendra Killy, second Ashley Sippala, lead Sarah Potts and coach Rick Lang stung, especially because of the way they played.
"We didn't play our best for sure," said McCarville, who shot just 60 per cent. "We struggled big time. We got lucky those first three ends. We weren't throwing it very well. We knew we had to pick it up and we still didn't and things started going their way."
Live scoring, standings and statistics for the 2023 Scotties Tournament of Hearts are available at www.curling.ca/scoreboard/.
TSN and RDS2 will provide complete coverage of the 2023 Scotties Tournament of Hearts. CLICK HERE for the complete schedule.
For ticket information for the 2023 Scotties Tournament of Hearts, go to www.curling.ca/2023scotties/tickets/.
This story will be available in French as soon as possible at www.curling.ca/2023scotties/nouvelles/?lang=fr