It's a four-peat!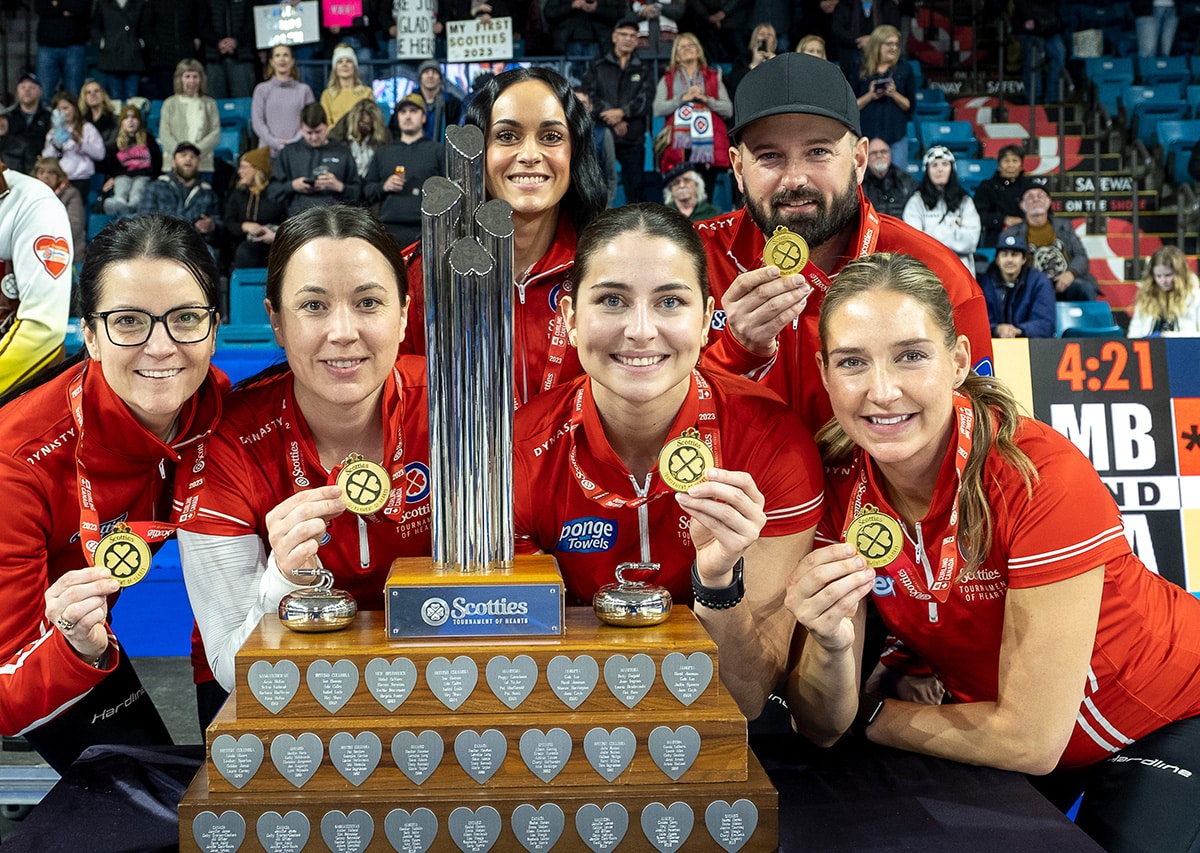 Team Canada's Einarson peels back off the wall to win a fourth straight Scotties title
Canada's Team Kerri Einarson plays best when its back is up against the wall and proved it once again Sunday by clinching its fourth consecutive Canadian women's curling championship in Kamloops, B.C.
Team Einarson did it the hard way, taking the long route through the Page playoffs – always one loss away from elimination – then running the table with three straight wins, culminating with an exacting 10-4 win over Team Manitoba's Jennifer Jones (Winnipeg/Altona) in the 2023 Scotties Tournament of Hearts final at the Sandman Centre.
It was the same story as last season when the Canadian champs suffered an early loss in the Page playoffs, then roared back to win.
"Oh my God, it (four straight) means so much," said Einarson, who advanced to the final after winning the semifinal earlier in the day against Team Northern Ontario, skipped by Krista McCarville. "I think this one was better than our first."
Einarson, supported by vice-skip Val Sweeting, second Shannon Birchard, lead Briane Harris, alternate Krysten Karwacki and coach Reid Carruthers, had to overcome the determined opposition of Team Manitoba, led by Jones, who was after her record-breaking seventh Scotties title.
But as her team has done over the past three years, Einarson found a way to the winner's circle.
"This team never gives up and that makes us who we are," said Einarson. "So much great determination. We just go out there and enjoy every single minute and have fun."
The fourth national title lifts Einarson and her team into elite company, along with Nova Scotia's Team Colleen Jones, which won four in a row during its brilliant span of curling dominance.
It was also the fifth Scotties win for Birchard. She previously won the 2018 Scotties with Jennifer Jones when she filled in for Kaitlyn Lawes, who was off to the 2018 Olympic Winter Games.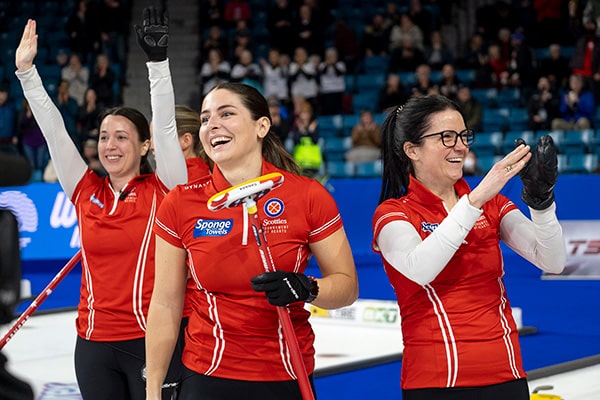 Team Canada, the best shooting team during the Scotties, did what it did best all week. It limited its opposition to a few bare peeks at the scoreboard and capitalized when opportunities came.
The key end may have come in the fifth when Jones, needing a draw to the eight-foot facing two Team Einarson stones, wrecked on the front. Instead of going up 3-2, she was suddenly and inexplicably down 4-2.
"It was a draw against two and we liked the weight but the speed came off," said Jones. "If I could throw one again, that would be it."
The problems mounted in the sixth when Jones again came up short on a draw for two, but it was much more difficult, needing to get to the button area.
Einarson also played her get-out-of-jail cards when she made crucial draws in ends three and seven, facing three enemy stones.
It was a heartbreaking loss for Jones, who was attempting to win a record seventh national title. She remains tied with Nova Scotia's Colleen Jones and Manitoba's Jill Officer for most Scotties wins at six. But she did set a record for appearing in 10 Scotties finals, one more than former teammate Jill Officer.
But it was not to be.
The silver medal validated the veteran skip's decision to join forces with the world junior champions from Altona, including third Karlee Burgess and front-end players Mackenzie Zacharias, Emily Zacharias and Lauren Lenentine.
"I'm proud of them," said Jones, who had Ontario's Glenn Howard coaching this week. "It didn't go our way today, but that's why you keep grinding. We just didn't make quite enough shots. But I'm sure happy about our week and proud to be in the final. It was fun to be out here. A great experience for all of us."
Team Einarson will represent Canada at the 2023 LGT World Women's Curling Championship, presented by New Holland, in Sandviken, Sweden, from March 18-26.
"I'm so looking forward to wearing the Maple Leaf in Sweden," said Einarson.
Skip Einarson was awarded the Sandra Schmirler Award for the fourth-consecutive year for being the most valuable player in the playoffs. In a touching moment following the event, Einarson bestowed the MVP honour to her teammate and lead Harris, who competed in Kamloops five months pregnant.
This story will be available in French as soon as possible at https://www.curling.ca/2023scotties/nouvelles/?lang=fr