New look, same Mike!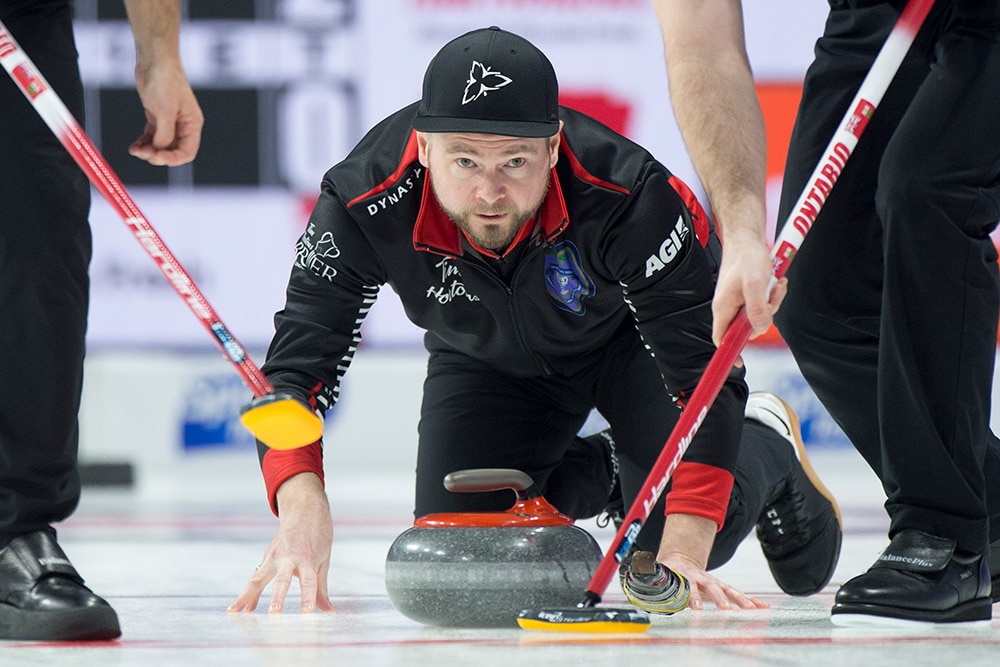 McEwen off and running with new jersey at Tim Hortons Brier
It took a little getting used to, but skip Mike McEwen is feeling quite comfortable wearing Team Ontario colours at the 2023 Tim Hortons Brier, presented by AGI.
And that comfort level extends to the ice where the Tim Hortons Brier veteran won his opening game big time as the Canadian men's curling championship slid from the hacks Friday evening in London, Ont.
McEwen, 42, is skipping in his eighth Tim Hortons Brier but it was strange to see him with an Ontario crest on his back, and not Manitoba, as he manufactured a nasty 13-2 win over Quebec's Félix Asselin (0-1, Glenmore/Belvédère/Etchemin/Valleyfield) in Pool B play at Budweiser Gardens.
"It seems strangely weird wearing black and red, but it was exciting to have the crowd get behind us," said McEwen, who will, as usual, be a force to contend with this week as Canada's top men's teams go toe-to-toe over the next nine days.
McEwen's career-best finish at the Tim Hortons Brier was a third-place showing in 2017.
McEwen raised a few eyebrows in the off-season when he announced he was forming a new team out of the Royal Canadian Curling Club in Toronto and now features Ryan Fry at third, Brent Laing at second, Joey Hart at lead and coach Richard Hart. McEwen, who lives in Winnipeg, is the team's import.
That is quite a departure for McEwen, who grew up in Brandon and cut his curling teeth in the Keystone province, curling mostly recently with Reid Carruthers, Derek Samagalski and Colin Hodgson.
Change is inevitable in curling but a new jersey hasn't changed much in McEwen's game. He was solid in his opener Friday and looking comfortable in his new surroundings.
Team McEwen held a comfortable 4-1 lead after five ends, but blew the game wide open with huge steals of four and then five. Game, set and match.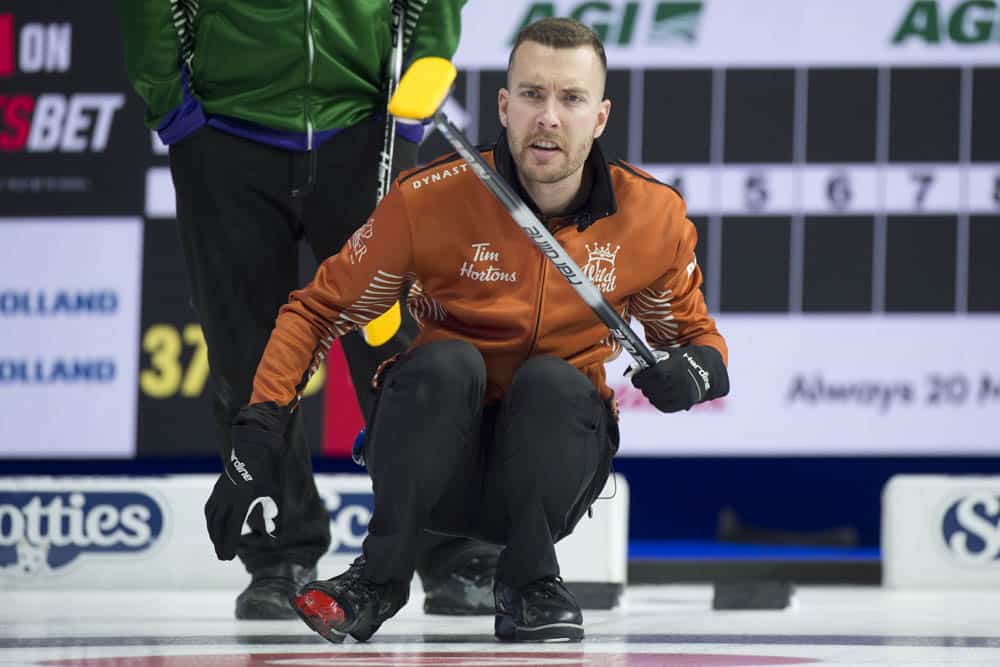 The game was reduced to some trick shots at the end just to keep the fans in the game.
"There were two ends there were Félix missed shots that he would normally make," said McEwen. "It's the beginning of the week, the ice changes throughout the game, there's tons of fans, it's warm in there, then things change. The frost starts coming in. The score wasn't indicative of how it was the first half."
"It seemed the fans enjoyed us doing a couple of trick shots more than the full game. Seemed like they really got behind it."
Meanwhile, defending champion Brad Gushue got off on the right foot in defending his national title, guiding Team Canada (1-0, St. John's, N.L.) to a 6-5 win over a pesky Team British Columbia (0-1, Victoria) skipped by Jacques Gauthier.
Gushue and Kevin Koe of Team Alberta are attempting to win their record-breaking fifth Tim Hortons Briers as skips. Both have four Tim Hortons Brier victories, putting them in a group with Ernie Richardson, Randy Ferbey (who also won two titles as a third) and Kevin Martin.
Gushue and his retooled lineup — third Mark Nichols, second E.J. Harnden, lead Geoff Walker and coach Caleb Flaxey — had their hands full with young bucks from B.C. who gave them everything they could handle.
Team B.C. gave an indication of what was to come as they made two glorious runbacks in the first end. They matched Team Canada shot-for-shot pretty much the rest of the way. Gushue needed two beautiful draws behind cover to the four-foot to set up a crucial steal of one in the ninth for a two-point cushion.
"They played well but we had our opportunities," Gushue said. "I missed some shots I don't normally miss. They made a shot to get out of it and I made a shot near the end to get us out of it. Had some difficulties figuring out the ice, a bad rock, your standard first game at the Brier."
In the other opening Pool B slate of games to kick off the Tim Hortons Brier schedule, skip Brendan Bottcher's's Team Wild Card 1 (1-0, Calgary) raced out to a quick 5-1 lead en route to an 8-2 win over Team Prince Edward Island skipped by Tyler Smith (0-1, Crapaud), while skip Karsten Sturmay and his Team Wild Card 3 (1-0, St. Albert, Alta.) defeated Team New Brunswick, skipped by Scott Jones (0-1, Moncton), 7-3.
Team Yukon skipped by Thomas Scoffin (Whitehorse) had the opening bye.
The 18 Tim Hortons Brier teams are split into two pools of nine, and will play a complete eight-game round robin. The top three teams in each pool advance to the playoffs where it will be further reduced to a Final Four and a Page playoff system.
The final goes Sunday, March 12.
The Tim Hortons Brier champion will wear the Maple Leaf at the 2023 BKT Tires & OK Tire World Men's Curling Championship, April 1-9 in Ottawa.
The 2023 Tim Hortons Brier continues with draws Saturday at 2 p.m. and 7 p.m. (all times ET).
Live scoring, standings and statistics for the 2023 Tim Hortons Brier are available at curling.ca/scoreboard.
TSN and RDS2 will provide complete coverage of the 2023 Tim Hortons Brier. CLICK HERE for the complete schedule.
For ticket information for the 2023 Tim Hortons Brier, go to www.curling.ca/2023brier/tickets/
This story will be available in French as soon as possible at www.curling.ca/2023brier/nouvelles/?lang=fr