Back to winning ways!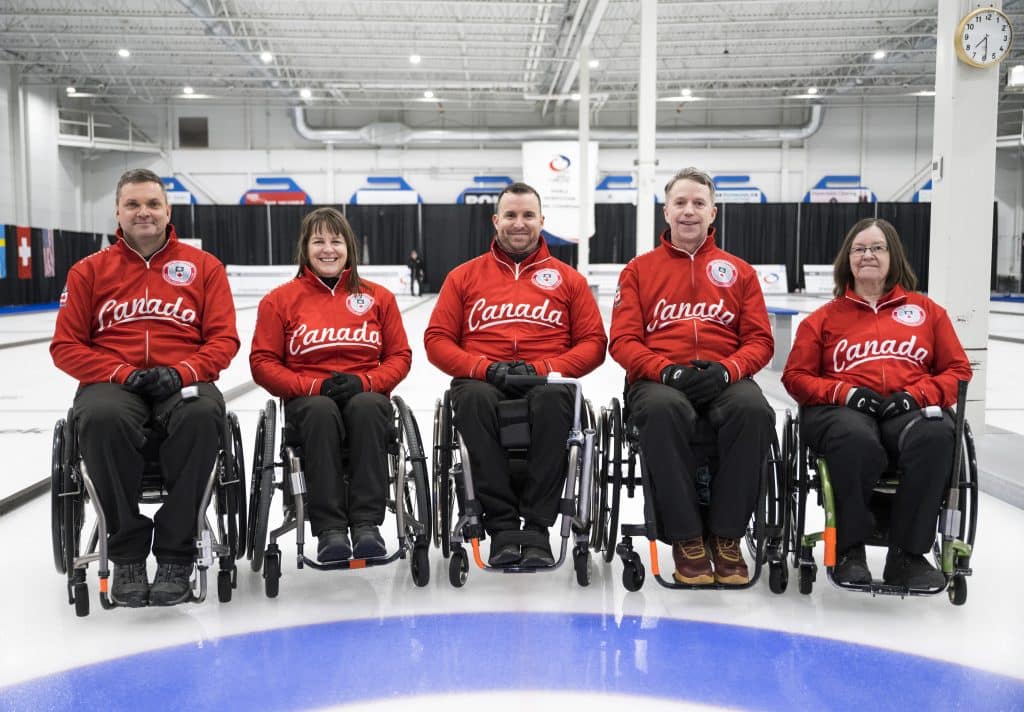 Canada's Wheelchair team bounces back from opening round loss at world championship with two wins
Canada shrugged off an opening-round loss at the 2023 World Wheelchair Curling Championship in Richmond, B.C., to the two-time Paralympic gold medallists from China to pick up a pair of victories.
Team Canada skipped by Mark Ideson (London, Ont.) played a solid game to defeat the United States, skipped by Stephen Emt of Hebron, Conn., 6-4 Sunday afternoon to improve its record to 2-1 putting Canada in a tie for third with Japan and Korea behind unbeaten China and Norway (3-0).
After a 9-4 extra-end loss to China Saturday both Ideson, who throws lead stones, and team coach Mick Lizmore felt because both teams had such a high level of play, it was something Canada could build on. And build on it the team did by cobbling together two wins.
"We continued the high level of play. We're still figuring out the ice as we go, and the rocks," said Ideson. "We're where we want to be and continue to build as the week goes on,"
Ideson felt patience was the key to beating the Americans (1-2).
"The U.S. hit very well and they made a few nice hit and rolls against us. You can't let that get to you. We stick to the plan and good things happen," said Ideson, who is backed by fourth Jon Thurston (Dunsford, Ont.), third Ina Forrest (Spallumcheen, B.C.), second Gil Dash (Wolseley, Sask.), fifth Marie Wright (Moose Jaw, Sask.), Lizmore and team leader Kyle Paquette.
Thurston made some key shots including drawing for two in the fourth end to take a 4-1 lead and again in the seventh to go up 6-3.
"I was able to make a couple (of good shots), Mark called a great game that kept it open for us that gave us opportunities to score when we needed to," said Thurston.
After the tough loss to China in the opening draw Saturday afternoon, the Canadians bounced back by cruising to an 8-2 victory over the Czech Republic in just six ends Saturday evening. Canada scored three in the first end and had a steal of three more in the fourth to jump ahead 7-1.
The Canadians were scheduled to play Latvia Sunday evening with Japan (12:30 p.m., all times PT) and Norway (8 p.m.) on Monday's docket. It's a pretty tough schedule since Latvia (1-2) lost 4-3 in a second extra end to China (3-0) while Japan is tied with Canada at 2-1 and Norway is unbeaten.
"It's just about continuing to learn as the week goes on so that we can peak for the playoffs. Just really digging in to learn the ice and rocks and continuing to be consistent with how we throw it," said Thurston.
Canada had Sunday off in the World Wheelchair Mixed Doubles Curling Championship and will play Italy (9 a.m.) and Latvia (4:30 p.m.) Monday. Collinda Joseph (Stittsville, Ont.) and Dennis Thiessen (Winnipeg) are Canada's mixed doubles team and they are supported by head coach Dana Ferguson and team leader Kyle Turcotte.
Both of Canada's teams are supported by Dr. Steven Macaluso (Physician), Sari Shatil (Physiotherapist), Erin Brennan (Mental Performance Consultant), and Wendy Morgan (Leadership Support).
Live scores can be found at https://worldcurling.org/live-scores/ and results at https://worldcurling.org/events/wwhcc2023?pageType=results.
There is free entry to watch the event live. The World Curling Federation will provide coverage of select games at the World Wheelchair and World Mixed Doubles Wheelchair Curling Championships. Watch live games on The Curling Channel in partnership with Recast. For non-feature games, Curl BC will provide an international live stream of static camera footage on its YouTube channel. Canadians can watch feature games on the CBC Sports YouTube channel.