High five!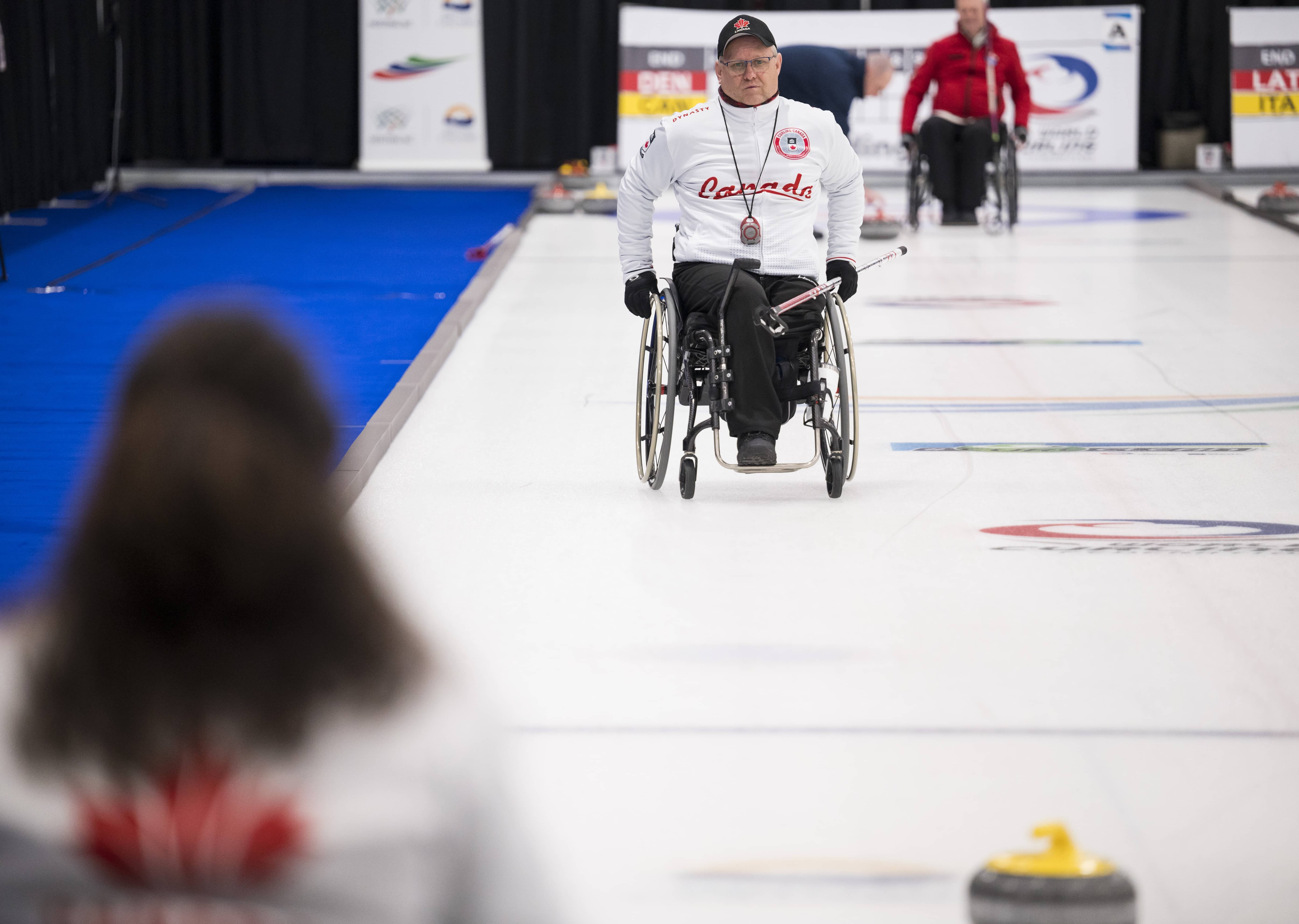 Powerplay pays off to keep Canadian mixed doubles team unbeaten
The Canadian team of Collinda Joseph (Stittsville, Ont.) and Dennis Thiessen (Winnipeg) utilized its powerplay to score five and seal a 10-5 victory over Latvia to move alone atop the Pool B standings at the 2023 World Wheelchair Mixed Doubles Curling Championship being played at the Richmond Curling Centre in Richmond, B.C.
The win improves Canada's record to 4-0 while the Latvians dropped into a second-place tie with England at 3-1.
The Latvian team of Polina Rozkova and Agris Lasmans had gone ahead 4-2 with a steal of two in the fourth end, but Canada bounced back with a three in the fifth. In mixed doubles teams holding the hammer can elect for one end to have the placed rocks that normally are on the centre line and the back of the button and have them placed over on the side. Canada then parlayed that powerplay into five points and it was game over.
"It saved our skins," said Joseph of the powerplay. "They played fantastic; they didn't miss many shots at all. She (Rozkova) was on fire.
"We were putting rocks in the house and they came up short a couple of times. (The five) just grew out of nothing. Dennis didn't even want to play it at the start. We had to talk him into it. We're still learning, this is such an interesting game."
It was a huge victory for Canada considering the team is halfway through the nine-team round robin as the only undefeated team.
"We would like to not have to play a qualification game," said Joseph of having a goal of finishing first which would put them directly into the semifinals.
Earlier Monday, Joseph and Thiessen, who are supported by head coach Dana Ferguson and team leader Kyle Turcotte, rolled out to an 8-1 lead after six ends thanks to steals of two in the second end, three in the fifth and one in the sixth to defeat Italy 8-4.
"We're past the tough stretch of playing two in a day and now we're just playing one a day and that's going to be really good for us," said Thiessen.
In its only Group B game Tuesday, Canada will play Germany (2-1, 9 a.m. PT).
In the 2023 World Wheelchair Curling Championship, Canada racked up its fourth consecutive win by downing Japan 7-4 Monday afternoon. It followed on the heels of skip/lead Mark Ideson (London, Ont.), fourth Jon Thurston (Dunsford, Ont.), third Ina Forrest (Spallumcheen, B.C.), second Gil Dash (Wolseley, Sask.), fifth Marie Wright (Moose Jaw, Sask.), head coach Mick Lizmore and team leader Kyle Paquette edging Latvia 7-6 Sunday night.
The victories left Canada in a tie with South Korea and Norway for second in the 12-team round robin at 4-1. China is in first place with an unblemished 5-0 record including an opening draw extra-end victory over Canada on Saturday.
"We're starting to get a feel for the ice and the conditions are pretty good out there. We're reading it well, throwing it well and I guess we're where we want to be after the first five games," said Ideson. "We hit really well today which was good, lots of hits and sticks which puts the pressure on the other team."
Following the 12-team round robin, the top two teams will advance directly to Saturday's semifinals while the third-place finisher place sixth place and fourth and fifth face off in quarter-final matchups Friday (1 p.m.). Job 1 will be to make the playoffs but finishing first or second would be highly advantageous.
"It's still really early, lots of round robin games (six) left to play so we've just got to stick to our game plan and our process and keep making our shots and we'll be where we want to be," said Ideson.
Lizmore said a key to the team's success is communication which helped keep the pressure up on Japan. A flash by Japanese skip Takashi Sakataya in the first end allowed Canada to count two and another in the fourth end gave Thurston the opportunity to draw for three and a 5-1 lead.
"We got a few misses out of Japan in a couple of different spots and capitalized," said Lizmore. "It is important to try to find ways to make a make after an opponent miss. When they did miss we were there to make the next one."
Against Latvia on Sunday night, Canada jumped out to a 3-0 lead after two ends and was ahead 6-2 after four. Canada gave up a steal in the eighth end but it left Latvia a point short.
Canada was scheduled to battle Norway Monday night before taking on Italy (1-3, 12:30 p.m. PT) and Scotland (2-2, 8 p.m.) on Tuesday.

Both of Canada's teams are supported by Dr. Steven Macaluso (Physician), Sari Shatil (Physiotherapist), Erin Brennan (Mental Performance Consultant), and Wendy Morgan (Leadership Support).
Live scores can be found at https://worldcurling.org/live-scores/ and results at https://worldcurling.org/events/wwhcc2023?pageType=results.
There is free entry to watch the event live. The World Curling Federation will provide coverage of select games at the World Wheelchair and World Mixed Doubles Wheelchair Curling Championships. Watch live games on The Curling Channel in partnership with Recast. For non-feature games, Curl BC will provide an international live stream of static camera footage on its YouTube channel. Canadians can watch feature games on the CBC Sports YouTube channel.