Rich get richer!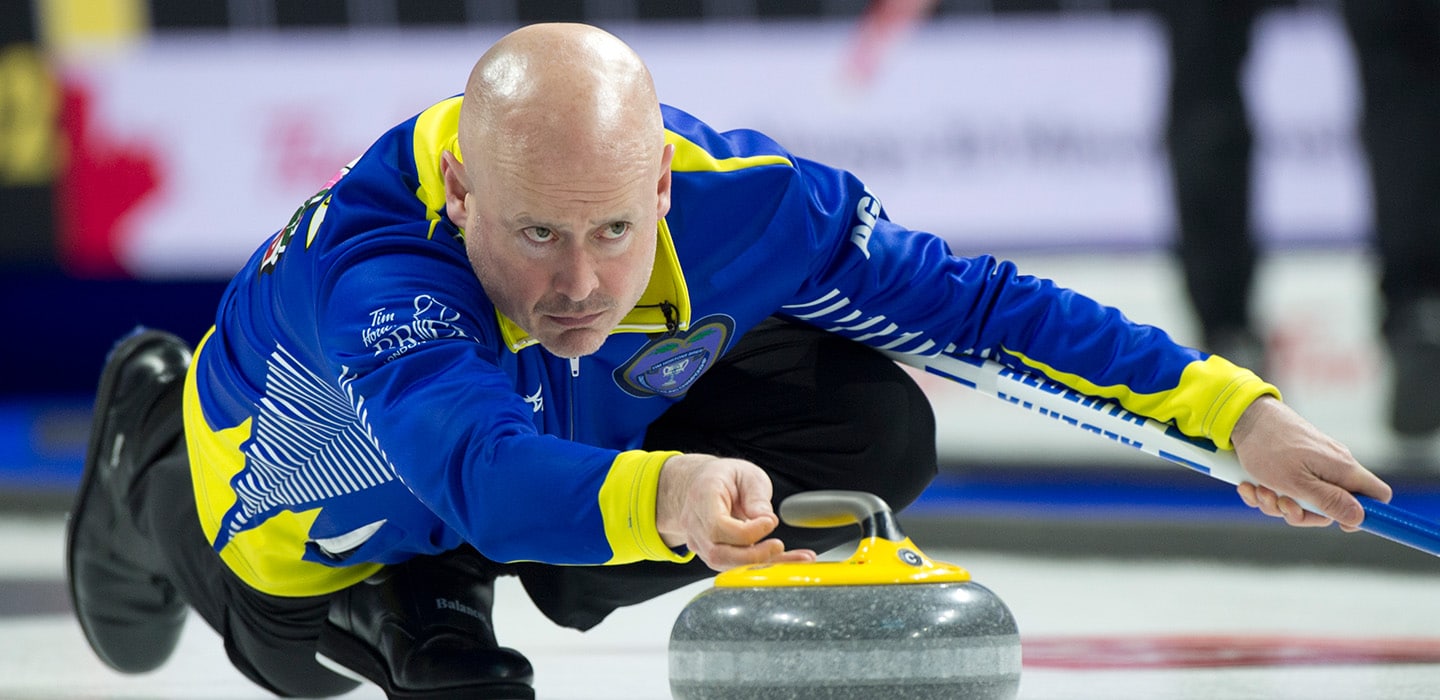 Undefeated teams hang on to keep slates clear at Tim Hortons Brier
The rich got richer at the 2023 Tim Hortons Brier, presented by AGI, Tuesday morning in London, Ont.
Three teams went into the morning draw with unblemished records and, after a lot of huffing and puffing on the ice, and much angst, all of them came through with another 'W' to add to their impressive totals.
But nothing came easy for any of them.
Calgary skips Kevin Koe of Team Alberta and Brendan Bottcher of Team Wild Card 1 took the biggest strides, improving to 5-0. Their lofty ledgers give them top spots in their respective pools and within sight of weekend playoff spots.
Koe had the toughest time. He skipped Alberta to a taunt 6-4 win over winless Team Newfoundland and Labrador (0-5, St. John's), skipped by Nathan Young, in one of two Pool A games on the ice at Budweiser Gardens, but needed every shot in his artillery to do it.
"Guys have made a lot of shots against us this week," said Koe, who is looking for a record-breaking fifth Canadian men's title as a skip this week. "We got off to a good start but the ice got quite a bit straighter and it took a little too long to catch on."
Bottcher matched his Alberta brethren, solidifying Wild Card 1's lead in Pool B with an 8-7 triumph over winless New Brunswick (0-4, Moncton) skipped by Scott Jones. Bottcher and Co. had to shake off the ill effects of an early 4-zip deficit, but slowly and inexorably worked their way back to victory.
"They're not all going to be easy," said Bottcher. "There was a little adversity early but we played better in the second half and took control."
Team Bottcher was knotted up 7-7 coming home with hammer.
"That's all you can ask for," said Bottcher. "We're trying to make eight more good ones. Thankfully we had a pretty good one to win."
Also keeping his record spotless was Team Manitoba skip Matt Dunstone who improved to 4-0 in Pool A after taking down Team Nova Scotia (2-2, Halifax) skipped by Matthew Manuel. Dunstone's Fort Rouge Curling Club team out of Winnipeg, after three straight blowouts, finally had a tester and needed to keep his composure to beat the Bluenosers 8-4.
Team Bottcher may go on to run the table in Pool B but it won't happen to either Team Alberta or Team Manitoba. Those two teams collide Wednesday evening and, if they're still unbeaten when they do, something will have to give.
In the final round-robin game of the morning, Ontario's Team Mike McEwen (3-2, Toronto) kept its playoff hopes intact following a 10-7 victory against Yukon's Team Thomas Scoffin (1-3, Whitehorse).
The final goes Sunday, March 12.
The Tim Hortons Brier champion will wear the Maple Leaf at the 2023 BKT Tires & OK Tire World Men's Curling Championship, April 1-9 in Ottawa.
The 2023 Tim Hortons Brier continues with draws Tuesday with draws at 2 p.m. and 7 p.m. (all times ET).
Live scoring, standings and statistics for the 2023 Tim Hortons Brier are available at curling.ca/scoreboard.
TSN and RDS2 will provide complete coverage of the 2023 Tim Hortons Brier. CLICK HERE for the complete schedule.
For ticket information for the 2023 Tim Hortons Brier, go to www.curling.ca/2023brier/tickets/
This story will be available in French as soon as possible at www.curling.ca/2023brier/nouvelles/?lang=fr