Hanging by a thread!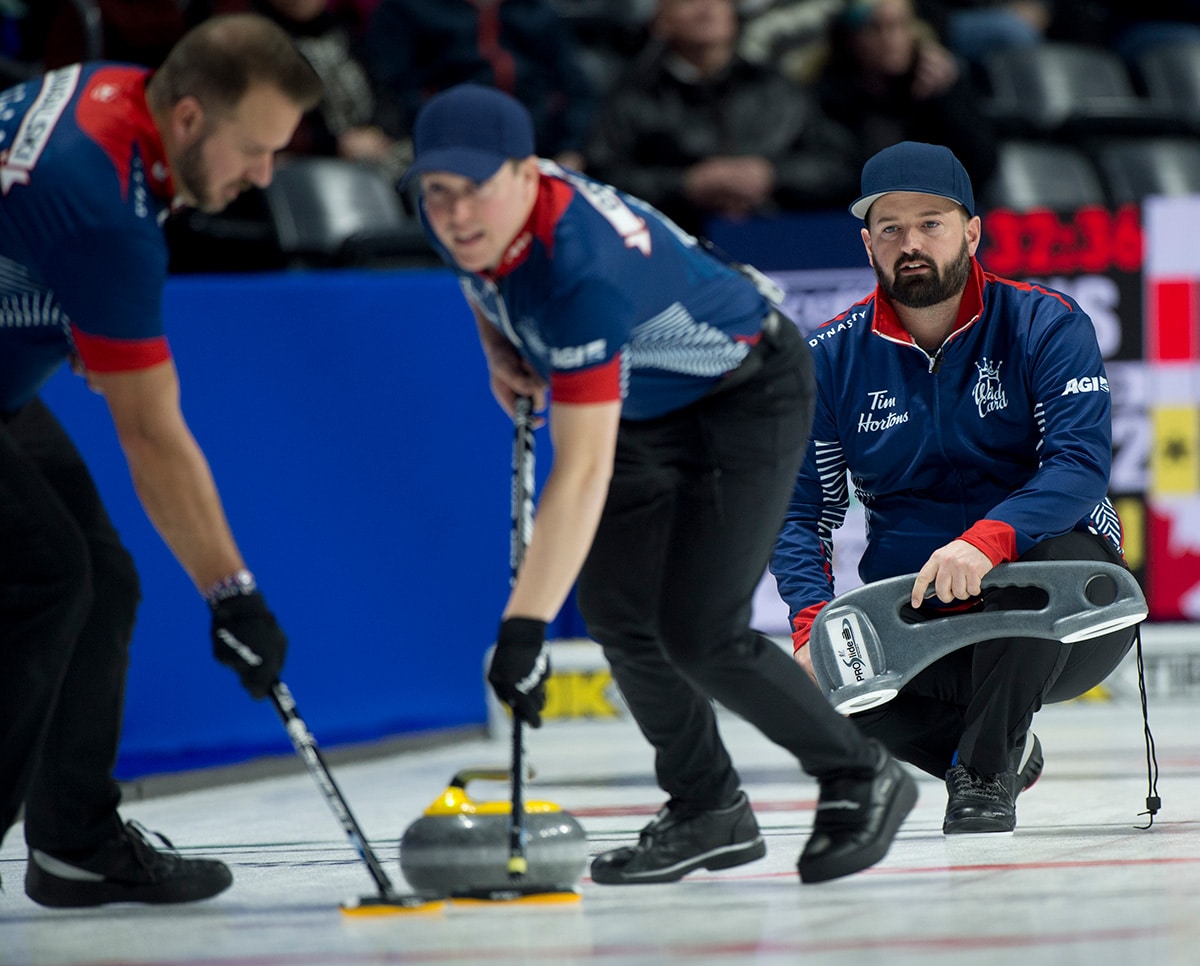 Team Carruthers keep playoff hopes alive at 2023 Tim Hortons Brier
Skip Reid Carruthers gets a warm and fuzzy feeling every time he steps on the ice at Budweiser Gardens for a game at the 2023 Tim Hortons Brier, presented by AGI, in London, Ont.
After all, it's where he experienced one of his greatest curling feats, winning the 2011 Canadian men's curling championship as second for Manitoba's Jeff Stoughton.
The years have passed by and now Carruthers is trying to win his own title as a skip. It hasn't hurt to be in the building with great memories.
The good vibes are still there and have helped prop up Carruthers, skipping Wild Card 2 (3-3, Morris, Man.), to stay in the hunt for one of three playoff spots available in Pool A. Team Carruthers kept its playoff hopes alive Wednesday afternoon with a solid 6-2 round-robin win over Team Nova Scotia (3-3, Halifax) skipped by Matthew Manuel.
Carruthers is hanging by a thread, but at least he's still alive.
"Honestly, we can win out and still not be in," he said. "Unfortunately with the losses that have piled up, we're going to need some help to have a chance. I'm just happy we played better than we did last night."
Carruthers said it's been special to return to London.
"It's (building) exactly how I remember it. There's definitely that feeling. But I have to focus on the present. I have a new team here."
That team, from the Morris Curling Club in Manitoba, comprises third Derek Samagalski, second/vice-skip Connor Njegovan, lead Rob Gordon and coach Rob Meakin.
The game carried so much weight, and both teams responded with some great shotmaking.
Team Carruthers held a 2-1 lead after five, but had the young Bluenosers in trouble in the sixth, stuffing a couple of rocks behind cover and around the button that Manuel could not outdraw. The steal of two gave Team Carruthers a 4-1 lead and that proved to be enough of a cushion.
Skip Karsten Sturmay also kept his playoff hopes alive in Pool B, guiding his Team Wild Card 3 (3-3, St. Albert, Alta.) to a 9-4 win over skip Tyler Smith's Team Prince Edward Island (2-5, Crapaud).
Also making a move up the standings was Team Ontario out of the Royal Canadian Curling Club in Toronto. The de facto home team at the Tim Hortons Brier, skipped by Mike McEwen, moved into a third-place tie with Team Quebec in Pool B with 4-2 records, thanks to an 11-4 victory over winless New Brunswick (0-6, Moncton), skipped by Scott Jones.
Team McEwen was up 5-0 after two ends and cruised to the finish line. Still, it was an important win.
"That was the bare minimum (4-2 record) we wanted to be in," said McEwen. "We want to control out own destiny. We needed to stay at two losses to do that."
McEwen admitted his team still has a lot of work to do, beginning with a game tonight against a young, strong Team British Columbia.
"Realistically, we have to win our next two games to get to a 2-3 (Page qualification playoff) game, and it's still sudden death at that point," he said. "We got a long road ahead of us. We probably have to win three games in a row to get a second life in the Page system."
In the only other game on the afternoon slate of games, Team Northwest Territories (1-5, Yellowknife) cracked the win column. Skip Jamie Koe, playing in his 16th Tim Hortons Brier, upended Team Nunavut (1-6, Iqaluit), skipped by Jake Higgs, 9-3 to break the goose egg.
The final goes Sunday, March 12.
The Tim Hortons Brier champion will wear the Maple Leaf at the 2023 BKT Tires & OK Tire World Men's Curling Championship, April 1-9 in Ottawa.
The 2023 Tim Hortons Brier continues with draws Wednesday with a draw at 7 p.m. (all times ET).
Live scoring, standings and statistics for the 2023 Tim Hortons Brier are available at curling.ca/scoreboard.
TSN and RDS2 will provide complete coverage of the 2023 Tim Hortons Brier. CLICK HERE for the complete schedule.
For ticket information for the 2023 Tim Hortons Brier, go to www.curling.ca/2023brier/tickets/
This story will be available in French as soon as possible at www.curling.ca/2023brier/nouvelles/?lang=fr