Playoff bound!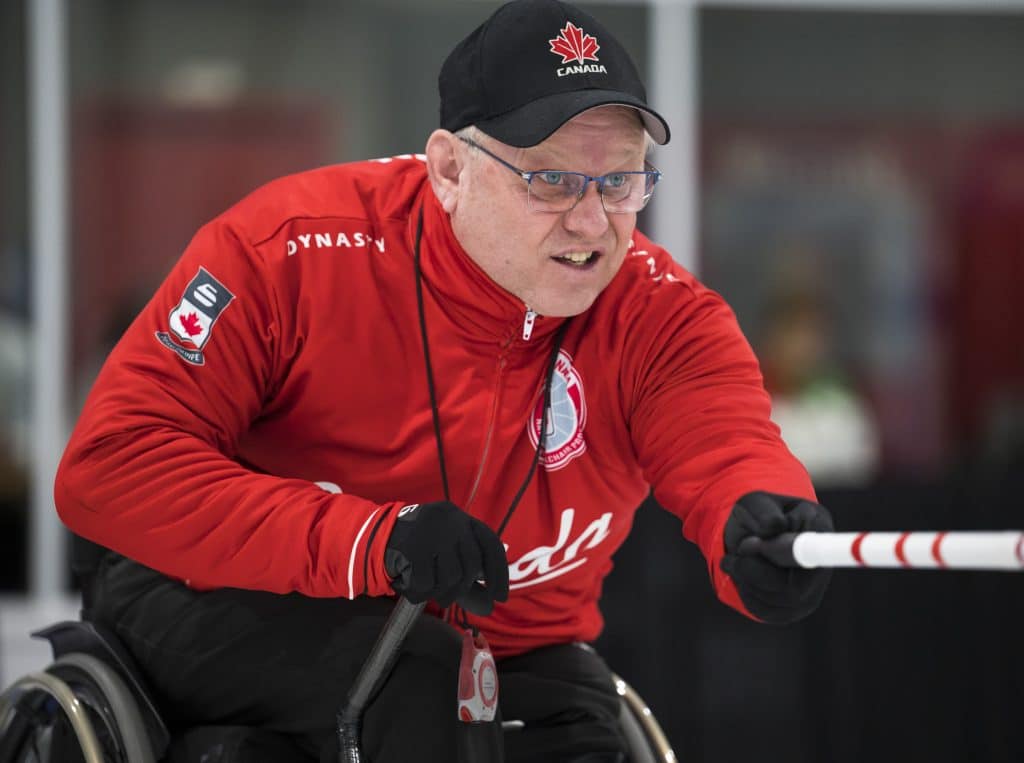 Canada's wheelchair mixed doubles curling team close to clinching semifinal berth
Canada has clinched a playoff spot at the 2023 World Wheelchair Mixed Doubles Curling Championship at the Richmond Curling Centre in Richmond, B.C.
Collinda Joseph (Stittsville, Ont.) and Dennis Thiessen (Winnipeg) defeated the English team of Rosemary Lenton and Stewart Pimblett 9-1 Wednesday morning to run their record atop the nine-team Pool B round-robin standings to 6-0. Canada's remaining games are Thursday (6 p.m. all times PT) against Sweden (1-4) and Friday (9 a.m.) versus Japan (1-4). Every other team has at least two losses and Canada has beaten all of them (Latvia, Germany, England and South Korea). Although the first tiebreaker is head-to-head World Curling Federation officials would not confirm Canada has clinched first place which would give them a direct route to the semifinals only that Canada could finish first or second. A win, however, in either of their final two games would seal the deal. China (7-0) leads Pool A and has also clinched a playoff berth.
"I'm over the moon right now," said Thiessen of reaching the playoffs.
Joseph and Thiessen are supported by head coach Dana Ferguson and team leader Kyle Turcotte.
"I wanted us to just get into the playoffs and approach each game as its own entity, we don't put any pressure on any game so far. We come into every pre-game with the same thoughts," said Ferguson.
"I am having a blast coaching these two. They are a fun team, they're smart, they're coachable, they're easy to be around and it's been a blast.
"Dennis has been playing the steady Eddie all the way through, Collinda has been clutch. Collinda has made some last rock shots to either save us or get us some points. She's a smart skip, she's calling really good shots. Dennis is taking ownership of his shots and I feel like that's helped."
Thiessen admitted he's nervous about the upcoming games, but Ferguson sees the positive side of that.
"Nerves are a good thing, butterflies are a good thing, that means you want it but I think we just keep going into every game playing free. They're out there having fun. That's a big thing, they're smiling and laughing, no matter the level of the game that's how they are and we do that we do what we need to do," said Ferguson.
Canada's team in the twelve-team field at the World Wheelchair Curling Championship of skip/lead Mark Ideson (London, Ont.), fourth Jon Thurston (Dunsford, Ont.), third Ina Forrest (Spallumcheen, B.C.), second Gil Dash (Wolseley, Sask.), fifth Marie Wright (Moose Jaw, Sask.), head coach Mick Lizmore and team leader Kyle Paquette are tied atop the round-robin standings with China at 7-1. They play South Korea (6-2, 12:30 p.m.) and Sweden (4-4, 8 p.m.) today.

Both of Canada's teams are supported by Dr. Steven Macaluso (Physician), Sari Shatil (Physiotherapist), Erin Brennan (Mental Performance Consultant), and Wendy Morgan (Leadership Support).
Live scores can be found at https://worldcurling.org/live-scores/ and results at https://worldcurling.org/events/wwhcc2023?pageType=results.
There is free entry to watch the event live. The World Curling Federation will provide coverage of select games at the World Wheelchair and World Mixed Doubles Wheelchair Curling Championships. Watch live games on The Curling Channel in partnership with Recast.

For non-feature games, Curl BC will provide an international live stream of static camera footage on its YouTube channel. Canadians can watch feature games on the CBC Sports YouTube channel.