Ontario wins a nail-biter!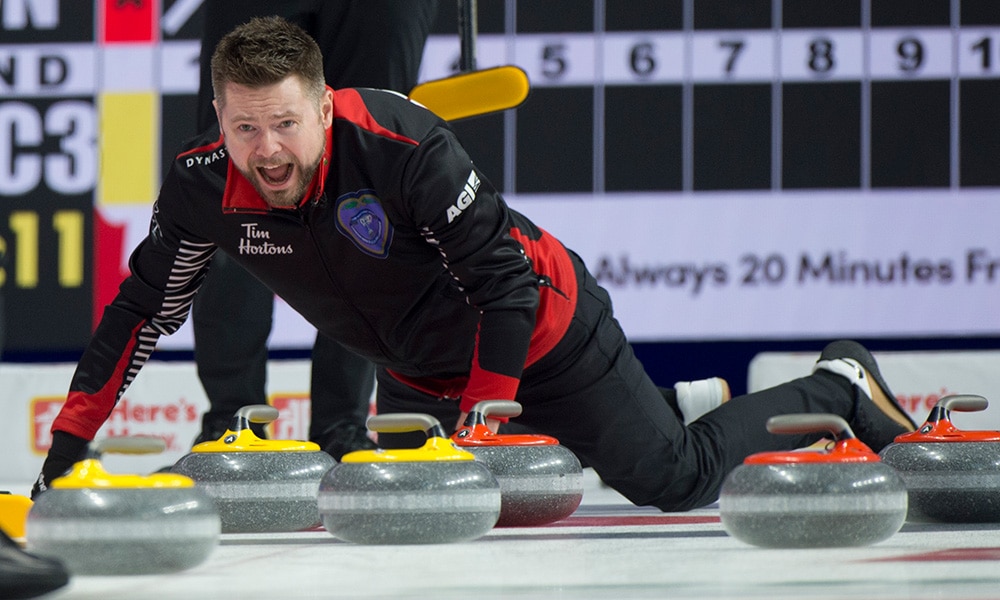 Team Ontario wins nail-biter to clinch final playoff spot at Tim Hortons Brier
Nothing has come easy for skip Mike McEwen's Team Ontario at the 2023 Tim Hortons Brier, presented by AGI, in London, Ont., but his angst was ramped up to its highest degree in his closing match of the round-robin competition on Thursday evening.
Faced with a must-win situation to finish third in Pool B and qualify for the playoffs, the Ontario team from the Royal Canadian Curling Club in Toronto was locked in a life-and-death struggle with Wild Card 3's Team Karsten Surmay (3-5, St. Albert, Alta).
Back-and-forth they went until the 10th end when McEwen, vice-skip Ryan Fry, second Brent Laing, lead Joey Hart and coach Richard Hart, were able to score a life-saving deuce to pull out a 9-8 win.
It looked like Team McEwen was headed for a Friday tiebreaker in the 10th end until McEwen made a fantastic in-off off an Ontario stone into Sturmay's shot stone to sit one. Sturmay also threw out a lifeline; on his last shot he nicked Team McEwen's shot rock, trying to come behind, and rolled open. McEwen picked it off for a score of two and the win.
Team Ontario's win improved its record to 6-2 and effectively slammed the door on skip Félix Asselin's frantic bid for a playoff spot for Team Quebec (5-3, Glenmore/Belvédère/Etchemin/Valleyfield). Asselin needed some help from Team Sturmay to knock off Team Ontario, meanwhile winning his own game, to force a tiebreaker.
Asselin did his part, posting an 11-4 win over New Brunswick's Team Scott Jones (1-7, Moncton), but the help was not there.
Put it altogether and there will be no tiebreakers needed for this year's Tim Hortons Brier in either pool.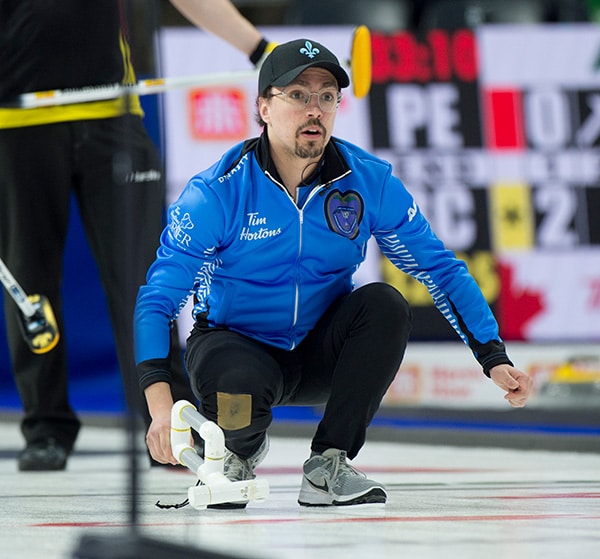 Considering what was at stake, it wasn't a particularly well-played game, but that mattered little to McEwen. All that mattered was the win.
"It's tough playing a team playing loose," said McEwen. "I thought they played a great game. We had to work through that. It was a great comeback. I feel fortunate to have a shot to win."
The end result was a tough pill for Asselin to swallow.
"I'm bummed out right now," said the 28-year-old skip from Quebec. "But that's what happens when you leave [results] to others."
It was also a big night for skip Brad Gushue's Team Canada (7-1, St. John's, N.L.) who clinched first place in Pool B and all the goodies that go with it, after an 8-3 win over skip Yukon's Team Thomas Scoffin (2-6; Whitehorse)
The win assured the defending champs a bye in the first round of the playoffs.
"We started really slow but I think we built all week," said Gushue, supported by vice-skip Mark Nichols, second E.J. Harnden, lead Geoff Walker and coach Caleb Flaxey. "The last day and a half I've felt this is the best we've played all year."
The playoffs are in Gushue's wheelhouse and he's amped to get started in the home stretch and see if he can win his record-breaking fifth Canadian men's curling title as a skip.
"These game matter," he said. "There's a little bit of nerves. Certainly I've had it the last couple of games, the excitement to throw. I think that's translated into some pretty good curling."
Skip Brendan Bottcher and his Team Wild Card 1 (7-1, Calgary) clinched the second playoff spot in Pool B earlier in the day. Wild Card 1 earned the second berth due to its head-to-head record against Team Canada.
In the other Pool B game, skip Jacques Gauthier's Team British Columbia (3-5, Victoria) went out with a bang, thumping Team Prince Edward Island (2-6, Crapaud), skipped by Tyler Smith by a score of 9-2.
The playoffs begin Friday. Up first is the must-win Page qualifier at 1 p.m. (all times ET), with skip Tanner Horgan's Northern Ontario facing Team Bottcher and Wild Card 1, while Alberta's Team Koe faces Ontario's Team McEwen. Losers will be eliminated.
The winners advance to the Page seeding at 7 p.m. The winner of the Northern Ontario/Wild Card 1 game faces Manitoba's Matt Dunstone and the victor of the Alberta/Ontario game squares off against Canada's Team Gushue. The winners of the evening game advance to the Page 1v2 game and the losers advance to the Page 3v4 game. 
The final goes Sunday, March 12.
The Tim Hortons Brier champion will wear the Maple Leaf at the 2023 BKT Tires & OK Tire World Men's Curling Championship, April 1-9 in Ottawa.
Live scoring, standings and statistics for the 2023 Tim Hortons Brier are available at curling.ca/scoreboard.
TSN and RDS2 will provide complete coverage of the 2023 Tim Hortons Brier. CLICK HERE for the complete schedule.
For ticket information for the 2023 Tim Hortons Brier, go to www.curling.ca/2023brier/tickets/
This story will be available in French as soon as possible at www.curling.ca/2023brier/nouvelles/?lang=fr