Semifinal bound!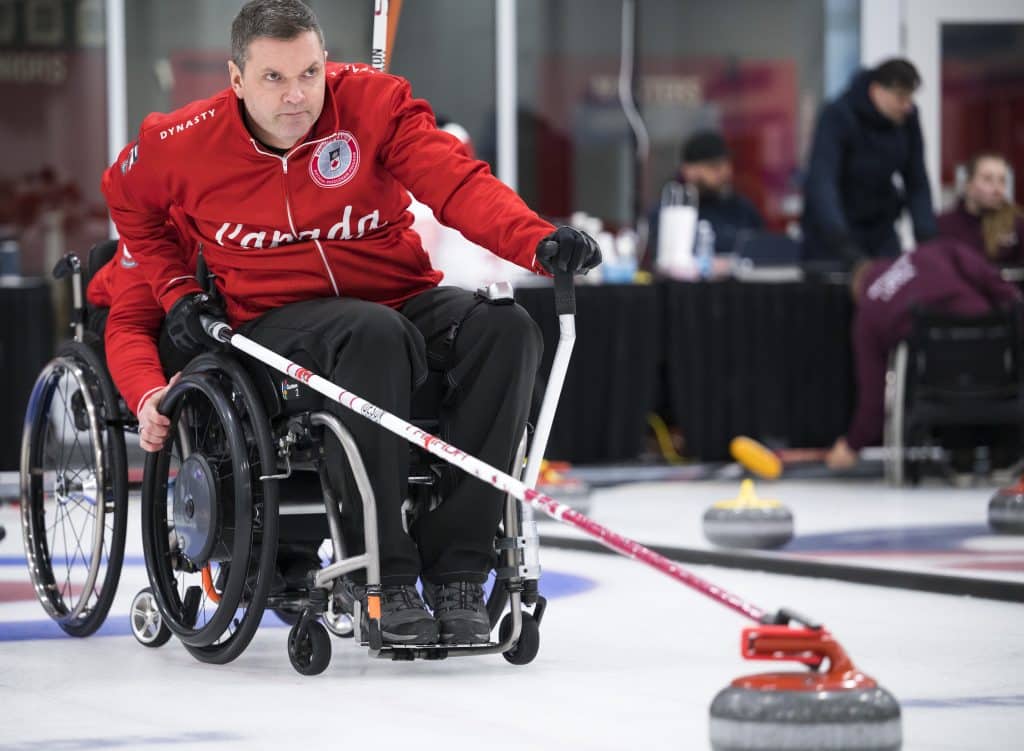 Canadian wheelchair team finishes second in round robin, guarantees will play for a medal
Canada finished second in the 12-team round robin at the 2023 World Wheelchair Curling Championship being held at the Richmond Curling Centre in Richmond, B.C., guaranteeing the team will get to play for a medal.
Canada downed Denmark 7-3 Thursday afternoon. With the win the Canadian team of skip/lead Mark Ideson (London, Ont.), fourth Jon Thurston (Dunsford, Ont.), third Ina Forrest (Spallumcheen, B.C.), second Gil Dash (Wolseley, Sask.), fifth Marie Wright (Moose Jaw, Sask.), head coach Mick Lizmore and team leader Kyle Paquette posted a record of 9-2 behind only China (10-1).
"Even midway through the week if someone had said we'd could be 9-2 we'd have taken that for sure. It's a long week and it's a good record for a marathon of a tournament," said Ideson.
They got a little help from their American neighbours on the adjoining sheet. The U.S., skipped by Stephen Emt, edged South Korea 5-4 putting the United States in fourth place at 7-4 while dropping South Korea, skipped by Hyeonchul Lee, to 8-3. If South Korea had won they would have been awarded second place and the bye to the semifinals by virtue of its 7-3 win over Canada on Wednesday.
"I'd be lying if I didn't say I didn't have an eye on the other sheet," said Ideson with a smile. "It was an important game. The U.S. looked like it had a really solid game. Both teams, South Korea and the U.S. The U.S. put us in a good position."
South Korea will have to face Scotland (5-6) in one qualification game while the United States battles Sweden (6-5) in the other Friday.
Canada will face the winner of South Korea and Scotland in the semis Saturday (2 p.m., all times PT).
"Whoever we face we'll have to bring our best because it will be a strong team and they'll have had a strong win against whoever they've played in the quarter-final so we have to be ready," said Ideson.
He has skipped Canada, along with Forrest, to gold medals at the Sochi Paralympics in 2014 and bronze at Pyeongchang, South Korea in 2018 and Beijing last year.
"We've had solid teams all through the years, but I think we've managed the rocks and the length of the tournament with rest and recovery really well this week. We really enjoy each other's company so that helps get through a lot," said Ideson.
Forrest's big win of her career just may have come a couple of kilometres away from the Richmond Curling Centre at the 2010 Vancouver Paralympics.
"We had to come to Richmond for extra practice and recharge so Richmond is home for us," said Forrest. "It's been great for me to be here in my home province. I've had lots of people I know, friends and family coming here, it's always great for me, I've got tons of support. There's a lot of wheelchair curlers down here and they've all come out and enjoyed the event."
Canada rebounded from a loss to South Korea on Wednesday afternoon by swamping Sweden 13-1 in the evening to improve to 8-2. The Canadians had an 8-0 lead before Sweden scored its only point in the fifth end. They shook hands after Canada scored five in the sixth end.
In the World Wheelchair Mixed Doubles Curling Championship, Canada, represented by Collinda Joseph (Stittsville, Ont.) and Dennis Thiessen (Winnipeg) and supported by head coach Dana Ferguson and team leader Kyle Turcotte, were 6-0 heading into action Thursday evening. They needed just a win in their final two games against Sweden (1-5, 6 p.m.) and Japan (1-5) on Friday (9 a.m.) to clinch first place in Pool B and a direct berth in the semifinals. China has also clinched a playoff berth in Pool A
The second and third-place squads in each pool will play qualification games to get to the semis.

Both of Canada's teams are supported by Dr. Steven Macaluso (Physician), Sari Shatil (Physiotherapist), Erin Brennan (Mental Performance Consultant), and Wendy Morgan (Leadership Support).
Live scores can be found at https://worldcurling.org/live-scores/ and results at https://worldcurling.org/events/wwhcc2023?pageType=results.
There is free entry to watch the event live. The World Curling Federation will provide coverage of select games at the World Wheelchair and World Mixed Doubles Wheelchair Curling Championships. Watch live games on The Curling Channel in partnership with Recast.

For non-feature games, Curl BC will provide an international live stream of static camera footage on its YouTube channel. Canadians can watch feature games on the CBC Sports YouTube channel.