Calm, cool and a winner!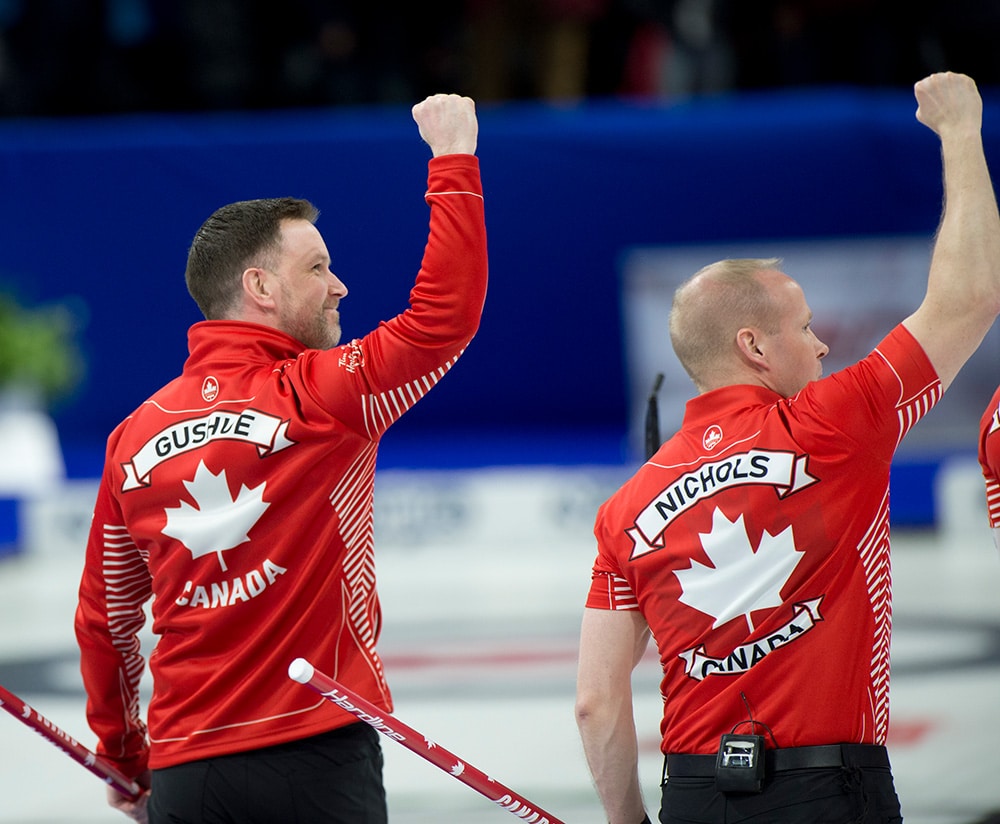 Team Canada pulls out last-minute win to reach Tim Hortons Brier final
Skip Brad Gushue has played plenty of big games in his illustrious curling career, so when he came up against a runaway train named Team Manitoba at the Tim Hortons Brier, presented by AGI, Saturday night, he knew what to do.
Keep calm, avoid getting run over, and wait for an opportunity.
That, basically, was Gushue's game plan as he skipped Team Canada to a crucial 5-4 victory over unbeaten Team Manitoba in the 1-2 Page playoff game in London, Ont., before a boisterous crowd in Budweiser Gardens.
It's the same game plan Gushue has used to carry his team from the RE/MAX Centre, St. John's Curling Club in Newfoundland & Labrador, to four Canadian men's curling championships over the years, and may yet yield No. 5.
The opportunity never came until the dramatic 10th end, but it came and pushed skip Gushue, vice-skip Mark Nichols, second E.J. Harnden, lead Geoff Walker and coach Caleb Flaxey over the top.
Tied 4-4 and without the hammer, Gushue left Dunstone a come-around nose hit in the four-foot with no room for error. He missed it by a whisker, striking the shot stone but sliding off.
The win thrust Team Canada into Sunday's final, a win away from a record fifth title as a skip for Gushue.
"What a game, holy smokes," said Gushue. "Some of the shots Matt's team made and some of the shots our team made were incredible. We left Matt with a really difficult shot, he couldn't roll anywhere. I knew he had to hit it perfectly on the nose. Got a little bit of a roll. The anxiety from the whole game let loose after the game."
The loss dropped skip Matt Dunstone and his Team Manitoba representing the Fort Rouge Curling Club in Winnipeg into the semifinal Sunday afternoon at noon (all times ET) against skip Brendan Bottcher and Team Wild Card 1 from The Glencoe Club in Calgary.
Team Bottcher defeated skip Mike McEwen's Team Ontario's earlier in the day in the 3-4 Page playoff, sending the Toronto team to the sidelines.
It was the first loss of the competition for the Manitobans who had cut through the competition like a hot knife through butter. The Buffalo Boys had won nine in a row, almost every game by a wide margin, before being derailed by Team Canada.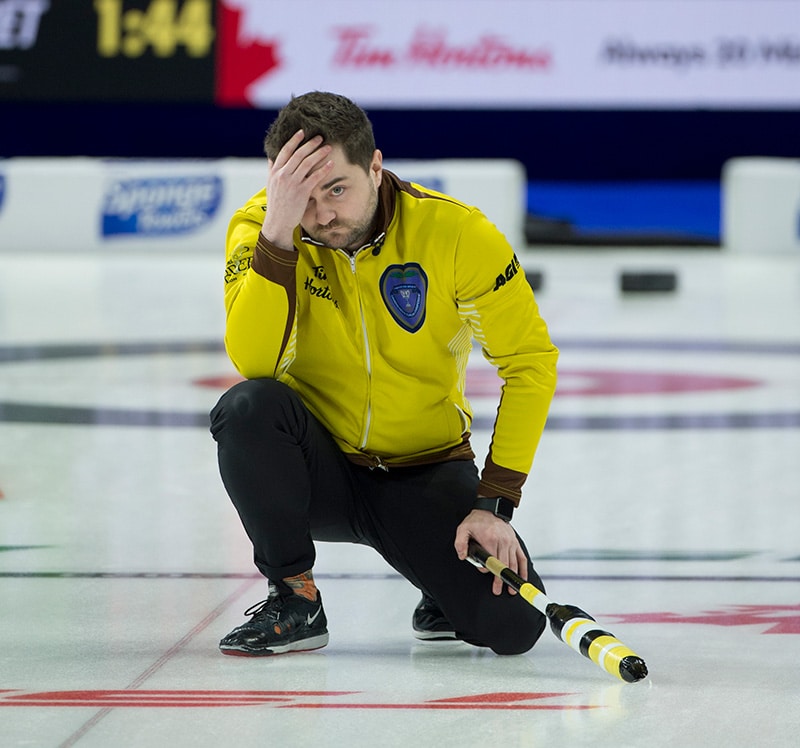 "I felt we controlled the entire thing," said Dunstone. "Unfortunately I didn't make the last one there. I didn't think there was really a draw there. I liked how I threw it, came up a bit heavy, missed it by an inch."
It was a battle of the two best teams and two best skips this week, and it came as advertised. There were plenty of rocks in play and enough great shots to keep the spectators vocal. Neither team would give an inch.
It was, in fact, a clinic on how to make runbacks and doubles. There were multiple runbacks throughout the game, some back-to-back, as each team delivered its best punch.
Dunstone made several spectacular shots in the game, including a runback raise in the third that not only saved the end, but put two up on the board and gave Manitoba a 3-1 lead.
But Gushue would answer. He made a ridiculously tough triple takeout in the seventh to save the end with the score tied 4-4.
"They were so good at those runbacks," said Gushue. "It was frustrating because we couldn't put any rocks in play and generate any offence. If we gave them any kind of angle they executed it. We just hung tough. Fortunately, we got a miss from them at the end."
The game also featured the battle of brothers, E.J. Harnden and Ryan Harnden who, after years of playing together with skip Brad Jacobs, were on opposite sides of the fence Saturday.
"It was hard," said E.J. who showed emotion following the win. "I hope we play tomorrow and we win tomorrow, but it's not fun. I love being part of this team, but he's my brother."
The final goes Sunday at 7 p.m.
The Tim Hortons Brier champion will wear the Maple Leaf at the 2023 BKT Tires & OK Tire World Men's Curling Championship, April 1-9 in Ottawa.
Live scoring, standings and statistics for the 2023 Tim Hortons Brier are available at curling.ca/scoreboard.
TSN and RDS2 will provide complete coverage of the 2023 Tim Hortons Brier. CLICK HERE for the complete schedule.
For ticket information for the 2023 Tim Hortons Brier, go to www.curling.ca/2023brier/tickets/