Going for gold!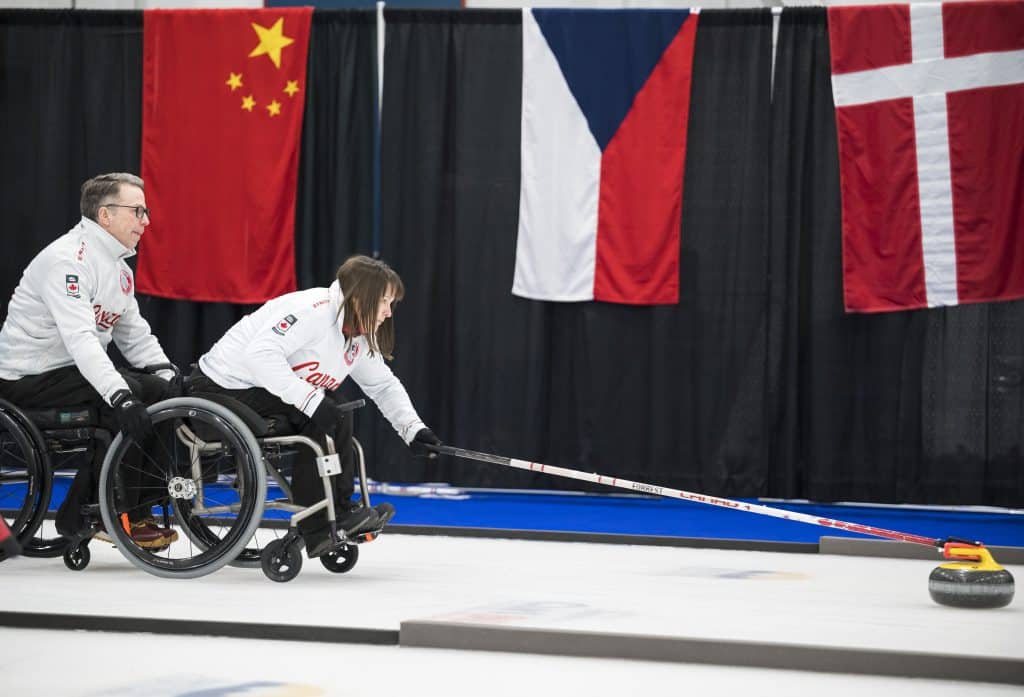 Canada will play China for world wheelchair title after beating Scotland in semifinal
Canada will battle the two-time Paralympian gold medallists from China in the final of the 2023 World Wheelchair Curling Championship at the Richmond Curling Centre in Richmond, B.C. on Sunday.
Saturday afternoon, skip/lead Mark Ideson (London, Ont.), fourth Jon Thurston (Dunsford, Ont.), third Ina Forrest (Spallumcheen, B.C.), second Gil Dash (Wolseley, Sask.), fifth Marie Wright (Moose Jaw, Sask.), head coach Mick Lizmore and team leader Kyle Paquette defeated scrappy Scotland, skipped by Gregor Ewan, 5-2 in the semifinal. China scored three in the eighth and final end to down Sweden 5-2 in the other semi.
The game against the Scots was tense both on the ice and for the spectators behind the glass as both teams played wide open. Guards seemed non-existent while hits were plentiful as the two teams went to the fourth-end break tied 1-1. It was a far cry from their round robin game when Canada rolled to an 8-1 victory in just six ends.
"There's always nerves. If you're not nervous then it doesn't mean enough to you. It's good to have nerves. It's just good to keep them under control and luckily we've been in that situation before and have some experience with it," said Ideson,
"Neither team wanted to take too many chances. It's good to get a few open ends in and get your feet underneath you and get used to the ice. Then take the opportunities when the chances arrive."
They arrived in the fifth end. Scotland appeared to be on its way to forcing Canada to settle for one, but then Ewan rolled out on his last shot allowing Thurston to hit and stick for two and a 3-1 lead.
"It was a strong first half. I know it was 1-1 but we had hammer in five and felt like we were dictating it. We were having our chances and just biding our time and waiting for our opportunities," said Thurston.
In the sixth end, Ewan was wide and deep on a draw allowing Canada to steal two and take a 5-1 lead.
"It kind of came out of nowhere. Just was an unfortunate miss for Gregor," said Ideson.
In the 12-team round robin China finished first at 10-1 while Canada was second at 9-2. China defeated Canada 9-4 in an extra end in the opening draw.
"We're excited. We started out strong our round robin game against them," said Thurston. "We're excited to get another opportunity at them. We played at a really high level today and I think we take that into tomorrow and have a good chance against them."
That game was last Saturday and lot has happened since then.
"We've learned the conditions really well and played to our expectations. We hold ourselves to a pretty high standard and I think we've done that this week," said Ideson. "They're definitely good. They're a good team.
"But you know what, if we stay patient and we bring what we expect to bring tomorrow then we'll be where we want to be at the end of the game."
The final goes Sunday at 10 a.m. (all times Pacific). All of Canada's draws in the competition have been played in the afternoons and evenings. This will be the first morning draw for both teams with the time change overnight making it even earlier.
"It will be early to bed tonight, wake up early and be ready to go," said Thurston.
Scotland upset Korea 6-2 Friday in the qualification round to advance against Canada. The Scots finished the round robin in a three-way tie for sixth at 5-6 but got the nod to play third-place Korea, 8-3 in the round robin, because they beat the other two teams, Czech Republic and Norway, during the round robin.
In the World Wheelchair Mixed Doubles Curling Championship, Canada's Collinda Joseph (Stittsville, Ont.) and Dennis Thiessen (Winnipeg), supported by head coach Dana Ferguson and team leader Kyle Turcotte, will play a semifinal against the United States later Saturday (7 p.m.). Canada went through the nine-team Pool B round robin undefeated while the Americans were 5-4 in the 10-team Pool A. China, which went 9-0 in Pool A, goes against Latvia (6-2) in the other semifinal. The gold- and bronze-medal games will be played Sunday (2:30 p.m.).
Both of Canada's teams are supported by Dr. Steven Macaluso (Physician), Sari Shatil (Physiotherapist), Erin Brennan (Mental Performance Consultant), and Wendy Morgan (Leadership Support).
Live scores can be found at https://worldcurling.org/live-scores/ and results at https://worldcurling.org/events/wwhcc2023?pageType=results.
There is free entry to watch the event live. The World Curling Federation will provide coverage of select games at the World Wheelchair and World Mixed Doubles Wheelchair Curling Championships. Watch live games on The Curling Channel in partnership with Recast.

For non-feature games, Curl BC will provide an international live stream of static camera footage on its YouTube channel. Canadians can watch feature games on the CBC Sports YouTube channel.