Gushue: King of the Tim Hortons Brier!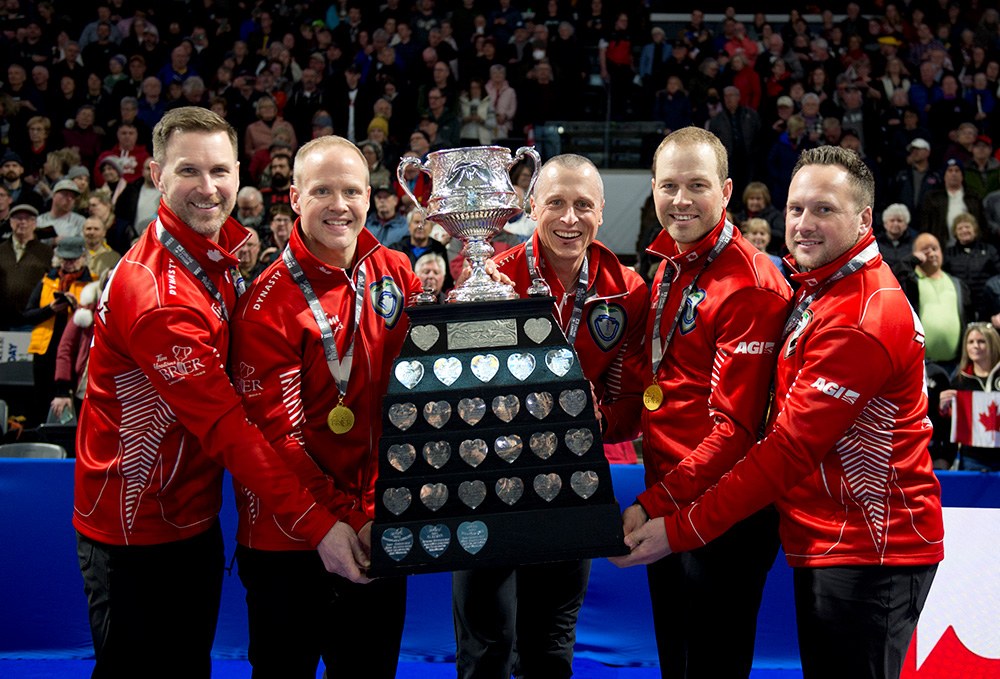 Team Gushue wins record-breaking Tim Hortons Brier
Skip Brad Gushue has avoided talking about a possible record-breaking fifth Canadian men's curling championship all week in London, Ont., as he worked his way through the 2023 Tim Hortons Brier, presented by AGI.
He can talk about it all he wants now.
Gushue set the high-water marks for skips at the Tim Hortons Brier by defeating Team Manitoba, skipped by Matt Dunstone, 7-5 in the final Sunday evening at Budweiser Gardens before a full and curling-savvy crowd and a Canada-wide audience on TSN.
There may be more titles to come, but for the 42-year-old skip from St. John's, N.L., who has battled through a nagging hip issue, this will be one to savour.
Gushue earned his fifth Tankard title as a skip, breaking him out of a logjam of legends — Ernie Richardson, Kevin Koe, Randy Ferbey and Kevin Martin — and up into a galaxy all his own.
Vice-skip Mark Nichols and lead Geoff Walker also earned their fifth national titles and second E.J. Harnden has now won his second Tim Hortons Brier championship after joining the team this offseason. Canada is rounded out by coach Caleb Flaxey.
"It never gets old winning," said Gushue, who had to draw the four-foot facing two to win.
Gushue said the fifth win as a skip was "cool" but was most happy for his team and newcomer Harnden.
"To be honest, when E.J. came on to the team he wanted to get this [win] in," said Gushue. "He's had so many runs when he played with Brad Jacobs. But this was a team win."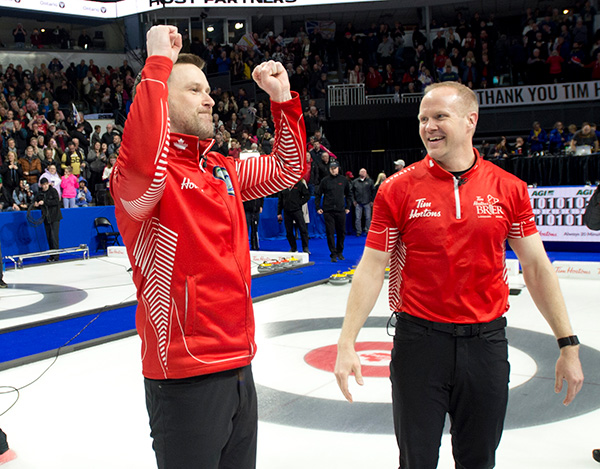 The win means Gushue and Co. will wear the Maple Leaf at the 2023 BKT Tires & OK Tire World Men's Curling Championship in Ottawa where they will look to win Canada's first gold medal since 2017 in Edmonton where, ironically, Gushue stood on the podium.
Gushue stole a single in the 10th end the night before in the Page 1v2 playoff against Team Manitoba, and knew his team would be in for another dogfight.
It was a battle of the two best teams and two best skips this week. Teams Gushue and Dunstone won their respective pools and were deserving of being the last teams standing.
It was more of the same in the final as Team Canada dictated the action, putting pressure on the Manitobans. After a blanked first end, the teams exchanged singles to make it 3-3 after seven ends.
The crack in the porcelain didn't come until the eighth when Gushue put together a wonderfully constructed end, resulting in a three and a 6-3 lead.
Dunstone, playing in his fifth Tim Hortons Brier but first for Manitoba, gave it the old college try, scoring two in the ninth, and had two counters in the rings in the 10th, but Gushue had the hammer and used it to draw the four-foot.
"I trusted it, I made it," said Gushue, who was voted the Hec Gervais Most Valuable Playoff Award for his performance in the playoffs. "I was overthrowing them a little bit in that game and I was trying not to overthrow it, even with the adrenaline. So I threw it a little soft. It was just like 'don't pick, don't pick' and it stopped at the back of the button."
Gushue gave credit to Dunstone and his teammates.
"It felt like any blink was going to lose that game," he said. "We got them in the eighth end and just hung on. They played so strong. They're an incredible team and they're going to win this very soon."
The loss was a huge disappointment for Dunstone and Team Manitoba (vice-skip B.J. Neufeld, second Colton Lott, lead Ryan Harnden and coach Adam Kingsbury) representing the Fort Rouge Curling Club in Winnipeg who had played so brilliantly throughout the week. It was a chance to bring Manitoba back into the winner's circle at the Tim Hortons Brier for the first time since 2011 when Jeff Stoughton turned the trick, also in London.
"Really proud of my team. We were down and out after the eighth end and made them throw a tough shot to win the Brier," said Dunstone who advanced to the final earlier in the day by stealing a 7-5 victory over Team Wild Card 1, skipped by Brendan Bottcher, from The Glencoe Club in Calgary, in the semifinal.
Scoring, standings and statistics for the 2023 Tim Hortons Brier are available at curling.ca/scoreboard.