Upset city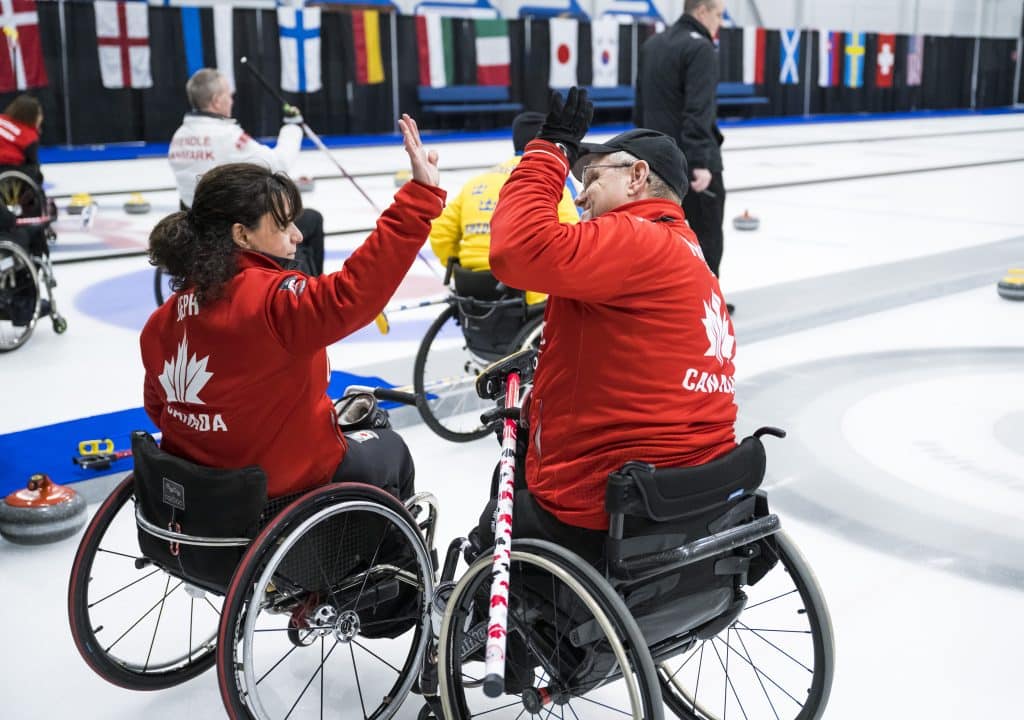 Undefeated Canada and China fall in semifinals of World Wheelchair Mixed Doubles Curling Championship
Richmond, B.C., turned into upset city Saturday night at the 2023 World Wheelchair Mixed Doubles Curling Championship which was bad news for Canada.
The two undefeated teams in two round-robin pools, Canada (8-0) and China (9-0), were both beaten in the semifinals at the Richmond Curling Centre. The United States team of Pam Wilson and David Samsa stole a point in the final end to edge Canadians Collinda Joseph (Stittsville, Ont.) and Dennis Thiessen (Winnipeg) 7-6. Latvia scored a six, the maximum points possible in an end, in the third en route to defeating China 10-7.
The United States finished second in the 10-team Pool A round robin with a 5-4 record behind China and then defeated the Pool B third-place finishers from England (6-2), 11-10 in the qualification game. Latvia was 6-2 in the nine-team Pool B behind Canada and will play the U.S. for the gold medal Sunday (10 a.m.).
"Disappointed, but that's curling, that's the way it goes sometimes," said Joseph. "The nature of wheelchair curling is such that you try your best and once it leaves your stick it's kind of left to the ice, the curling gods. It was unfortunate.
"It was getting tricky in spots, certainly, so just a little bit patchy so that sometimes when you felt like you'd thrown the right weight it went too far or came up short. For the most part we figured it out, but there were a couple of moments where we came up short."
In the first end, Joseph had a chance to score three or four but was wide on a soft takeout giving Canada just one point. In the third, she had a draw for three but missed and had to settle for two and a 3-2 lead. Then in the fifth, her raise takeout for two missed and the U.S. stole a point to take a 4-3 lead. In the sixth, she made a draw for three and Canada looked to be sitting pretty with a 6-4 lead with just two ends to play.
The Americans, though, tied it with two in the seventh, but with Canada holding the hammer in the eighth, Wilson's opening throw was frozen to the Canadian rock placed at the back of the button before the end began behind a guard and Canada was left trying to chisel it out the rest of the end. On her final shot, Joseph attempted to draw the button for the win but came up short giving the U.S. a steal and a shot at a gold medal.,
Canada, however, still can reach the podium if Joseph and Thiessen can defeat China in the bronze-medal game Sunday (2:30 p.m., PT).
"It's going to be an interesting game again," said Joseph. "It's the wrong game to lose (the semifinal). We feel pretty good about our game. We played well. We'll be happy if we play that way again tomorrow and we'll give them a challenge."
Joseph and Thiessen were supported by head coach Dana Ferguson and team leader Kyle Turcotte.
In the World Wheelchair Mixed Doubles Curling Championship, Canada will play China in the gold medal final Sunday (10 a.m. PT) after defeating Scotland 5-2 Saturday afternoon.
Both of Canada's teams are supported by Dr. Steven Macaluso (Physician), Sari Shatil (Physiotherapist), Erin Brennan (Mental Performance Consultant), and Wendy Morgan (Leadership Support).
Live scores can be found at https://worldcurling.org/live-scores/ and results at https://worldcurling.org/events/wwhcc2023?pageType=results.
There is free entry to watch the event live. The World Curling Federation will provide coverage of select games at the World Wheelchair and World Mixed Doubles Wheelchair Curling Championships. Watch live games on The Curling Channel in partnership with Recast.

For non-feature games, Curl BC will provide an international live stream of static camera footage on its YouTube channel. Canadians can watch feature games on the CBC Sports YouTube channel.