On a run!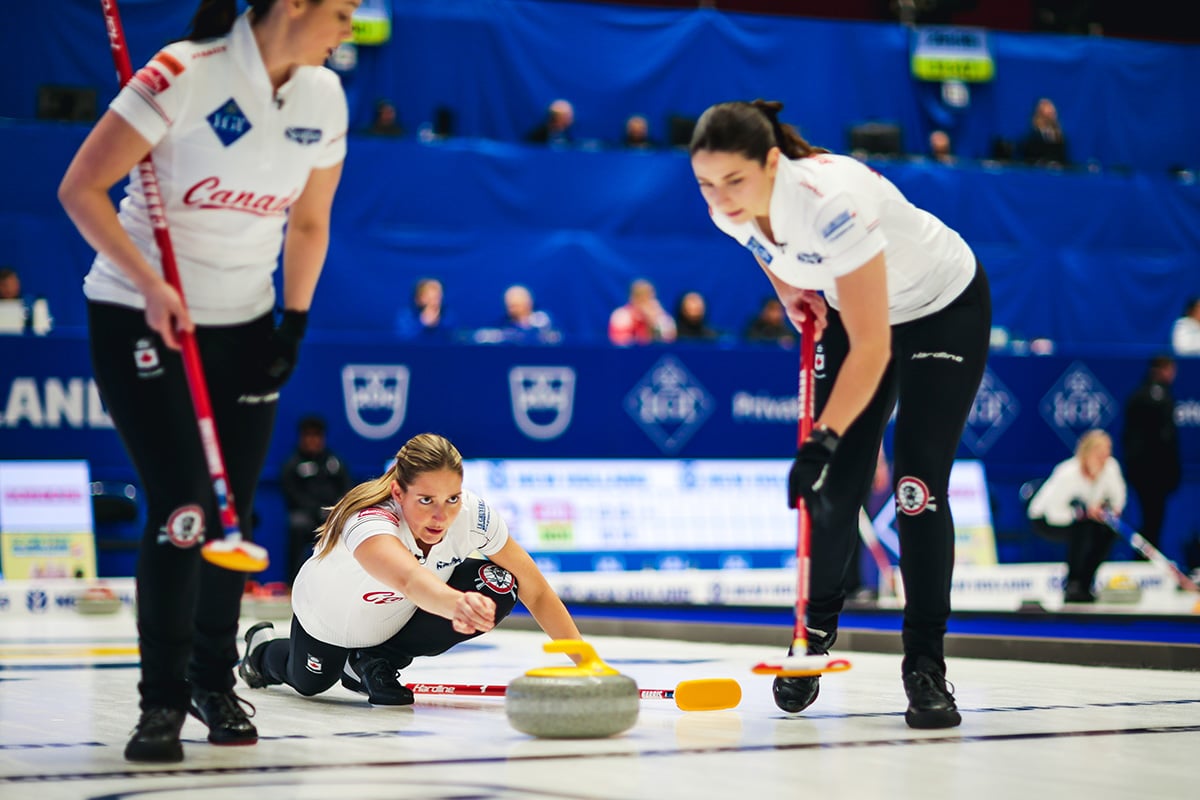 Canada's Team Einarson earns second win of the day at 2023 LGT World Women's Curling Championship
SANDVIKEN, Sweden — Canada's Team Kerri Einarson is off to its best start, standings-wise, at worlds after earning its second win of the day at the 2023 LGT World Women's Curling Championship, presented by New Holland.
The team from Gimli, Man., improved to 4-1 and remains in sole possession of second place as of Monday night in Sandviken, Sweden, following a 9-8 win against Scotland's Team Rebecca Morrison (1-4) at Goeransson Arena.
In 2021 the team infamously rallied from a 1-5 start to qualify for the playoffs and earn Canada's entry in the women's field at the 2022 Olympic Winter Games. In 2022, Canada built on that experience to start 3-2 and earn a spot on the podium as bronze medallists.
Now skip Einarson, vice-skip Val Sweeting, second Shannon Birchard, lead Briane Harris, alternate Krysten Karwacki, coach Reid Carruthers and national coach Renée Sonnenberg are taking it one step further with one of the best starts to a women's world championship in recent years.
"We've had a few really tight battles and a few where we're very grateful to win," said second Birchard. "It feels similar to last year when I know we dropped one or two early but then powered through the rest of the week. We need to keep the momentum going. We're feeling strong and feeling good out there on the ice. All we can do is keep getting better."
The game against Scotland started with fireworks. Canada took advantage of a Scottish miss during third stones, which eventually translated into Team Einarson making a short angle raise to score four in the first end.
However, Scotland responded about as well as any team could, replying with a score of four in the second. Canada had to make a perfect freeze to limit the damage, but the shot stone clicked off shot rock and Scotland skinned by a centre guard to hit the low side of Canada's rock and push it out of the house.
"We talked about it after the second end and it was essentially like we blanked the first two ends and it was just going to be an eight-end game from there on. We really parked it. We were firing after that and there were no real missteps. I feel like we put together a pretty good game," Birchard said.
Canada was forced to a single in the third but set up a great end in the fourth to steal a point. With red and yellow stones lined up like a Connect Four board in the four-foot, Einarson jumbled the pile to sit one. Scotland's Team Morrison was heavy on its last and Canada stole a point.
Canada forced Scotland to one in the sixth and added two more singles in the seventh and eighth ends for a four-point lead.
Scotland scored two in the ninth and pushed Canada to the limit in the 10th, but Team Einarson executed a raise takeout to remove one Scottish stone. While it was a steal on the scoreboard, Canada earned the 'W' in the standings.
Canada has another two-game day on Tuesday in Sandviken and will face its stiffest challenge yet in its first game.
At 9 a.m. (all times ET) Team Einarson takes on Team Silvana Tirinzoni of Switzerland (5-0) for a chance to knock the team down a tier and earn a share of first place in the standings. At 2 p.m., Canada faces New Zealand's Team Jessica Smith (0-5).
"They're going to play well and we've played them countless times over the last five years," Birchard said of the upcoming game against Switzerland. "They're a great team and undefeated so we definitely want to give them our best tomorrow."
The top six teams qualify for the playoff round, with the top two receiving a bye while the remaining four play in the first round. The medal games will be played Sunday.
For Team Canada updates, go to www.curling.ca. Follow us on Twitter, Instagram and Facebook.
TSN/RDS2, the official broadcast partners of Curling Canada's Season of Champions, will provide live coverage of Canada's round-robin games and all playoff games. CLICK HERE for their complete broadcast schedule.
The list of teams, schedule information and live scoring can be found on the event website.
The French version of this story will be posted as soon as possible at www.curling.ca/?lang=fr