Back into second!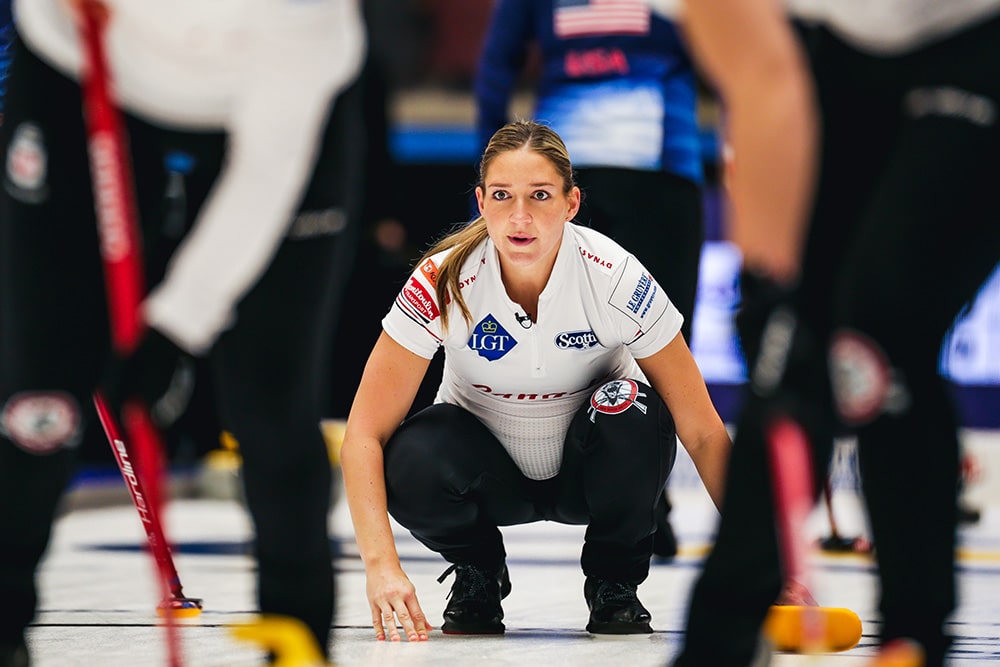 Crucial bounce-back effort for Canada at 2023 world women's
SANDVIKEN, Sweden — Canada's Team Kerri Einarson split a pair of games on Wednesday after an evening win at the 2023 LGT World Women's Curling Championship, presented by New Holland, in Goeransson Arena.
The 8-6 win over South Korea's Team Seungyoun Ha keeps skip Einarson, vice-skip Val Sweeting, second Shannon Birchard, lead Briane Harris, alternate Krysten Karwacki, coach Reid Carruthers and national coach Renée Sonnenberg on pace for a position in the playoffs with a 6-3 record. South Korea's Team Ha was chomping at the bit for a win, as it would have tied Canada in the standings.
The Canadian team from Gimli, Man., was doing everything in its power to avoid a second loss of the day after succumbing to Germany earlier in the day, a loss which levelled the Germans with Canada in the standings.
Trailing by one in the 10th end, Canada didn't need to throw its last. Canada counted three and forced South Korea to a wide path of the ice. The team gave it a little extra, and Sweeting could sweep the opposition stone far enough into the back 12-foot for the three points and the win.
It was one of Canada's better games this week, but that was also true for South Korea. Neither team gave an inch when making shots and made them when it mattered most.
"It was huge for us, especially for our confidence level. We came out with a pretty solid game. We really focused on our speeds. The speed this game was much better than the previous. Mentally it's been really tough because it's changing every single game. We're giving it our all out there and we're trying to figure it out, but it's been really challenging," Einarson said.
After giving up points in the first and second ends, Team Einarson responded with a deuce in the third to tie the game. In the fifth, Canada was in trouble and without hammer. Einarson was drawing against four on her first shot of the end and froze onto a stone in the top-four foot. That killer instinct saved the day as Team South Korea was forced to one heading to the halfway mark.
"I thought we were dead in the fifth end and were giving up four. But they let us off the hook there and I made my freeze when the girls swept it perfectly. That was a game-saver," Einarson said.
Canada and South Korea exchanged scores of two in the sixth and seventh ends and Canada made a big-weight shot to score one in the eighth. With the game tied again, Canada forced South Korea to a single point in the ninth to have the hammer in the 10th end.
It was the best possible result for Canada after an uncharacteristic eight-end loss to Germany earlier in the day. Canada had fallen in the standings to third place.
"Coming out and parking that game was big for us mentally. We're giving it our all and we're trying for Canada and really doing our best," Einarson said.
Team Einarson once again has a share of second place in the standings. The top-ranked Switzerland team led by Silvana Tirinzoni (8-0) remained undefeated after defeating Italy's Team Stefania Constantini (6-3) during the evening game. That result ties Canada with Italy. However, three other teams – Germany, Norway and Sweden – all have 5-3 records with one game in hand.
For Team Canada, there is still lots of more work to do. It continues with Canada's lone game of the day on Thursday when it takes on Japan's Team Satsuki Fujisawa (3-5) at 9 a.m. ET.
The top six teams qualify for the playoff round, with the top two receiving a bye while the remaining four play in the first round. The medal games will be played Sunday.
For Team Canada updates, go to www.curling.ca. Follow us on Twitter, Instagram and Facebook.
TSN/RDS2, the official broadcast partners of Curling Canada's Season of Champions, will provide live coverage of Canada's round-robin games and all playoff games. CLICK HERE for their complete broadcast schedule.
The list of teams, schedule information and live scoring can be found on the event website.
The French version of this story will be posted as soon as possible at www.curling.ca/?lang=fr