Hometown Heroes!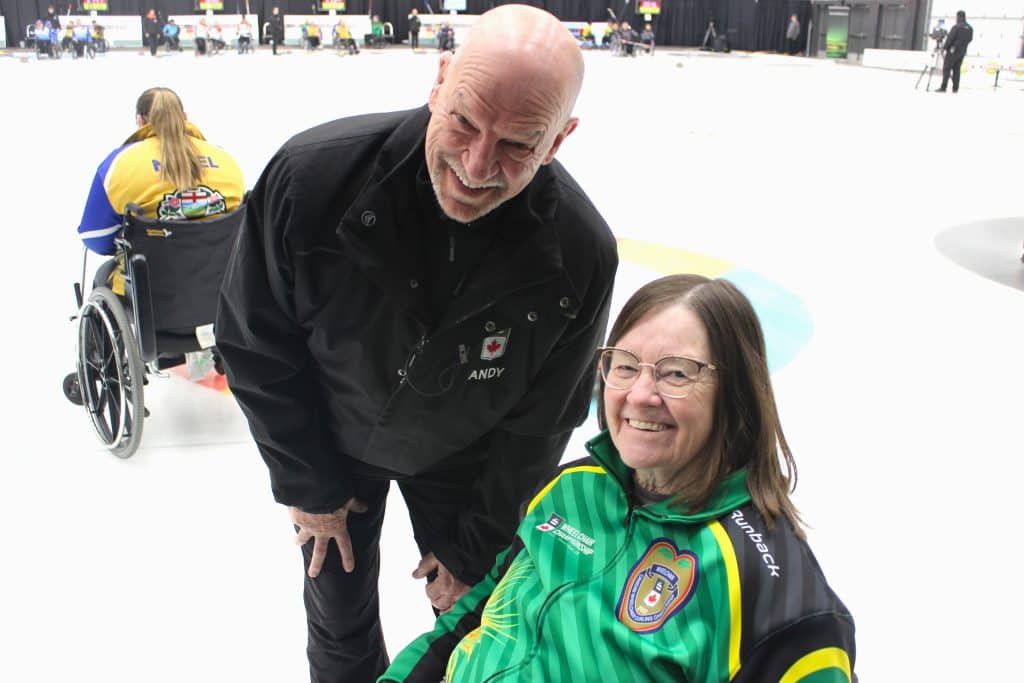 Reigning world silver medalists Gil Dash and Marie Wright hit their home ice at the 2023 Canadian Wheelchair Curling Championship
Team Saskatchewan (5-2; Moose Jaw) are well on their way to qualifying for the playoffs at the 2023 Canadian Wheelchair Curling Championships in Moose Jaw, Sask but hit a bump in the road on Thursday evening.. After surging late and scoring 4 points in the 8th end against a strong team Ontario (4-3; Schomberg) skipped by 2023 World Wheelchair silver medallist Jon Thurston, Saskatchewan would fall short in the extra losing 10-9.
Despite the loss, Saskatchewan skip Gil Dash has the hometown crowd behind him while competing at the 2023 event.
"To play at home feels awesome," said Dash of his experience. "I'm proud of the way the community has come together and to have so many volunteers helping out. We've got the right people in the right place. Also, more friends and family can come watch which is great to have."
Dash, alongside Saskatchewan third Marie Wright, were adorned in silver medals as teammates of Jon Thurston's at the recently concluded 2023 World Wheelchair Curling Championship in Richmond, B.C.
Gil Dash spoke about the benefits of competing in a world championship before coming to a national event.
"Playing in the world championship helps you in many ways," reflected Dash. "Right before a national championship, you have to deal with the exhaustion, because it's a marathon. You're gone from home a lot of days in a row to go to worlds, and then you're right back in it for nationals which is a week. It takes a lot off your body. I don't see it as an advantage or disadvantage.
"To have success going forward I think we need to continue doing what we're doing," said Dash when asked about what the team will do moving forward. "Every game we play is being scored and our team has a high average. We just have to be patient and be on the right side of the ice sometimes and do what we do. Throw it and believe it."
In other Championship Pool play Alberta #1's Jack Smart (4-3; Calgary) defeated B.C.'s Gerry Austgarden (5-2; Kelowna/Vernon/Richmond) 8-4, Northern Ontario's Douglas Dean (7-0; Thunder Bay) stole in an extra end to pick up the 8-7 victory against Quebec Benoit Lessard (4-3; .Magog).
In the seeding pool, Ontario #2's Paul Grose (4-3; Ilderton) defeated Nova Scotia Laughie Rutt (1-6; Sackville) 9-3. Alberta #2's Don Kuchelyma (0-7; Edmonton) fell to Newfoundand and Labrador's Cecilia Carroll(2-5; St. John's) 8-3. Team Saskatchewan #2's Rod Pederson(5-2; Moose Jaw) defeated team New Brunswick's Mike Fitzgerald(1-6; Saint John) in a 7-3 final.
The first round of the Championship Pool and Seeding pool occurred Wednesday evening. In the Championship Pool, Northern Ontario (Dean) defeated Ontario (Thurston) 9-4. Saskatchewan #1 (Dash) had a great game that ended with a 9-4 win over Alberta #1 (Smart). And B.C. (Austgardern) defeated Quebec (Lessard) 8-2.
In the Seeding Pool, Saskatchewan #2 (Pederson) had a tight game against Alberta #2 (Kuchelyma), but Saskctewahn was able to pull off a 7-6 win. Ontario #2 (Grose) went up against Newfoundland/Labrador (Carroll), and Ontario #2 came out on top with a 9-4 win. Nova Scotia (Rutt) came out firing against New Brunswick's Mike Fitzgerald, and secured their first win of the event!
Action continues from the 2023 Canadian Wheelchair Curling Championship at 7 p.m. (all times Central).
Live scoring and standings for the 2023 Canadian Wheelchair Curling Championships are available at curling.ca/scoreboard.
Streaming of this event can be found at plus.curling.ca